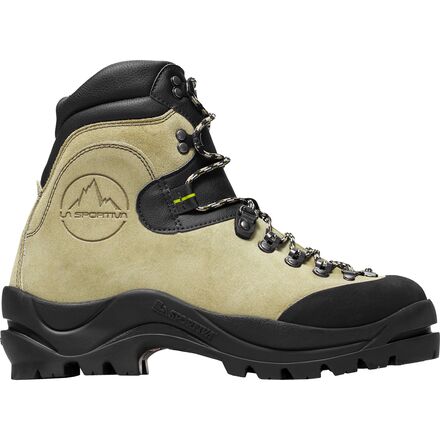 Detail Images

Community Images
Description
Get yourself the La Sportiva Makalu Mountaineering Boots to see for yourself what makes them so popular.
The La Sportiva Men's Makalu Mountaineering Boots have become among the most popular alpine footwear for everyone from casual climbers to Outward Bound students and instructors. These durable leather boots hold up to years of abuse in the mountains and provide plenty of support for hiking with a heavy load. Thanks to full crampon compatibility, the La Sportiva Makalu Mountaineering Boots make a great choice for glacier travel, and their Vibram soles provide excellent traction on snow, mud, dirt, and rock.
They were true to size really hard to break in though. When standing in the snow a little cold but once moving they are fine, maybe buy gaiters for more snow.These boots really performed, 9 hours guiding the climb and my feet felt great. The auto crampons fit fine and didn't really need to be messed with. The boots seem stiff but the during the climb I really didn't notice. Awesome via Ferrara boots. Hardly a scratch on them after the scree field. I'm excited to wear them on more climbs
Mountain Addict
Familiarity:

I've used it several times

Fit:

Runs large
The world of high alpine climbing is where these boots were born and bread. The stiff shank makes them an ideal candidate for adorning crampons and the tall cuff is rock solid on off camber slopes. I have put these to the test on ice, rock, and snow and they have not let me down. They also make for a stellar work boot once they get broken in. Climbing towers and ladders is no problem and they take a beating and keep my feet feeling fresh.
I would recommend these to any mountaineer looking to upgrade from a softer boot to something more formidable.
Tough Boots
Gender:

Male

Familiarity:

I've put it through the wringer

Fit:

True to size
Use these boots to build powerlines. These are an "older style" mountaineering boot with a full steel shank. Used them everyday at work for the last 4 years. The boot really tough and works good for climbing poles. Out of the 3 pair that i have own i always end up wearing out the soles before anything else on the boot even comes close to breaking. If you are looking for a boot for mountaineering there are better choices out there, and for most people the La sportiva WLF is probably a better work boot but doesn't have a full shank.
Unanswered Question
20% off if you wear a 41 but full price for the rest of the sizes. Not cool backcountry. Moose Jaw will match the 20% on all sizes if anyone else got bummed on this so called sale
Put to the test...
Familiarity:

I've put it through the wringer

Fit:

True to size
I've had these boots since 2008 and have hiked/climbed 200+ peaks, scrambled countless ridgelines and walked hundreds, if not thousands of miles. This boot is bomb! I couldn't tell you how they compare to a $500 boot because I've never had to spend that much. Online ordering a new pair right now for my summer plans...

Shasta
Rainier
Whitney
Langley
*just to mention a few
Unanswered Question
Going mountaineering in Lassen this weekend. I was recommended a boot with a liner but I can borrow a friend's pair of makalu. Curious if these would be warm enough at night when standing around.
I got a pair of these used recently and love them. However they are missing the tongue piece. Any suggestions where I could find a replacement??
Best Answer
What size? I bought a pair of Nepal Cubes and I would just mail you the tongues, I dont use them. Or you could contact La Sportiva. If they are roughly the same tongues (Ill find this out when I get back from Vacation) Ill just send them over to you free of charge. If they are drastically different then Ill try and see if our rep knows a way to grab them for you. Shoot me an email bporreca@backcountry.com, Ill be back in the office on Monday.
Perfect fit, comfy from day 1
Gender:

Male

Familiarity:

I've used it once or twice and have initial impressions

Fit:

True to size
I bought these boots for a couple of reasons:

-wanted a great mountaineering boot, but I do not do it enough to justify $500+

-I have a pair of step in crampons that I wanted to use on both ski boots and mountaineering boots

-La Sportiva has never let me down



True to past experience, the boots fit great, and we super comfy, and stick like glue even to the icy mess I climbed with them. Build quality is second to none, and I anticipate using these boots for yeas to come.
is it a factory defect ?
Familiarity:

I've used it once or twice and have initial impressions
i have exactly the same problem. I always wear shoes neatly. I've been in those shoes in three campaigns. The store give guarantee for one year. I brought the shoes in the shop for repairs, and they are sealed. Let's look at how long hold.

i think it is look like a factory defect :(


Are these too warm for summer backpacking?...
Are these too warm for summer backpacking? I love La Sportiva and I am looking for a good cross-over boot to use both backpacking at high altitudes in CO (usually nothing hotter than 75-80) and also crampon compatible. Thanks!
Are these boots re-soleable in the US? --...
Are these boots re-soleable in the US? -- Thanks!


These boots can be resoled but you will want to make sure that you go through one of the many La Sportiva approved cobblers. A link for a list of Cobblers is listed below:



www.sportiva.com/about/warranty/cobblers
Have you ever heard of anyone using this...
Have you ever heard of anyone using this boot attached to skis
I see this hasn't been answered, and I won't really answer it either here other than to say... why would you ever do such a thing? This boot doesn't have the sort of stiffness necessary for skiing.
I were a true size 10US. I will be wearing...
I were a true size 10US.

I will be wearing these as my primary work boot. I work construction and there was a gentleman on a job jobsite who wore a pair of these in the past and could not stop raving about them.



He has since moved on and I have no way of contacting him. I just wanted to be sure on the sizing. I wear 1 pair of crew socks regardless of the weather.

Can you help me with the size I will need?

Thank You


Best Answer
I use them for construction and utility pole climbing as well. I wear a size 9EE in a handmade climbing boot (white's or hathorn hiline) but I wear a 45 (european sizing) in this shoe. Do not believe the US to european conversions charts. try them or something like them on first. A Glacier uses the Makalu last and fits similarly. they all have a heavily padded tongue and you may want an insole (spenco or superfeet) inside. Go bigger than you think you need. With a thick sock i could wear a 46 which they claim is a 12 1/2. hope this helps.
What crampon systems are compatible with...
What crampon systems are compatible with this boot for "general mountaineering"?
Best Answer
They will take fully automatic crampons. I've used Grivel G22 cramp-o-matic with them, but the boots arem't stiff enough for serious vertical ice.



Combine these boots with Grivel Air-Tech crampons and you have a decent combo for general mountaineering. However, these boots are only suited for warmer conditions and won't be heavy enough for bigger peaks like Rainier.



They are great heavy backpacking boots and decent for light-duty mountaineering. They'll handle everything here on the East Coast with the exception of the Presidentials in winter.
15 years of solid service
Gender:

Male

Familiarity:

I've put it through the wringer
Just ordered a new pair after my original pair needed a new sole which lasted for 15 years. These boots have seen hundreds of summits and countless miles on the trail. For me this is the best boot made.
I have been looking for a lightweight pair...
I have been looking for a lightweight pair of mountaineering boots. These seem to be my best bet, however my size (11 US) is not available.



I need a cool weather lightweight mountaineering boot. I will encounter plenty of loose talus and some bouldering. I have worn just your standard "work boots" in the past, but it's time to treat my feet better.



Anyone have suggestions on a boot?


Those are European sizes. BC currently carries size 44.5, which should correspond to a size 11 mens boot. Best of luck!
Update, now that they're broken in.
I've been wearing these casually since February, since the reported break-in time is so long. I couldn't get black Superfeet to work with these boots, so I did what I did with my Glaciers that I wear daily at work. I use a Dr. Scholl's half-length arch support under the stock insole.



Now that they're broken in, I can wear a light wool or synthetic liner with heavy wool blend sock with no issues whatsoever. The trick is finding the right position for the padded tongue insert.



On the test hikes I have taken these on, they are fantastic! The full shank makes steep ascents easy, giving a feeling more like walking up stairs. My calves tire out far less than with my Solomon Quest 4D GTX on the same trail. With the impact brake tongue inserts, there is no nail blackening toe-bashing on the downhill.



Like I said in mt first review, these aren't meant for high-altitude or extreme cold conditions, and your calves will start screaming after prolonged front-pointing. But, for non-extreme mountaineering, and short pitches of vertical ice, they are just fine.



Remember, as with all leather boots, you need treat them with Sno-Seal or NikWax to keep them waterproof. I've always preferred Sno-Seal.



I an extremely pleased with these boot, and can't wait for Winter to come screaming into the Blue Ridge.
I am planning a trip to Mt Kilimanjaro and...
I am planning a trip to Mt Kilimanjaro and am looking for the best boot to wear for the trip. Is this the answer?
Partisan info here: You should also consider the Salewa Mtn Trainer (http://www.backcountry.com/salewa-mountain-trainer-gtx-mid-boot-mens) or the Salewa Rapace (http://www.backcountry.com/salewa-rapace-gtx-boot-mens). Just sayin' Have fun on Kili!!!
These are overkill for Kilimanjaro. I wore my Asolo Fugitive GTX boots on my trip,and was just a little cold for the first few hours of the summit day. Wear the most comfortable boots you have. My buddy wore running shoes every day except summit day, when he wore his old Rocky boots (similar to my boots, but much older).
Are these the current version of the old...
Are these the current version of the old red boots made by La Sportiva? I don't recall the name , but they are red leather low at the ankle and compatible with step in crampons.