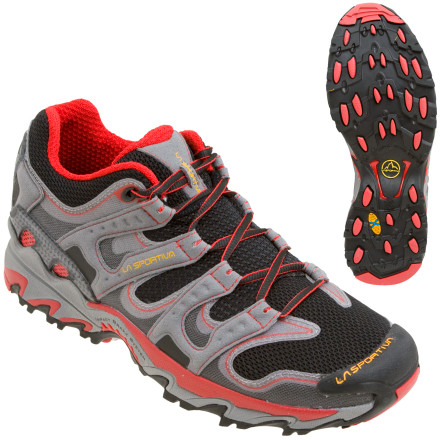 Detail Images
I have been running in these shoes for almost a year now and I absolutely love them. They do tend to run a little small but I like my shoes on the tighter side. The traction is excellent and the uppers breathe very nicely on the hotter days. I like the shoe because it fits like a glove and provides amazing support, especially lateral support not seen in other trail shoes.

I should have gotten the gore-tex version given my location in the PacNW, but there is always next time. I have also been running in the Montrail Hardrocks, but I find the Lynxs to be a far superior shoe in terms of support, tread durability and cushion.
I have read that this shoe runs slightly...
I have read that this shoe runs slightly small. I usually wear size 11, but some brands are a bit big in that size (Lafuma) while others fit well (Montrail). I am wondering if anybody else has noticed that these run small? Should I buy a size/half size up?
I tried these on, there were my normal size, and this shoe felt really good, very snug around the arch area too. If it helps, I wear 1/2 size down in Montrail, true to size in these though I would say.
La Sportiva Lynx replaces the once great Montrail Vitesse
Great shoe. I am an adventure racer and for years I have been using the Montrail Vitesse. When Montrail discontinued the model I was really upset. It took me four months to find a new shoe. The Lynx has done that. Great traction...good support. If there is one minor fault it is the fact that the toe box is not as wide as I was used to.
I originally purchased this shoe as a runner. It has become my short, few rocks with little talus, simple day hike shoe. I currently run in the Fireblades and Wildcats—both made by La Sportiva. I use the FC 1.1 as my more all day hiker and scramble shoe. The good about the shoe is the heel cup and toe box are great. The traction is stable and grippy. The red spikes on the sole have had a tendency to wear more quickly than the rest of the shoe. I would like to see a little more cushion in this shoe as it seems to be a tweener of the Fireblade and Wildcat—both are better shoes. I was also a bit irritated at the amount of dirt entering into the material above the toes—more than most shoes. It seems like a shoe La Sportiva could do without in its lineup of mountain runners.
I wanted to like these shoes, but could not. They cage on the outside of the shoe that anchors the laces to the midsole rubbed my foot just behind my big toe. The traction was awesome and they felt great except when I was going up a hill and the forefoot area would flex a lot and that is when it would rub. I have the Imogene and the Crosslite and neither of them causes this issue. They get tons of great praise by other reviewers and I am sure it is a good shoe; it just does not fit my foot.
Are theses the 2009 version
Are theses the 2009 version
, ☃bcs_badge_alumni_label☃
No, these are the 2008 model.
Unanswered Question
Do you guys carry the Gore-Tex Version of...
Do you guys carry the Gore-Tex Version of this shoe?
After wearing these almost daily for two weeks,I have no negatives to report.The support,comfort and traction are second to none.Along with the Vasque Kota and Salomon XA Pro 3D these rate A+.Beware one thing-they run SMALL.Add at least a half size to be safe.Happy Trails.
I'm still trying to find the replacement for my Vittess's, after a couple runs of 15 plus miles and 5k of climbing they my do the job. They run very light but give tons of support. Ran on slick desert mud today, worked very well, not quite as good as the Crosslites, but better cushion. Enjoy.
Whats up with the sizes? What would a...
Whats up with the sizes? What would a size 10 be in Euro, b/c the sizes aren't the same in the size chart and the current sizes available?
Different brands are different. According to the La Sportiva chart, a US 10 translates to a Euro 43.2. But Salomon says 44=US 10, Patagonia calls it a 43.0, and Vasque had it at 44.5. So anywhere in the 43-44 range should fit you.If you want a 10, get the 43.5s, they're available right now.
I just ran 5 miles on trail with these shoes, straight out of the box, and I have no complaints. Great support in all the right places, laces up great, and looks real good. I prefer the yellows.
This is the best pair of trail shoes I've been into in a long time! I've been through plenty of brands but they always had problems. These are really perfect! Great traction but they don't wear out too fast! No issues with lacing systems breaking down prematurely. I don't feel any hotspots. Just a great pair of all 'rounders!
Well built, good support, decent cushioning, lightweight and the sole has great traction even on wet rock.