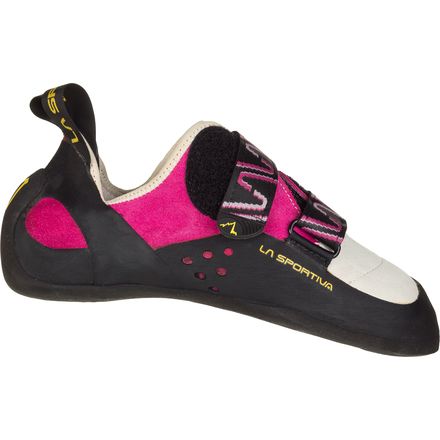 Detail Images

Videos

Community Images
Description
Slice through your next project or problem wearing the women's Katana.
Strap on the opposing hook-and-loop closure of the La Sportiva Women's Katana Rock Climbing Shoe and name your next vertical rock victim. This synthetic-lined shoe keeps its shape and wicks sweat as you use the 4mm Vibram XS Grip2 outsole to stick to the wall like a lady-ninja poised for your next attack up the rock. A slingshot rand directs power to the Katana's forefoot for controlled edging, smearing, and camming, while the water-resistant leather and Lorica upper keeps its original shape and holds up to your anything goes climbing style.
Great All-Around Shoe
Familiarity:

I've put it through the wringer

Fit:

Runs large
I originally started climbing in the Tarantulace by La Sportiva. However, after about a year, it was time for a more aggressive shoe. I went with the Katana because it was aggressive enough to climb 5.10/5/11 in and would also work for bouldering. I love the shoe overall, and I sized down a fair amount in it - I wear a size 8 to 8.5 street shoe and I wear the 37.5 in this Katana. Great buy, especially if you're transitioning from a beginner's shoe.
Rubber on toe could be better
Familiarity:

I've used it several times

Fit:

Runs small
I love my Katanas, but I know I'm going to be resoling them very soon. The rubber has already started to peel back at the seam near the toes after only a few months of climbing in them, both indoors and outdoors. This seems to be an issue with La Sportiva shoes lately, so hopefully they start to improve the design. The size on these run small, unless you love an aggressive fit. I ordered a second pair in a full size larger and they fit perfect. I'm a size 6.5 in a street shoe and I have size 36.5 for my Katanas which fit comfortably. The size 35.5 were too tight for my liking.
Liking the new rubber
Familiarity:

I've put it through the wringer

Fit:

Runs large
I have been wearing women's Katanas for almost 10 years. I think they are a good in between shoe- aggressive enough for most sport routes but comfortable enough to wear all day. I have been resoling my old pairs, and recently got a new pair of the blue leather strap Katanas when they went on sale. I noticed they changed the rubber on them. It is stickier than the old Vibram rubber, and has good sensitivity. I'm docking these shoes one star because of sizing. I wear a size 5 or 5.5 street shoe, and in the past I got a size 34 for outdoor climbing and 34.5 for gym climbing. However, I guess when they switched to the new rubber, the sizing changed. The shoes are now about a half to 3/4 of a size larger than they used to be. I should mention that I do like a tighter fitting shoe. In the new shoe, the size 34 is snug, but not tight. My concern is once it is broken in, it will be too loose, especially in the heel for more aggressive climbs.
Great moderately aggressive shoe
My wife and I both have Katanas (I'm on my 3rd pair, this is her first), and we both love them. She previously had the Mythos and although these aren't quite as comfortable, she is psyched at what she can climb now that she couldn't before. Highly recommended!
I wear a size 37 in the La Sportiva Mythos, and they fit comfortably, but snug enough to edge well, even after stretching/breaking in from a few years of use. What size should I go for in these? I was thinking either the same size or a half-size smaller.

Some background: I'm looking for more a more performance-oriented shoe, and am willing to go through the supposedly awful break-in period, and a bit of send-related suffering - but I don't subscribe to the "your toes should be all curled up and so painful you have to rip your shoes off as soon as you clip the chains" school of thought.
Best Answer
Hi Cho,



I am typically the same size in all of La Sportiva's shoes. I would start with the 37's, before down-sizing.



I recommend this shoe, as it will be a comfortable next step. However, if you want to get a little more down-turned and aggressive, I recommend the Lace-Up Miura, or the Testarossa. They are the least painful, but can really up your game on sport routes and boulder problems.



You can contact me directly with any further questions or to help with an exchange, if that is necessary.



Emily Jenson

Expert Gearhead

801.746.7587

ejenson@backcountry.com


I've been using this shoe as my all around for several years and they are great for vertical, technical routes.
Odd Fit
Familiarity:

I've used it once or twice and have initial impressions

Fit:

Runs large
I wanted a less aggressive shoe than my Miura's, one that was a bit more comfortable for longer periods of time but still high performance. I am a 40.5 in streets shoes and my Miura's are 37.5, so I followed suit and ordered the Katana's in a 37.5. Unfortunately they are a bit loose in the toes. This could simply be because they aren't as curved or they just feel loose because I'm so used to my tight-fitting Miura's. I would suggest sizing down at least a half size if you still want an aggressive shoe. I love them colors and durability is up to par.
Wicked Awesome
Familiarity:

I've used it several times
Bought these as a step up from my 5 year old Evolv Elektras. I needed something stiffer and more aggressive. I LOVE them. The break in period has been tough so far(about 5 days of climbing), but I can feel it was worth sizing down. My regular shoe size is a 10, my Elektras are a 9, and I went down to a 39 in these (the size chart calls it about an 8). I have a very narrow foot and an abnormally long second to last toe and these shoes still work for me! I'm looking forward to really pushing myself to become a stronger, more confident climber and I know this shoe will help. I'm already feeling the difference. These edge and smear excellently.
Solid Choice
Familiarity:

I've put it through the wringer

Fit:

True to size
I love my blue Katanas. I am a street size 8 and have a 38.5. They are fairly tight and I take them off to belay, but I think they would be perfect if I had a half size bigger. The shape is great for narrow feet and toes/soles are good for smearing. I am excited to get the new pink ones next!
Strikes a good balance
Gender:

Female

Familiarity:

I've used it several times

Fit:

True to size
For my foot, the Katana strikes a great balance between being comfortable enough that I am not distracted by the pain in my feet when climbing in them and yet, feeling confident in my feet that they will edge on a dime and smear & stick when it counts.



I bought a size 37 (Women's 6) and my street shoe size is 6/5-7. There's a little bit of space in the back of the heel, but I'm not doing any heel hooking, so it doesn't seem to be a problem . Also, I find that playing with the angle of the strap on the velco helps with this problem a bit.



I am in love with the hot pink color and will probably continue to buy these as long as Sportiva keeps making them in hot pink!
pink vs blue
Familiarity:

I've used it several times

Fit:

Runs large
I've absolutely LOVED my blue katanas, so when i heard they got a new bright pink one, i was definitely excited!! Especially since I heard a lot hadn't changed, just mainly the look.



I've gone through maybe 3-4 katanas, and down-sized once, so I'm pretty much at my ideal size for these shoes. So naturally, since I felt like I knew my size, I figured I would order the pink in the same 35.5 size without trying them on. When I got them, they were comfortable... and not in a good way. They were the size of my stretched out, broken-in blue katanas. They were too big!! I ended up having to exchange them for a half-size smaller. So I have the pink katanas in 35.



Fitting/sizing difference aside. I love the pink katanas just as much as my original blue ones. I wish they kept the all leather straps on the pink ones, just because they just don't seem as sturdy, but I haven't had any issues with them yet. (had them for about a 2 weeks now - I normally climb indoors 3-4 times a week and I took them outside this past weekend, seems to be holding up well).
Custom to your foot
Familiarity:

I've put it through the wringer

Fit:

True to size
After wearing these more and more I wanted to add to my previous review. The velcro straps have allowed for a lot more custom fit with these shoes. With the wide strip of velcro you can tighten them up where need be on the top and bottom strap. Still loving them after more and more use. Definitely recommend these shoes.
hurts so good
Familiarity:

I've used it several times

Fit:

True to size
I've only had a chance to wear these 7 or 8 times in the gym, but I'm really pleased with the shape. I'm just barely getting to the point of not having to rip them off as I'm being lowered to the climb, which seems like a longer break-in time with my other shoes, but I'm still happy I chose these. The opposing velcro straps are nice and easy for fit customization.
Fits my narrow feet
Familiarity:

I've put it through the wringer

Fit:

True to size
I had a pair of the Men's. When those wore out, I tried on these and they fit my feet better than the Yellow ones. I've resoled them twice and I might get a third round out of them.
She loves them.
Familiarity:

I gave it as a gift but have feedback to share

Fit:

True to size
Bought these for a friend. For christmas, and she has used them a few times, and she loves them really likes the grip that the sole offers.
Stepping it up.
Familiarity:

I've used it several times

Fit:

True to size
I've been needing a more aggressive climbing shoe and while on a recent trip, a friend of mine gave me these shoes because the heel didn't fit her foot. After a few days of climbing in them, I absolutely love them. Still getting used to the pain that comes with a smaller and more aggressive shoe, but have been really impressed with the performance of these, especially when there is small feet, smearing, and face climbing in general.



I have a wider foot and my toes definitely feel smashed together for the first couple of moves, but after that, they feel pretty good.



I wear a size 6 shoe and my Katanas are a 34.5.
I got these for my wife and she LOVES them. She's been climbing for nearly 10 years and she swears that these are her favorite shoes of all time. They are comfortable, fit well and are aggressive enough for some stout sport climbing.
GREEEAATTTTT
Familiarity:

I've used it once or twice and have initial impressions

Fit:

True to size
So, this is my first pair of Katanas and I love em. smearing check-edging CHECK- comfort....i'm still breakin them in!!!!! I can't wait till they get slipper comfy. they stretch just a little more each time I climb. That's all right now but i'm going to try and follow up in a few months!
How are these for slab or big wall stuff?...
How are these for slab or big wall stuff? I'm looking for a versatile shoe to round out my current collection. My Sportiva Pythons are too aggressive to be comfortable on longer pitches, and I find that my 5.10 moccs provide very little support and cause foot cramps on slabbier things (plus the edging's not stellar on 'em, but for how comfy they are generally I can't complain). How do the Katanas compare?
Best Answer
I've climbed in the men's version and have the Pythons and Moccs as well. They are definately less aggressive than the Pythons and more supportive than the Moccs. I think they would do ok at slab climbing and big wall (I'm assuming you mean multi pitch rather than aid climbing) depending on how you size them. If you size them for performance like you might your Pythons I think they are uncomfortable after a pitch or two. Going up about .5-1 size would probably be the ticket for comfort on longer climbs and slabs. For reference I am a street 9US and wear my Sportivas down sized quite a bit (39.5) but for longer routes and comfort I have Sportivas at 41 which is still 1 size down from street (42= 9US).
i think they are excellent slab shoes. great edging and smearing performance, but it doesn't hurt to have your weight on your feet. they do have a moderately aggressive profile, so you'd want to size up for multi pitch. better still, size up in the lace up version (only men's) for multi pitch.