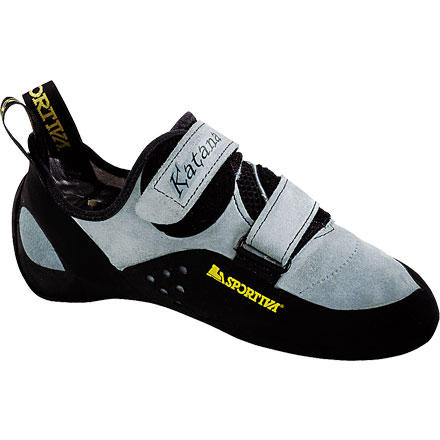 La Sportiva Katana Rock Climbing Shoe - Women's Discontinued Rubber
View Larger Image
I had a pair of these in size 35 (4.5) several years ago and they were so tight that they required a long break in period. But then they were awesome and I always wanted a second pair once I wore those ones out.

So I ordered another pair of size 35 (4.5) last month, and they were huge! And I wear a 6.5 street shoe! So, wondering if maybe this particular pair I received were mis-tagged, I went to my local climbing store to try on a size 35, and again the shoes were huge throughout the top of the foot and gap with even the slightest movement.

I'm going to return these ones and order a 34 (4.0) and see how those work out, but I was so disappointed that something with these shoes has changed over the past 4 years.
Hands down....Best shoes!!!
I've been climbing practically everyday..indoors and outdoors (between 5.10-5.12). So I tend wear out my shoes pretty fast. I got my first katana based on the recommendations from my climbing friends. At first I tried them on, I wasn't so sure I was sold on these shoes. I wear 8.5 street shoes and I order 7.5 (38.5). I have narrow feet. The toes fit great. However, the heels were alittle roomy. So i know the shoes were alittle bigger for me. I decided to keep using them and see how they turn out. After 2 weeks of breaking them in, they definitely molded to my feet and fit great! However, I know I can definitely go smaller (size 38). Performance wise, I can stand on the littlest chip of rock and maintain balance. I love to heel hook, and it definitely did its job of not letting me slip. These shoes are very durable and will not fall apart on you as fast. I have a couple of holes in the toes. However, the stitch work of the shoes is amazing b/c I can still climb in them and they have yet to fall apart. The shoes are pretty aggressive, but not too aggressive. So they are great for sport climbing and bouldering.

This is NOT the best shoes for beginners.

You need to get this shoes in a way smaller size than you think u need (about 1-1/2 size smaller). They can be a bit painful, however, they do stretch out a bit and form to your feet the more you use them. As long as you can stand in them and walk in them for 10 min, the size is perfect.

They are pretty expensive. I did buy other climbing shoes that are not as expensive (like evolv hera). However, I always ended up going back to katanas.

When it come down to it, the best and expensive shoes do not make a climber great. I just wanted shoes that fits like a glove and would not fall apart on me in less than 6 months. Hope this helps =)
Had to return them...I wear 7.5 to 8 in street shoes and opted for a 7 in Evolve Hera and a 7.5 in Five Ten Sapphire, and can easily climb even the smallest chip in relative comfort and confidence . I ordered a 38.5 in the Katana which fit in the length(toes crammed to the end) but the heel cup came up way to high and the upper was huge all over(gapped even when velcro was tightened all the way). If you have a narrow,low volume foot this is not the shoe for you. I am trying the Five Ten Siren instead.
Overall I'm a La Sportiva fan but these shoes are special for standing on your toes on small rock points like a ballerina. They are a must have for your collection!
No other shoes work for me
I have a very narrow foot so sportivas are basically the only company I can wear (aside from Scarpa technos for crack climbing). I've been wearing my Katanas for about 3 years, have had them resoled twice.

My two cents for the heel cup not filling issue that people have posted about is as follows:
1) if the heel doesn't fit you bought them too big, and
2) if they're "comfy" you bought them too big

Mine are still a little painful after three years and several resoles... but I would never buy them larger. I'd sacrifice waaay too much in performance.

And yes, they aren't great for smearing... but that's precisely why they work great for standing on microchips.
A few of my climbing girlfriends recommend these for me, as I have a super narrow foot and even more narrow of a heel (size 6.5-7). These shoes are extremely comfortable, I chose to go a whole size smaller and that size was perfect. The only problem was that they were too wide for my foot and my heel could come out of them when cinched down tight (even though my toes were crammed into the box). I am trying scarpa, as they seem to run super narrow.
All I can say is to follow other people's advice and order these only a half size smaller than your normal shoe size. I went a whole size smaller cause they felt fine when I tried them on in the store, but when I climb with them they are way too painful. I've worn them maybe 10 times hoping that they'll stretch out and get better but so far no luck.
I'm still giving these 4 stars cause they are narrow enough to fit my feet much better than other shoes I've worn and I can tell that if they weren't killing my toes they'd be great shoes.
I love these shoes, I've been climbing in the women's Muira prior to these and I like this shoe just as well.
, ☃bcs_badge_alumni_label☃
Love these shoes :)
These shoes are great. It took me a few days to get used to them...as it does any new pair of footwear, but once I did, they feel great. I definitely think my confidence in tiny footholds has increased with these shoes.

I wear an 8.5 in street shoes and when I tried these on at a local shop the guy only had a 38 and they're perfect....I don't do the whole way too small shoe thing either. A 38.5 would probably feel great too, but a 39 or 40 (which is what the size chart suggests) would be floppy.
I've been wearing the 5.10 coyotes and found they fit me like a glove. I wanted to try a bouldering shoe and got the katanas after reading all the nice reviews. So far it seems a pretty good shoe, and as others say, you may want to size down. I wear street 8 women's that fit me slightly loosely and I got the katanas in 38 for a really really tight fit and could have gone down to 37.5. I find the toe rubber a little thicker than I'm used to on the coyote, but I think my sensitivity will improve.The fit: my biggest issue is with the heel which is ever so slightly loose, even if I tighten the straps. This makes you feel a little unsure on heel hooks I think. The fabric seems to bulge out in a weird way both on the inner and outer heel. But this is really being picky, I think I am going to get used to it and this will be a good shoe.
Fantastic fit and performance
My street shoes size in at 9.5 (41??). I ordered both a 39 & 39.5. The 39's fit great now that they've stretched a bit and molded to my long narrow foot. They edge like a dream & yup they seem to stick to anything. I can't wear them too long, so am thankful for the quick velcro escape route -- tight velcro closure btw.
Unanswered Question
I own these shoes right now. And they are...
I own these shoes right now. And they are awesome! I'm looking into buying some new shoes like them (without buying these again). I really want to find a "this is good to climb on anything shoe" keeping in mind that I also toe in a lot. Does anyone have any suggestions? I've been considering Scarpa Feroce.
I'm currently on my third pair of Katanas and have nothing but praise for them. I wear a size 8 in street shoes and have found a 36.5 to fit comfortably (for climbing shoes). These shoes aren't synthetic, so you can expect a little stretch. I have wide feet for a women and, perhaps for this reason, I haven't experienced some of the problems with the heel cup that others have. I use these shoes for bouldering and rope climbing. I have a pair of larger, less aggressive shoes for long trad days when I might have to walk around in my shoes a lot. The rubber is super durable, but I've had problems with the buckles for the velcro closures before. Twice they have worn out before the rest of the shoe, which is a bit of a bummer. They are super expensive, but I think they are totally worth it. They're the only shoe I will trust on hard stuff.
I'm a newbie climber. This is my first pair of climbing shoes! It's worth the investment as opposed to spraying Lysol on those stinking rentals... *shudders* Once was enough for me! I climb twice a week so far the rubber isn't as worn out as i thought it would be.

Pros:
1.) Great on edging!
2.) Easy Velcro straps for resting your toesies in between climbing and belaying.
3.) Love the color <3
4.) Comfortable with my street shoes size 6.5 and i ordered a size 6.
5.) Sticky rubber ;)

Cons:
1.) Sucks at smearing :(
2.) Heel is too big on my feet, i would prefer it to be narrower.
3.) Too expensive!
I have narrow feet and low arches and for many years only climbed in Mythos. I've found that Katana and Tradmaster also work for me. I wear size 7.5 or 8 in street shoes, 8.5 in running sneakers, and 38 in mythos, 39.5 in tradmaster and 38 in katana. The katanas are not that comfy for wearing all day but they perform well.
What are these shoes like for edging? Also,...
What are these shoes like for edging? Also, I am a 38 EUR normally, so what size do you think would suit?
Great for edging and the sizing really depends on the shape of your foot and what you like. If you can, try them on in the store and then order online, if not then just order 38s and if they don't fit send them back and try again.
A lot of my friends are size 38 street shoe and wear anything between a 34.5 and a 37 in the Katanas depending on personal preference. I think its worth trying on to tailor the fit.
Just got these shoes after a lot of research for a new shoe and talking to a lot of other female climbers about their shoes. I normally wear a 7.5 (which is a little over a 38) shoe but got mine in size 37, based off of advice from others. Definitely go smaller on the size. They stretch out a bit but are super comfy so the small size is not as noticeable. I have used them in both the gym and outdoors and couldn't be happier. Highly recommend them!
Just got these shoes and went off sizing recommendations. Found that going one whole size smaller is too much, or else your first few uses will be a bit painful. I would recommend going 1/2 size smaller (depending on how you like your fit). I am an 8-8.5 foot and think the 39 (not 38) would be the best sizing. I do not have a narrow foot and so did not find any issue with the heel being too loose. The rubber is very sticky and shoes are great for precision moves. Love the velcro flaps- makes it easy on/off and holds the fit extremely well. Wear these both crack and sport climbing. Most friends with these, however, prefer the shoes for the sport routes.
I didn't really like these shoes because the heel was too big. I have a pretty small heel, and love the Mythos, but these just flopped around on my heel. The fit was good everywhere else with a 35 -- I normally wear a women's 36.5/37 in street shoes.
these shoes are great and stick to everything. however, i wear a size 10 street shoe (bought these in 40.5), have a bony ankles, and a narrow heel and cannot get them tight enough around the heel. the Velcro closure is great for the fit in the rest of the shoe. might be a better fit for larger (all around) feet. may be why also a hit with the men. awesome shoe, wish i could make them fit!