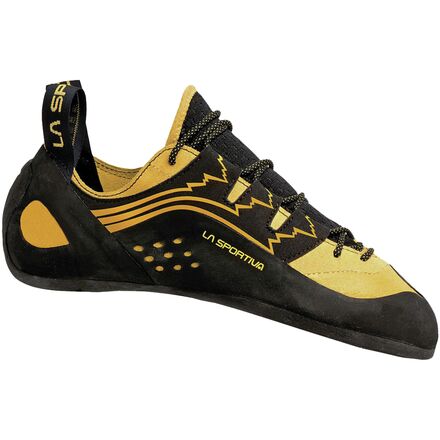 Videos

Community Images
Description
Open up new foothold possibilities.
Focus precision footwork onto tiny holds with the La Sportiva Katana Lace Vibram XS Edge Climbing Shoe. Combined with the more customized fit that lace-up shoes offer, the slightly asymmetric, slightly down-turned Katana creates an all-around comfortable shoe with aggressive qualities for tougher climbing.
Permanent Power Platform and molded 3-D heel cup help the shoe hold its down-turned shape so you can attack the steepest routes day after day
Tubular construction mixes the performance of a lined shoe with the comfort of an unlined shoe
Speed lacing for a precision fit in half the time
Vibram XS Edge rubber provides crazy grip for technical edging, is resistant to deformation on razor-sharp edges, and won't creep when you're smearing
Perforated, breathable tongue keeps your foot cool on hot days
Hope you can help me out soon since I'm visiting the States for 10 days and would like to get a pair, which you cant find in Mexico. I just tried a pair of Katana Laces size 41.5 in a local store (only pair they had) and they felt pretty stiff and hurt a bit. I can downsize and wear size 40 miuras, thight but confortable enough and i have size 41 Testarossas which I absolutely love and where unbearable during the break in period. I usually wear size 10.5/11 US street size. I read that the sizing on katana lace difference from 41 to 41.5 is not a lot. But need some advice if I'm gonna get them this week.

Thanks a lot in advance.
Dario,



It'll depend on what you call stiff and painful as that'll be different for each of us. If I were experiencing pain in a 41.5 when just sitting around, I'd be definitely looking to size up to a 42.0.



Shoot me an email anytime you have questions!



Jared D.

Expert Gearhead

801.736.4336

jdowns@backcountry.com
How can I get mine resoled? Do I send them into La Sportiva or Vibram?
Tom,



There will be companies that specialize in resoling used climbing shoes. There are companies like "Rockandresole" and Rubberroomresole" that you can ship your climbing shoes off to.



Shoot me an email anytime you have questions!



Jared D.

Expert Gearhead

801.736.4336

jdowns@backcountry.com
Unanswered Question
I'm looking for these as my 2nd pair of climbing shoes, but I'm having issues figuring out my size, since I haven't found them in stores to try them on. I currently use La Sportiva Oxygyms in size 41, and for the most part, they feel fairly snug but comfortable, allowing me to climb in them for hours without feeling the need to take them off. That being said, those shoes are made from a synthetic upper that stays pretty much the same size, even after about a year of use. Should I look at the Katana Lace in the same size, or perhaps go a half size smaller to account for the inevitable stretching? Any input would be greatly appreciated! Thanks.
Anyone use these for thin cracks (fingers/thin hands)? How are they?
Hey Jerome, I have used these in Indian Creek and a few fingers to hands granite splitters around Boulder. They work incredibly well for this. While I prefer my TC Pros for the more burly hands and above, these perform exceptionally well in small pods and face relief as they have a bit of a dagger like toe and can really cam well. I will say, however, that they do not smear exceptionally well and the outside edge of the shoe is a bit strange if you're used to something more like the Miura Lace or TC Pro as it is very rounded, much like the Testarossa.
How often do you guys restock sizes?

Wear a 42.5 in the Genius and love them
Looking to pick up a pair of the katana laces in 42.5 as well
Joey,



This has been restocked and I've sent you an email.



Shoot me an email anytime you have questions!



Jared D.

Expert Gearhead

801.736.4336

jdowns@backcountry.com
Unanswered Question
I bought a pair of these a while back as my first performance shoe and went way too tight - 44.5 (my street size is 13). The shoe stretched and the padding made it ok everywhere except the toe box, which was excruciating any time I weighted it even after several months. I'm actually now thinking of getting a pair for comfort/multi pitch, so I'm not sure whether a 45.5 will be big enough. I wear 45s in Miuras and they are super tight/aggressive...good for sport routes, but I took them up a 2 pitch and started losing sensation in my feet at the belay station, lol. Any idea when/if 46s will come in?
Excellent comfort in a high performance climbing shoe.
Amazing Shoe
Familiarity:

I've put it through the wringer

Fit:

True to size
These were my first pair of climbing shoes that I bought from
Backcountry and I can say for a fact that I have no regrets in making my decision. I bought a .5 (half) size smaller than my normal size and after a month of use, they have formed into the perfect fit. You can rest easy knowing that your toe hook, heel hook and smears are secured with these on. The P3 technology has kept the aggressiveness of the shoe in top shape. These are by far my favorite pair thus far and I'm pretty sure I'll be getting myself another pair in the future.
I am looking at the katana lace. I have 46 tc pros and 45 futuras. I am wondering what size for a more sport/aggressive fit? Anyone know
Nathan,



I've sized these the same as my other La Sportiva bouldering shoes, and been happy. I suggest sticking with the same size as your Futuras, as they are a pretty similar fit. This will curve your foot less than the Futuras (but way more than the TC pros). So, it's possible you could be happy with a 44.5, but I think 45 is the best first guess.



With that said, I will get you a return shipping label, if you think the 44.5 would be better.



More questions? Let me help!



Emily Jenson

Expert Gearhead

801.746.7587

ejenson@backcountry.com
I'm looking at the katana lace as a potential shoe for multi pitching. My current shoe is an evolve shaman in a US8/EUR41. I wear a 7.5/8 in street shoes (typically vans and Adidas respectively). I was wondering what size I should order for a comfortable but snug fit for extended use.
Best Answer
i use these for multipitch and I went down a half size since it will expand a bit. After 2 weeks, they were comfortable but not too loose. I wear a 10.5 street shoe and got a 10 (or the EU equivalent of a 10).
Will there be any 40.5s, 41s arriving soon?
Hey!



We have a bunch of 40.5's and 41's coming into stock soon. Would you like me to watch inventory on that for you?



Shoot me an email anytime you have questions!



Jared D.

Expert Gearhead

801.736.4336

jdowns@backcountry.com
Best Answer
Sure, thanks!



Will they be in before the sale ends?
I currently have Mythos. Should I buy the same size as my Mythos (which have really settled down and are comfortable for me) ?
Best Answer
Hey Welshguy,



I would get the same size, but expect the shoe to feel much different than the fit of the mythos. These are more aggressive and asymmetrical so they are going to feel a little smaller than the mythos in the same size. Also these will not stretch as much as the mythos do.



If you want to talk more about sizing or try on a few different sizes please contact me at the info below and I would be happy to help you out.



Dan Gates

Expert Gearhead

801.746.7582

dgates@backcountry.com




I wear size 12 street shoe I had a pair in 44.5 and they were very aggressive fit for me. Its unfortunate the toe rubber chipped on the first slab climb I made. been waiting almost 4 weeks for La Spotiva to get back with me about warranty. Probably will not buy another sportiva shoe because of this hassle on warranty.. they run small
Thanks Wes & Dan. My issue is that I have hobbit feet (wide) and take 44's in Mythos. They have stretched and fit really well now but I'm after a more aggressive shoe for edging and small toe holes. Lace-ups are what I want so that I can finely adjust the fit. Maybe a 45 would be better since the stretch in these shoes are a lot less than mythos ? Realistically I think I need to demo these shoes before committing to buy.
my Katana laces did not stretch at all. but be ware I think they have delaminating issues of rubber. and warranty well thats another topic. I replaced my katana laces with the tenaya tarifa drop one size for comfy tight fit or 1.5 for agressive
If your mythos are staying on your foot, then I would definitely NOT recommend the same size - made this mistake going to KL from Nagos, and now I have a pair of $160 shoes collecting dust in my closet. Mythos are super soft leather shoes that stretch a TON. KL do not stretch much, the P3 and stiff sole are actually designed to prevent this...go up at least 1-2 sizes, and if they hurt right out of the box, send them back!
Stiff, sticky, and stuffy...
Familiarity:

I've put it through the wringer

Fit:

True to size
...in the good sense of the words...

The 'Permanent Power Platform' create some underfoot stiffness that feels like they take some of the stress off your big toe when you're edging in a desperate stance. They feel really sticky and promote a ton of confidence when you're smearing on tiny crystals and featureless faces. I ordered a half size larger than I normally would have to make them a little more comfortable in when jamming the cracks, and they perform wonderfully in that setting as well. The slightly roomier than aggressive fit makes them my go to trad aggressive shoe. For steeply overhanging routes I would be happy with the same shoe, but a half size down from the ones I own.



My only gripe and the reason for a knocking off a star is that because of the moderate downturn, they do start to wear my feet out on slab after a couple of pitches.



I only wear these outside and they have been wearing as expected, but I will definitely need to resole them more quickly than the harder Onyx rubber on my 5.10s..
Great shoe!
Familiarity:

I've used it several times

Fit:

True to size
I bought the Katana for moderate bouldering and more technical climbing.. I have a more comfortable mythos shoe for splitter cracks and easier climbs. These are great edging shoes and stick to the tiniest crystals and slickest faces! Took about 10 pitches to break in to the shape of my foot, but didn't really stretch considerably. True to size.
Any idea when you will be getting these in sizes 42 and up?
Hey!



We should be getting a shipment in the next few weeks here. I'll do my best to let you know once they come in.



Ben

brabinowitz@backcountry.com

801-746-7564
Are 44.5 or 45 gonna be in stock soon?
Gustavo,



We have a bunch of 44.5's and 45's that should be arriving shortly. Let me know if you'd like me to watch that for you and let you know when they get to us?



Shoot me an email anytime you have questions!



Jared D.

Expert Gearhead

801.736.4336

jdowns@backcountry.com
Best Answer
Would be awesome if you let me know! Thanks!
I wear an 8 in street shoes (nike, adidas) and a 9.5 in rental shoes (so with socks). what size should i get in these?
Best Answer
Go a full size down from your street shoe. I wear a 10.5 (Vans, Nike) and I use a 9.5 for a tight but comfortable fit. For a performance (toe crushing fit) go down 1.5 sizes. Never wear socks with your climbing shoes, it's akin to wearing a life vest with your surfboard.
Spot on Zach - definitely like the life vest with a surf board analogy, could not be more true with wearing socks in climbing shoes.
Any idea when you might get size 43.5 - 44 in? Is there anyway of sending a notification when they do?
Hey Joseph T.



Thanks for your question. It looks like we have both of those sizes on order to come in mid-August. We have quite a few coming in so check back on the site then!



Let us know if you have any other questions!
Good all around.
Familiarity:

I've used it once or twice and have initial impressions

Fit:

True to size
I found these to be pretty versatile, for a sport shoe. They are a pretty stiff shoe, which gives you a solid platform when you are trying to balance on small edges, which I was very grateful for. They smeared just fine, as well, which is a plus. Also, they are one of the most comfortable down-turned shoes I have ever tried.

I wear a 38.5 in most La Sportiva shoes. My street shoe is 8.5-9.0. Techincally, I could go to a 37.5, but it's just too painful for me. The 38.5 in these was just right.

Questions? Hit me up!

Emily Jenson
Expert Gearhead
801.746.7587