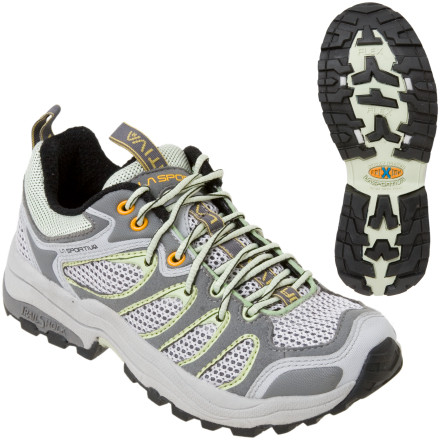 As the most cushioned trail running shoe in La Sportiva's line, the Women's Imogene provides first-class comfort on the longest runs of the season. In addition to a cushy MEMlex midsole, the Imogene also includes a TrailShock nylon shank to eliminate pressure points when you travel on rough, rocky terrain. La Sportiva used their sticky FriXion AT Ultra Trail outsole to ensure excellent grip whether you run on dirt or rock.
Quite comfortable!!! And the price is reasonable!!!!
I climb, hike, and do a lot of scrambling often on slick rock and the rubber on these shoes are incredible! They have saved me from serious falls and sprained ankles. I can't run but i bet if i could do some trail running, they would awesome. They run very slightly big but nothing some socks cant fix.
Very rarely do I find a shoe that's perfect from the get go. I have medium width 40.5. The lacing system is what is really nice, with laces that tighten as you run. The laces and tightness tend to stay the same as when you first tied the shoes before your run. The soles are nice, with their pressure point relieving system. I run on trails almost every outing, but when I need to run on a treadmill I use a different shoe: Montrail Masochist. I think these La Sportiva's are very comfortable, supportive and have a close fit around your foot. I want to buy 3 more pairs! Great grip on slick trail.
I'm a pretty avid runner and have raced in multiple 5Ks and two half marathons. La Sportiva's women's Fireblade was my first pair of shoes from this company, and I absolutely fell in love with them. When it came time to replace these shoes, I decided to see what else they had to offer and got the Imogene based on a review that said "a beefier Fireblade." I wish I hadn't listened. After running in the Imogene for a few weeks, I am sorely disappointed... and I mean SORELY. These shoes do not work well for my feet at all. I wore a 39.5 in the Fireblade, but this size almost seems a half size too big in the Imogene. They rub blisters on the heel and hit the ball of my foot in the wrong place, making my feet extremely sore after a run or a day at work (I teach and am on my feet a lot).

I could use the Fireblade on pavement as well as trails, but the Imogene does not work on the street and barely gets by on the trail.

The Imogene may be pretty, but I'm going back to the mustard-colored Fireblades before I amputate my feet.
The shoe seemed to fit great out of the box and I was excited to take it out for a trail run. I like Sportiva because they have great grip on wet New England rocks. But, aAter the first run I had to send it back because it was digging into my right forefoot. Maybe it was defective. Seemed like a great shoe, too bad.
La Sportiva Trail Running Video
I bought these shoes in a 37.5 b/c i am a 6.5, although the shoes run about a 1/2 size to big so order down, backcountry being the great company they are exchanged them and i was running in them 2 days later. I kid you not i shaved 5 minutes off my record time on a trail run last night! These runners have amazing grip up and down allowing you to run at whatever pace you please and the mesh helps your feet breath. I believe these are the greatest trail runners i have ever experienced! They inspire me to win the Imogene!
I am looking for a stable trail shoe. I...
I am looking for a stable trail shoe. I use plastic, custom orthotics. Is this shoe appropriate? Any suggestions?
Best Answer
I also use plastic custom orthotics to help stabilize my arches, and I've been using the Salomon XA Pro 3d XCR shoes for years. Incidentally, the Salomons have also been recommended by my orthopaedic doctor, for their relatively rigid forefoot and torsional flex.
Don't know what size to order, as internet...
Don't know what size to order, as internet has confused comps for American to Euro sizing. Do these shoes fit true to size, I normally wear a women's 8 what does that work out to? 38 0r 39.5?
That would work out to be a 39.5. Do you wear an 8 in street shoes or running shoes? I only had to size-up 1/2 size for Sportiva trail running shoes so take that into consideration as well. These are descent trail running shoes. they're a little stiff but not bad. Check out the wildcat as well from sportiva. I just got a pair for my wife and she absolutely loves them.Hope that helps.
Why do La Sportiva's sizing not match up[...
Why do La Sportiva's sizing not match up[ with the Euro sizing chart that your site displays
a bit beefier than the Fireblade
Better tread than the Fireblade, more cushion. Unfortunately, the upper is a little stiffer, and there is no sock-like tongue system to keep out rocks and grit. Good shoe though, and a bit beefier than the Fireblade. If you want something that fits similar, but with a bit more "umpf" the Imogene is your shoe.