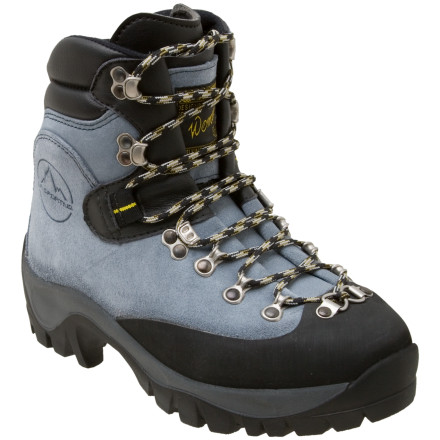 Detail Images
If you've ever hunched over a map you couldn't quite trust or wondered if there might be some gnarly ice blocking your route, these are the boots for you. The La Sportiva Glacier Mountaineering Boot for Women is a heavy duty boot that makes heavy duty loads feel light. With a little more flex and rocker than other burly boots, it's more comfortable on long hikes when you have to carry a lot of gear. They can handle any terrain you might encounter in a week on the mountain. If the trail leads over a snowfield or onto a glacier you can slap on crampons and travel with confidence. The Glacier will even do light mountaineering and it climbs alpine ice comfortably. *AVAILABLE FOR NORTH AMERICAN SHIPMENT ONLY.
NO GO for Wildland Firefighting
Familiarity:

I've put it through the wringer
These boots are used by some wildland firefighters as a cheaper alternative to the standard $400+ fire boots and supposedly easier on the feet. I already had these so I decided to use them as my fire boots while working on a 10 person wildfire module/handcrew during the 2013 season. Within the first month of wearing these everyday for training, fires, big hikes with heavy packs I started to notice pain in my heel. No matter what insole i used (Sole, Superfeet) it wouldn't go away. I found the boot to be too heavy, too hot, and too stiff for firefighting. I could definitely feel the heat through these boots even when standing in ash or hot dirt. The rubber on the toe area instantly delaminated after 3 fires. Finally I started noticing knee pain which I also attribute to these, so I bought standard firefighting boots (Drew's). The heel pain instantly went away, no more athletes foot, and hiking was infinitely better and easier. I wouldn't recommend these for firefighters on handcrews. Might be ok for folks who aren't working in hotline or hiking as much as handcrews.



I'm giving this 3 stars though because I have used these boots for its intended use, which is hiking and mountaineering and was very happy with these for those purposes. Again, its not as breathable as I'd like and the boot is heavy and stff, but it gives great ankle support compared to standard backpacking boots.
What is dri-lex? Does it compare to...
What is dri-lex? Does it compare to Gortex?
Essentially Gore-Tex is more waterproof, and Dri-Lex is more breathable. Here's a pretty good article explaining it. http://afmointel.com/featured/breathable-vs-waterproof/
Hey all! Has anyone treeplanted in these?...
Hey all!
Has anyone treeplanted in these? Speculations on how they would hold up?
Emma, these boots are solid construction and would hold up fine for your purpose.
Hi there, I have a trip to mount Elbrus...
Hi there,

I have a trip to mount Elbrus in this summer. The tour travel agent request we need Plastic boots or crampon-compatible heavy leather mountaineering boots. Does this shoes "La Sportiva Glacier Boot - Women's " can fit for trek and climb at Mount Elbrus? Does anyone was long trekking on ice and Glacier? got wet from ice?

Thanks for any feedback !!

Catherine
Catherine, it is going to cost you more money but I would go with the Nepal EVO for your intended climb. They are warmer boots and give you more choices of crampons. Another option is the Scara Mont Blanc GTX which is comparable to the Nepal EVO.

http://www.backcountry.com/la-sportiva-nepal-evo-gtx-mountaineering-boot-womens
Does anyone know the difference between...
Does anyone know the difference between the women's Glacier mountaineering boot and the women's Makalu mountaineering boot? Does LaSportiva run true to size? My heel is narrow and my toe area is wide. Would either of these work?
Best Answer
The glacier has a half shank and the Makalu a 3/4 or full shank. They run a bit small in men's sizes according to standard US to European conversion. Extremely durable, great boot. I've worn both and the glacier will do most everything the Makalu will do but definitely not as stiff
Ok, I'm looking for the ultimate waterproof...
Ok, I'm looking for the ultimate waterproof shoes. I live up in Vancouver and do hiking, scrambling, mountaineering. As the winters are long we have still have snow in the mountains and I'm tired of wet and cold feet!!!
I was thinking about the La Sportiva Glacier, Karakorum or Trango. Waterproofness and some warms are the key and for sure, the comfort too. If you have ant recommendations on other shoes and brands I would appreciate it!
Thanks!
Best Answer
Hi, I don't have this boot or the boot I am about to recommend. However, I know at least four people with the Trango ( LSP0109 ). Each and everyone of them swear by it and they always seem to do the best when we are climbing. I would highly recommend this boot based off of the testimonies or other. Oh, and I'm sure they're waterproof! Hope this helped!!
My daughter wore an earlier version of these boots during an early season Muir Trail hike in 2009 - 220+ miles and she loved every step in them, ice, snow, rocks, no problem. My son was in trail runners and not only destroyed them on the same stretch but changed his mind about what kind of footwear is appropriate for the high alpine regions where you constantly cross small streams and need grip on snow and ice. Last year my daughter wore the Trango Evos and didn't like them as much. This year, we are going back again and she'll be getting another pair of Glaciers (she outgrows them every year... ouch!)
Have taken these on a couple snowshoeing treks and one four hour mountain-climbing- on-snowshoes trip and they are INcredible. I guess I've never had a decent pair of hiking/mountaineering boots until now. I never dreamed that boots were designed so your toes don't get crammed to the front of the boots when you are going down some steep mountains.
When I first put them on they fit perfectly. I felt like I could feel some pressure from the removable padded tongue thingie, but I just moved it up @ 1/8 ". The toe room is phenomenal, and the boot held my foot like a well fitted leather glove. Kinda stiff walking in them at first, and I felt kind of klunky walking around the house, but the weight is very light, and I suspect I just needed to get used to them because once outdoors they just feel wonderful. Insulation is adequate - I have one foot that was frozen recently and it needed a toe warmer, but the normal foot was totally fine the whole 4 hrs I was out at outside temp of @ 10-15 degrees.
Traction is very good; and you are not going to roll your ankles in these - tons of support and stability.
I purchased the size based on the recommendation in the sizing chart provided. I normally wear a 9 in American woman sizes and they recommended a 40.5. (I looked at my various cross-country ski boots and they are all 41's - so I was a little concerned) These guys were right. the 40.5's are perfect size.
I have never had a pair of boots this comfortable, I might add that I also have never paid this much $$ for a pair of boots, but at my age (over 50) good gear is even more important, and I am triple glad I got them.
I would 100% recommend them to my friends; in fact I already have!!.
I really appreciated all the other reviews everyone made...it really helped me with the decision, and I am very happy.
Although these boots, or any other hiking boots are not attractive, they are great. I have hiked many times with them and they are awesome. My feet are almost always cold and yet they remain toasty in these boots. I hiked in -12 F and my feet never even felt chilled!
Picked up a pair of these for my wife and she really likes them. They are a little stiff and did require a small amount of break-in time. These are not a full shank boot so they are easier to hike in. They will still handle crampons fine if you need them to. She really digs the color but it doesn't stay the pretty blue for very long.
These were the easiest boots to break in that I've ever owned! Went on a five mile hike to see how they would feel and came home without blisters or even a hot spot. I have owned several pairs of Sportiva's and usually have a few painful trips before my feet get used to them, but not these! I ordered the same size that I have always worn from La Sportiva and they obviously fit great. If the fit feels a bit strange you can also adjust the tongue which makes a huge difference in the toe space and fit. I have now owned them for four months and probably hiked 200 miles (I use them for work), unfortunately the sole has started to peel back from the leather and water leaks in immediately. Luckily, Backcountry.com has such a good warranty that I am ordering another pair and getting a refund for these. Hopefully they don't have the same problem!

If anyone is wondering about the color, yes they are a very pretty, girly blue when they arrive, but as soon as you waterproof them or spend a few days on muddy trails they will look pretty much like any other hiking boot, a dark grayish brown.
I've worn boots for many years, but never any like these. After many of my freinds and coworkers recommended these, I got a pair. I got a half size smaller that I normally wear and was glad that I did. I haven't gotten them "broke in" yet, but so far I think I'm going to like them. I have a thin foot and the lace to toe allows me to secure them nicely, and the locking eyelet is the greatest!!I've only had them through cold weather months and they were warm. I am concerned that they may be too warm for a summer boot.Only one thing I didn't care for immediately was the color. They are not just a little blue! They really are very blue. I would have much preferred a brown or gray. I have received many comments about my blue boots!
These boots are pretty cool! Every time I wear them people always ask me about them and comment on how cool they are. They took a while to break in and sometimes my feet cramp up or fall asleep when I wear them too long. They keep my feet warm and dry. Only wish they were $100+ cheaper!
I need something that does very well on...
I need something that does very well on ice - like 'black' ice? Any experiences with these boots and tough ice?
Best Answer
Are you using these for just getting around town? Any boot with a stiff lugged sole like this will do OK, but you really want traction spikes or something similar you can just throw over the top of your shoes/boots. No boot sole does well on black ice!
Old question but I have tried many different sole types to handle ice and have realized it doesn't make much difference. Get yourself some crampons, spikes or the spring tractions and save yourself a fall.
These are definitely heavier than standard hiking boots, but I've been wearing them all summer for work and my feet feel great. Never had trouble breaking them in and they really wrap around your ankles for support. Used them as wildland fire boots as well, but started to notice the rubber on the toe part is kind of peeling back probably from a lot of contact with ash.
I picked these up for my wife as an all 'round, all purpose boot. They are set up very well with Perwanger leather which is the best stuff in my opinion. The have an incredibly durable sole with plenty of traction. I don't know that I would get into much terrain needing crampons with them but they'll do fine for everything else. They fit as La Sportiva's typically do so they're a little narrow and true to size in the length. They come fairly stiff soled but pretty comfy straight out of the box.
Write your question here...I have owned a...
Write your question here...I have owned a pair of Sportiva Boots forever. They are dying. Which of these boots comes close to replacing it? The old ones say "Trekking" 39 1/2 R 992 on the tongue. I think they are a woman's boot, but don't really know that for a fact. They are 7 incehs tall. I have worn them 3 to 6 days a week for so many years, I have forgotten when I bought them, maybe 5 or 6 years ago. help?
You should upload a photo here, and then we can see them and suggest something for you!
Write your question here..what is the...
Write your question here..what is the weight lbs.
Best Answer
Look over under the tech specs. It will vary with size, but a 7 weighs 3 lb 5 oz.
how high are these boots? need 8" for...
how high are these boots? need 8" for work-
will these work on Rainier?
will these work on Rainier?