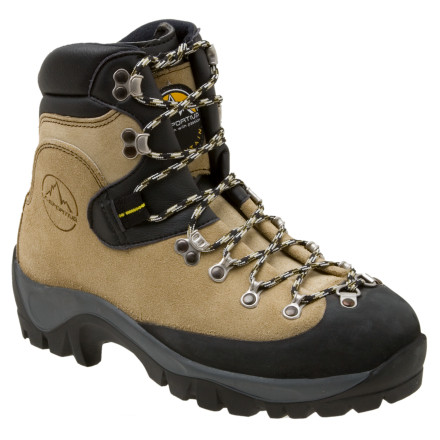 Detail Images

Community Images
If you've ever hunched over a map you couldn't quite trust or wondered if there might be some gnarly ice blocking your route, these are the boots for you. The La Sportiva Glacier Men's Mountaineering Boot is a heavy duty boot that can handle any terrain you might encounter in a week on the mountain. If the trail leads over a snowfield or onto a glacier you can slap on crampons and travel with confidence. The Glacier will even handle light mountaineering and it climbs alpine ice comfortably. With a little more flex and rocker than other heavy duty boots, it's more comfortable on long hikes with heavy loads. *AVAILABLE FOR NORTH AMERICAN SHIPMENT ONLY.
Great boot, once broken in.
I'm a plumber, and I've been wearing these 5-6 days a week for the past six months. I'm a US 9.5 EEE and size 43 works for me.

The leather is thick and very unforgiving, until you break them in. It took me three months of 5-6 days a week wear at work to fully break them in. Now that they are broken in, they're fantastic!

With the right insoles, and that's entirely up to how YOUR foot is built. You can wear these all day with no fatigue, once you're used to their weight. I use the stock insole over a 3/4 length Dr. Scholl's arch support. With the 3/4 length arch, I don't lose the precious toebox space my fat feet need.

I gave them 3 coats of sno-seal when they first started breaking in, and one coat a month thereafter. I'm a plumber, so these boots get water and worse on them daily. With the sno-seal, it beads up and rolls off like a turtle waxed car! I'm sure it's affected the breatheability, but I've never noticed.

On steep ascents, these boots really show their worth. The half shank isn't too stiff for daily wear, but is stiff enough to make steep slopes feel more like walking up stairs. I think they're a little too flexible for prolonged front-pointing or step kicking, but that's what my Makalu's are for. The ankle support, as expected, is outstanding, and I have an ankle that likes to spontaneously roll. The Glaciers keep it in check.
i have only two concerns: can these boots...
i have only two concerns: can these boots handle wide feet and are they waterproof/breatheable?
Thay not totaly waterfroof
I am a US 9.5 EEE, and have these in a 43. They are great, now that they're broken in. You will need to treat the leather to make/keep them fully waterproof.
I've had a half-dozen pairs of Glaciers and Makalus over the years. I try other boots but always come back to these due to their toughness, longevity, and fit. I generally wear the sole off (literally wear it through) before the uppers fail. For the field work and hunting I do, the Glaciers are the ticket--the Makalu shank is a bit too still for straight ground pounding. A set of Superfeet insoles are critical.

Keep these away from heat--the rand and sole easily delaminates if you try to dry them too quickly (campfire, etc). At $170, they're about the best deal going.
I am looking for a boot that I can backpack...
I am looking for a boot that I can backpack comfortably through the deserts of arizona for 3 weeks and also use the same boot for mountaineering later on in life. Are these the pair i should be looking at? I will be backpacking with heavy loads
This r good heavy loads boots and you go and do (not to high) mountaineering with them
Tough outer leather, good support, stiff but comfy, durable, i would get another pair.
We do not. These are a standard D width.
Do you have E and EE widths
Do you have E and EE widths
No this is a standard width boot.
I'm a Minnesota wildland firefighter and I bought these because I felt I didn't need a 'traditional' heel and I didn't want to spend $400-500.

The sizing was accurate. Has a nice comfortable fit. They have broken in pretty good after just one spring season and I get the feeling it will only get better.

Great for the midwest, it keeps the water out.

I have heard about delamination issues but have not experienced anything thus far, although I haven't exposed them to extended periods in white ash.

Overall very satisfied and well worth the $.
Great boot! I purchased these boots on a great sale in the New England area. Not sure anyone there knew what they were because they were 75% off. I snagged them and have been using them since 2008. I have used them for long hikes in very rough terrain during Adventure Races. I have used them climbing Mt. Baker, WA in wet slushy conditions and on the summit with crampons. What I like about the boot is the comfort and fit along with the warmth when using a good pair of wool socks. The only issue I have had is near the toe area where the rubber covers the leather. There was a small separation between the leather and rubber creating a pocket of less then 1/4 inch. I got some good epoxy, dabbed a little in the hole and everything has been great. I plan on wearing them again for another climb of Mt. Baker in late August and a 14er in Colorado. I will definitely purchase another pair - just waiting on another great sale!
I love these boots. Great all rounder, stiff yet comfy enough on longer approaches. I got these mainly for Colorado 14ners. They are not insulated but are warm never the less. A really good three season boot. They do require a good bit of a break in period producing some shin bang in the early stages. They are bomber, great support. They work well with my snow shoes and Black Diamond Strap-on crampons. Backcountry.com was excellent to work with as well. I am totally happy with these bad boys!
I normally wear 10.5 shoes. Should I go...
I normally wear 10.5 shoes. Should I go a full size up (11.5) for a pair of these boots? I will be wearing normal socks, not thick.
Get the same size then. Unless you are wearing wool socks(which I'd actually recommend highly), then they should be pretty true to fit. Plus if they are the wrong size, just exchange them, free of charge.
I just bought a pair of these for a September Rainier climb, and am wearing them on my training hikes (which, sadly, don't test them - I live outside Houston). That said, they have been comfortable from the first time I tried them on. I'm really looking forward to getting them to use them in the kind of environment they're made for!
What crampons have people used with these...
What crampons have people used with these boots?
You can use a "semi automatic" or, onely strap (like the clip Serac or strap crampons BlackDiamond)
How would these boots be on the CDT in NW...
How would these boots be on the CDT in NW Montana? Heading that expedition this July...
They will keep you dry and comfortable and will do a great job at carrying a load. If you are going fast or don't plan on having a heavy load I'd probably look more at a light hiker as these will probably be too heavy.
how do these boots hold up in snow, winter...
how do these boots hold up in snow, winter like conditions at 3km meter and above altitude?
I've used these at about that, and with warm socks and some toe warmers (I have sort of bad circulation) and they were great. Only used them a few times though at that elevation.
Has anyone worn these when climbing Mt....
Has anyone worn these when climbing Mt. Rainier? If so, how well did they work?
Best Answer
These would be a great Rainier boot for most people. It may not be warm enough if you happen to have really cold feet, are not constantly moving, or are attempting a winter summit. Otherwise they are quite comfortable and will take a crampon very well.
I have taken these boots up Mt. Baker and really sorry I did not have them for my first attempt on Mt. Rainier where I rented plastic boots that cut into my ankles and a terrible experience. I love these boots and they do well with crampons and snow. While coming down Baker , I post holed all the way down and feet never got cold or uncomfortable. They would be great!
can this boots can be also used in long...
can this boots can be also used in long treks in summer?
Best Answer
Yes, especially if you are carrying a decent load on your back. It will breathe a little bit but could get a little hot in the summer. It is the perfect boot though if you are going to have some technical challenges on your route.
Got them in the mail yesterday. Put my Croc boat shoe inserts into these bad boys and they are awesome. I was a little confused about the insert that came with the boots, worthless is all i can say. looking forward to putting many many miles in these.
I can hike in these boots, or I could front-point in them. Great all-arounder.