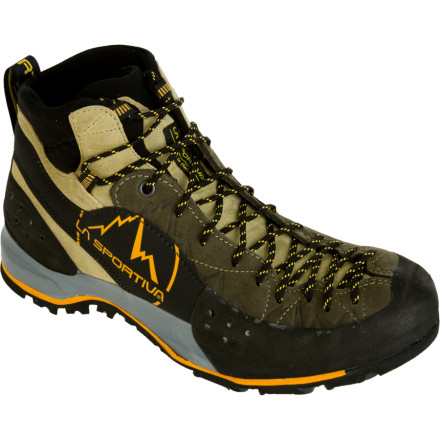 Detail Images

Videos

Community Images
Lace up the La Sportiva Ganda Guide Approach Shoe and lead a fellowship of climbers up the mountain's rocky skirt to the towering cliffs above. This mid-height shoe prevents rolled ankles and includes features of both a hiking boot and a climbing shoe for tricky moves over unpredictable talus and skinny goat paths while carrying loads of climbing gear.
Anatomic PU Lite midsole contours to your foot and cushions weighted steps over the roughest terrain
The slip last construction in the forefoot (like a climbing shoe) permits a snug fit for better footholds on the approach
Mesh lining in the heel helps vent your warm feet as you ascend sun-baked desert slopes
Vibram Idro-Grip V-Smear outsole includes oppositely oriented lugs for better braking and grip on flat, slick rock
Uncomfortable hiker / poor climber
Familiarity:

I've used it several times

Fit:

True to size
Every approach shoe is a compromise since climbing ability and walking comfort require opposing attributes. These turn out to be exactly in the middle where they are terrible at both.

They seemed promising with a fit snug enough to expect reasonable climbing ability and good adjustability with the laces. They are comfortable for short distances but on a long day in the mountains (what they are designed for) they become painful. Climbing ability turns out to be pretty poor as the rubber isn't the least bit sticky, and the cushioning lets them ooze right off of edges.

I am very disappointed with these and was ready to return them when I discovered Backcountry changed their return policy to used items within 30 days. It took me about 60 days to be sure I hated the boots and now I'm stuck with them.
Just not worth the money.
Familiarity:

I've put it through the wringer

Fit:

True to size
I purchased the Ganda guides a little more than a year ago. I was fortunate enough to get them below wholesale which prompted me to buy them. I was looking for a higher top shoe, capable of multiple resoles and could be used on long approaches and technical climbing. These seemed to fit the bill. However, that's not the case. They took 100 miles(yea I said 100) miles before they were really broken in. Once I broke them in, they started growing on me, as I like the control of the fit with the lacing system, they climbed okay, and they gave my feet and ankles enough support. The guides did everything okay, but never shined in any particular Category. Then they started falling apart. First came the top webbing loops for the laces, which simultaneously blew out. Then the yellow layer of rubber started degrading.Next came the gaping hole where the stitches failed on the inside of the foot 2 inches from the toe. Finally the grey part of the sole started splitting. All after less than a year. I don't think il even get a single resole out of them. All of these things could have been avoided, such as using Kevlar webbing, better rubber compounds, moving the seam down or up a half an inch so it wasn't directly on a highly creased area. All of these things you would expect from a 300 dollar Italian made approach shoe that boasts about durability. La sportiva is laughing at us all the way to the bank.
Wish I paid better attention.
The previous reviews said it all. They fill with dirt & fall apart.

I was really excited about my new shoes for a week or two, then I got tired of pebbles in the shoe. The fix was lacing them tighter, it stopped the larger dirt from slipping through the tounge gaps & gave me foot cramps, blisters, & hotfoot. I put up with the pebble intrusion now. It's been almost a year, the rubber rand is mostly detached & the sole is in almost perfect shape. I'm unbelivably let down by these shoes.
La Sportiva Ganda Guide Approach Shoe
Expensive Disappointment
Gender:

Male

Familiarity:

I've put it through the wringer
I had really high hopes for these boots. I like the design, features, etc, but like other have said, the non-gusseted tongue ruins these boots. I split my year between Moab and Jackson, Wy and have used these boots in the desert and in the Tetons. Either place, dirt, sand, and other debris get all inside the shoes. I don't wear them anymore. Way too much money for an obvious oversight on Sportiva's part.



Also, I know these aren't goretex lined, but if there's any snow involved w/ your approach (i.e. Tetons) then your soaked.
I got these boots on the recommendation of a guide before doing the Grand Traverse in the Tetons. Unfortunately for me, due to my busy travel schedule, I didn't get to start wearing them until only a week before the trip. The toe box was very tight and gave me wicked blisters on my little toes within the first 10 minutes of hiking in them. After taking them to a local store to have them stretched, the fit was fine, but the damage was already done to my feet.

On the trail, on boulders, scrambling and climbing the North Ridge of the Grand Teton, I found them to have excellent grip and support. As we were on the move 15+ hours per day, the light weight was a huge benefit.

I did experience two drawbacks, both mentioned by other reviewers. First, I question the durability of them. The sole doesn't seem to be an issue (at least not yet) but the rubber along the sides of the toe box was quickly shredded, revealing the leather underneath. Second, I did experience lots of small pebbles and grit getting inside and exacerbating the blister problem I had from the week before. I didn't find the lacing difficult to remove, but was wishing I had some time of gaiter to prevent that. My guide was wearing the same boots without this issue, but his pants were significantly longer and bunched up around his ankles.

All in all, I am somewhat disappointed considering the price, but they did the job.
My feet tend to sweat quite a bit and I...
My feet tend to sweat quite a bit and I do most of my backpacking in the Sierras which is pretty dry. My average trips are in the 30-50 mile range and I carry between 30-40lbs. Definitely not looking to use a day hiker like the Merrell Ventilator. Does anyone have a recommendation for a non gore-tex backpacking boot?

I thought maybe the Ganda could be used as a backpacking boot but not sure if anyone has used it primarily that way. Any advice is hugely appreciated!
I've used these on multiday hikes with loads in the Sierra and they were as stable and supportive as many hiking boots I've used in the past but they were significantly lighter and more versatile.
Gandas...not worth the $$
Just bought a pair of these. I really liked the tight fit ankle support. The soles are pretty good too. What I could not get over was that the tongue is not sewed into the upper past the toe. This allows dirt, rocks, debris and whatever else you are hiking in to get into the shoes and raw up your feet. This is a problem especially with the intricate lace system (which gives a great fit, but a royal #$%* to unlace and let out the pebbles). Get these if you get them free through a hook-up and never deviate from an established trail. Otherwise, don't blow the money. I believe they have some work to do before having the balls to ask so much money for the Gandas.
Way overpriced and falls apart
Excellent climbing performance on the rock, but WAY overpriced for what amounts to a high-top approach shoe. Beware of reviews from pros elsewhere-- these folks don't need to pay for their footwear or can take the cost off their taxes! Not durable--as another reviewer noted the orange midsole degrades rapidly and the sole begins to delaminate (in my case, after only a few alpine rock climbs). Not good for hiking--not enough cushion, the high top provides very little support, and they fill with dirt in a heartbeat. Not stiff enough for snow, plus they would leak like a sieve. I have a number of La Sportiva products, and this is the only one that I would not recommend. A waste of money. If you want a great, much cheaper approach/climbing shoe-- get the La Sportiva Boulder X.
I've had these boots for almost a year now. I've done everything in them from hike the Uinta's in late spring snow, summit every Flatiron in Boulder, Colorado, and frequent many bars in the late evenings. First off they look great and fit like a pair of custom made gloves. The soles are extremely sticky and allow maximum agility on steep terrain. I was able to climb up to a 5.7 - 5.8 YDS with confidence in my foot holds thanks to these babies! They are great for long climbs in the easy to moderate ratings (Class 5 to 5.7). My best description is they feel like mountain ninja boots! They are light, agile, and sensitive! Now for the downside... the are well made but they have a few flaws. The orange cushion between the sole and bottom of the boot degrades rather easily and causes the sole to separate from the shoe. This problem can be fixed with "shoe goo" but doesn't solve the problem. Also, the two nylon bands that retain the laces on the upper portion of the shoe frays over time and will break before the shoes possible life. Lastly, the tongue is only connect near the toes and thus provides no protection from dirt/debris from entering the shoe. This creates a problem when negotiating any loose soil/rocks due to the fact that you'll wind up with debris in your shoe. Other than that they are bad ass! They just need a little work and they could be perfect!
the hybridization of an approach shoe being snug, having vast amounts of control, and lower center of gravity, with a hiking boot is in my opinion the combination with most pros to cons ratio.
Here's a list for easier comparison, Pros from approach shoe include: -lower center of gravity ( taking into consideration that most hiking boots make you feel like you're carrying huge lugs around strapped to your feet hence the name for the huge sole tread "lugs"), the Ganda Guide sits your foot lower into the sole, giving more control,
- snugness, you get the same glove like feeling from climbing shoes which should be expected in approach shoes, except for the toe box area which gives a little wiggle room,
- Stickiness of the vibram rubber, feels just like wearing climbing shoes you can almost walk sideways on them ( i'm normally a tenacious hiker, making sure each step is stable one behind the other... but these make me feel like each step however misplaced it may is as stable as the last.)
also a factor of the the boot ankle support ...
I'm a Hueconian, always out there whenever i'm not eating working studying driving but, I haven't had this much fun running in hueco hiking to the problems though... and i wish i had super fast shoe lace tying finger capabilities... but a slip on boot would make no sense?
I just got my Ganda Guide's, and while I...
I just got my Ganda Guide's, and while I really like the feel and support of them, I am afraid they're too small. After wearing them for the afternoon, my toes felt cramped. They are the same size (46) as my Sportiva Mythos and Miuras. Should I have gotten a half size bigger than my climbing shoes? Thanks!!
an approach shoe fit should be different from a climbing shoe fit. These should fit more like a hiking boot. you dont want them too large because then you can sacrafice performance, but your feet need to be comfortable enough to spend at least a few hours hiking in them.
I was looking for a light sticky boot for slick rock scrambling and hiking (Vedauwoo, Grand Teton etc). And I got exactly what I was looking for with the Ganda Guides.
Super sticky, but watch out if they get a bit wet as they soon become super slippy. Crossed some snow coming down GT before getting back into the boulder field and they were pretty bad until the sole dried off.
Took about 20 miles to stretch out. I got the size that I normally get for boots and they were tight. Hang in there though because they do stretch out a bit and now mine are very comfortable, though still snug.
recently bought a pair of the Ganda Guide Approach Boots. They are great for climbing but really suck for approaches. I tried to wear them on an approach and they filled with sand and scree. I planned to wear them for military use in the mountains but they are absolutely not the right boot. I guess if you could walk a sidewalk to the climb they would be great. Thats $230 i wasted.
On my feet, these fit perfectly (I wear a C width), are really, really light for the support they provide when carrying a pack over rough ground. And no Gore-Tex. Thank goodness. Great for my desert photography. But, the lace system at the top should be better. Having the laces too short wouldn't be so bad, but these boots ought to have eyelets at the top instead of a narrow itty-bitty loop of nylon. Try lacing these up in the dark, or in shadow. Maybe the new design shown on the LaSportiva web site shows a fix to this problem.
great boot for long approaches
I cant compare the stickiness to any other approach shoe, as this has been my first approach shoe, but on the approach scramble on the sandstone of the red rocks in NV, these things didnt slip one bit. they stuck like glue on the smears and gave me alot of confidence going up with a large pack, and descending the gullies after a climb. Also was a very comfortable shoe for the hike in before the scrambling started

they are pricey though, and take slightly longer to put on and lace up because of the high top design. but I am definitely glad I spent the money.
Unanswered Question
How sticky is this sole? I've owned Five...
How sticky is this sole? I've owned Five Ten Guide Tennie which is super sticky, Sportiva Exum Pro which is fairly sticky, Garmont Sticky Dragon which is barely sticky. How does the Ganda indo grip V sole stickyness compare?