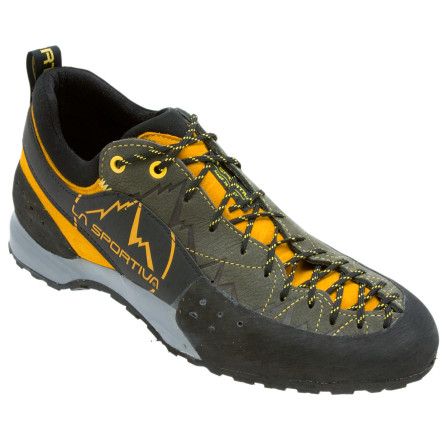 Detail Images

Videos

Community Images
The slip-lasted La Sportiva Men's Ganda Approach Shoe uses a low-profile design to increase performance on 3rd and 4th class terrain below the steeper stuff. A pointed toe helps you get into aiders when you're hooking your way up some A4, and sticky Vibram Dot Rubber keeps you glued to smears when you have to make a 5.8 move a few hundred feet above the deck.
Share your thoughts
What do you think of the
La Sportiva
Ganda Approach Shoe - Men's
? Share a...
Hot Wheels
Familiarity:

I've used it several times

Fit:

True to size
I've had these a while now, amazing for short hike to the crag. Have done some extended walks in them with around 25kg in the pack. I found they ran just a tad bit small. They also run a little hot. Most of my climbing in summer is in heat of about 40C. Hot. Ground heat transfer after a while and hot spots will develop around the heel.

An amazing shoe in the cooler times of the year, hahahaha, cooler than 40C anyways.

Little on the pricey side, but if you can afford it, you won't regret it. I get asked by everyone i bump into where i got them, they weren't released down here!
Excellent Niche Shoe
Familiarity:

I've put it through the wringer

Fit:

True to size
About my review: I have been wearing these shoes for two years. Cragging, travelling, and alpine climbing.

My main take away: These are an amazing 5 star - for what they are intended for - shoe. For me, however, they have a very narrow range of application. This is not my only approach shoe, and it probably shouldn't be your first and/or only approach shoe.

This shoe is amazingly durable, very sticky, and climbs, as you probably expect very well for a shoe. It is also over-priced. 75% of people would probably be better served with a shoe that costs half as much, performs better at a wider range of climbing situations, and climbs only fractionally less well. As a rule, I personally would never pay retail for these. But that's just me.

I only use these now for car to car climbs with less than 20lbs in my pack, that have technical climbing and I don't want to bring climbing shoes. For most people that is going to be a pretty small percentage of the climbing they do. The routes will be of course different for everyone, but for me these shoes get considered when I consider doing these climbs in a day: East or West ridge of Forbidden Peak, OS or Upper Exum of Teton, West ridge of Stuart etc.

They are not good for extended approaching, especially with weight in your pack. Your feet will suffer a disproportionate amount of abuse relative to the climbing benefits of the shoe. Many people get the higher topped, more hiking appropriate shoe for one night alpine rock climbs.

Considering the number of people who do extended hikes in approach shoes now, I think it is important to say that these will not be good for that. They are an excellent shoe for technical climbs a couple grades below your ability where you need to cover much ground quickly, and are not carrying much. Your millage may vary.
Seriously the best shoe I've ever owned
Familiarity:

I've put it through the wringer

Fit:

True to size
From the fit of the shoe to its unparalleled construction that will last for years, these can do it all. I climb, hike and wear them around town. Only downside is that their expensive, but you definitely get what you pay for. I have been wearing them for everything for the past couple months and so far not a single sign of wear and tear, I HIGHLY recommend.
The ONE!
Gender:

Male

Familiarity:

I've used it several times

Fit:

True to size
The best approach shoe for short@ medium distance ( -to 5 mile).
I own 9 different approach shoe ( 5/10, scarpa, inov8, la sportiva, salewa......) but this is the ONE! Period
Help with sizing? I guide in southern Utah...
Help with sizing? I guide in southern Utah and i need a shoe that i can climb/scramble 5th class and cover up to 5 miles a day in. My street shoe size is 45.5. Does anyone with experience with these shoe have recommendations for sizing?
I normally wear a size 9 street shoe and think I have a wide forefoot. I wear a 42 in Mythos and 42.5 in the Mirua. I bought a 44.5 in the Ganda to get the width and I am glad I did.

My only complaint: they are warm.
Thanks for the info. I have heard from other owners that they don't breath well. I'm going to have to think really hard about buying them because of the warm weather here.

Not worth it.
Familiarity:

I've used it several times

Fit:

Runs small
These are solid approach shoes. I am not someone who minds spending money on a quality shoe; however, these really are overpriced for what you get. The construction as always is top notch, and the traction is unreal; however, there are plenty of less expensive alternatives on the market. If you could care less about price and do not want to look around, go with these. Otherwise, do some research, and grab a cheaper pair of shoes.
Im going to do the regular route on half...
Im going to do the regular route on half dome next year, currently a 5.11a trad climber, I generally will leave the tennies on unless I get on 5.10 terrain or above. would it be feasible to pick up these shoes to do most of the climbing in? I was thinking of buying these for everything up to 5.9 and then bring along a pair of high performance shoes in the haul bag. do you think this system would work?
Sounds like a good plan to me. I can't say weather or not you'll be able to climb 5.9 in these, but I would certainly bring these along if I were headed out to climb half dome.
Durable and comfortable
Familiarity:

I've put it through the wringer

Fit:

True to size
These shoes fit true to size, if you like a snug approach fit. My feet measure 41.5 and thats what I ordered. My toes don't quite hit the front, but they're close.

The rubber is sticky and wearing away at a rate expected from approach shoes. I haven't resoled them yet, but look forward to at the beginning of next season.
anyone ever put light crampons on these?...
anyone ever put light crampons on these? I was thinking of taking them on the Grand Traverse next summer.
Big Steppe Up
Familiarity:

I've put it through the wringer

Fit:

True to size
"Ganda" is:
A. A town in the Nagqu Prefecture in the Tibet Autonomous Region of China
B. An ethnic group native to Buganda, a subnational kingdom within Uganda
C. By far the most versatile shoe I have ever owned.
D. All of the above (or at least as far as I can tell from Wikipedia)
If you answered 'D' you were right but really the only answer that matters is 'C'. I really cannot stress how versatile these shoes are. So far, I have:
Climbed 5.8 trad
Bouldered V3
Free-ride Mountain biked
Ordered a large Americano at Starbucks
In all honesty, I feel a bit bad about putting the last one on there - I went through the drive through so the role of the shoe was limited.
In all seriousness, the versatility of these shoes is amazing. Granted, they are meant for climbing, but the grade to which I was able to climb, while still feeling confidence in my footing, is impressive. The design of the toe box allows you to confidently line up (and as such get good traction) on middle of the road edges. The most valuable aspect of the shoe, however, is the stiffness of the last. I feel confident weighting the toe, but does not restrict your foot when hiking. This makes for a good climbing shoe, a comfortably hiking shoe, and (unexpectedly) a great biking shoe - seriously.
For cross fitness I often mountain bike . I specifically enjoy all-mountain free riding, and as such, I use an aggressive platform pedals. These shoes stick to the pedal like the pedal is a clip in. At the same time, the last of the shoe creates a supportive base that allows me to spend a lot of time in the standing position. This is noticeable on long descents when I am spending a lot of time off the saddle and in an aggressive standing position.
Seriously, all around great shoe - 307andbeyond.tumblr.com
Takes a licking, I keep on ticking
Gender:

Male

Familiarity:

I've put it through the wringer

Fit:

Runs small
I've been eyeing these for a while (since they were called the Gandolfs) but have always been hesitant due to the price and doubts about durability (I usually wreck approach shoes with the utmost quickness). The time finally came when I got a decent deal on them and the rest as they say is history.

The Good:
-Very supportive
-Ton of lacing, fit options
-Climb very well (climbed 10- sport route in them and lots of easier stuff)
-Very grippy, even on wet rock.

The Bad:
-They are expensive
-Sizing is funky. I usually wear a 42 in all the Sportiva approach shoes and trail runners and a 43 was my perfect size in these. For reference I am a US street 9 in most things.
-They are heavy
-They do not dry quickly if you get caught in rain (took a few days).

Overall it is one of the best approach shoes I have ever owned and I would certainly buy another pair, even at this price. Truth be told I might even pop on the Guide version when these bite the dust as I think the high top nature would keep more scree out (although these do a great job of it already), and just ditch any boots I may still have.

As Ganda may have said, these are possibly the approach shoe to rule them all. Then again my Tolkein mythology may be misplaced and hey these are Gandas not Gandolfs anyway!!!!
Sticky rubber while it lasts
Familiarity:

I've used it several times

Fit:

True to size
The Ganda climbs very well for an approach shoe. Viewed over a short time horizon, it may well be the best crossover shoe (between hiking and climbing) out there. The rubber is climbing-shoe sticky and, for me, the fit was completely acceptable during long access hikes. (The shoe doesn't have the supportive, scree-busting sole of the Salewa Mountain Trainer for example, but it was fine for back-to-back full day hikes on varied terrain and certainly is of a totally superior character as a climbing shoe.) However, after only about 15 hours of use, there is already notable, problematic peeling of the rubber off of the midsole. My three-star rating is: 2 stars for durability, 5 stars for in-the-moment performance.
Im a size 40.5 Muira. What size ganda would...
Im a size 40.5 Muira. What size ganda would I be? Thanks
These are going to fit closer to your street shoes. If you sized your Miura's down for breaking in, I wouldn't size these down as much, probably only a half size if you want them to fit like a glove.
La Sportiva Ganda Approach Shoe - Men's
you will be 30 times more awesome
Gender:

Male

Familiarity:

I've used it several times
I kicked Chuck Norris' ass in these shoes.
Will you be stocking smaller sizes? In...
Will you be stocking smaller sizes? In nepal top evos I am a women's 39.5

Take care,
Silvie
Best Answer
I am offended by this answer. As a fellow female climber, I would appreciate more companies stocking decent, technical shoes in my size. Especially if there is no female version of the shoe.
I don't think the Gecko Guide is a good alternative.