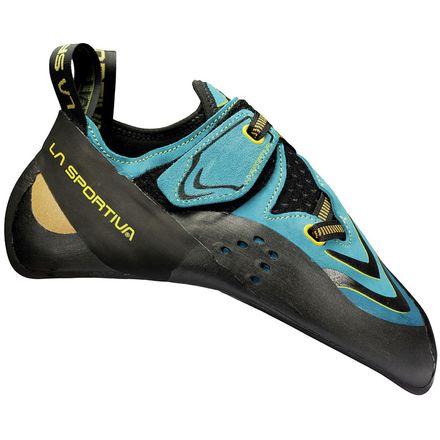 Detail Images

Videos

Community Images
Description
A shoe for the modern climber.
Attack cutting-edge sport routes with confidence born of experience and quality gear like the La Sportiva Futura Climbing Shoe. Built for technical, modern, acrobatic sequences on anything from overhangs to slippery slabs, the Futura helps you navigate even the most elusive projects. Your feet become formidable when combined with the right tech, but the Futura proves that doesn't mean you have to break your toes or cram them into an uncomfortable shoe to get your feet there.
Revolutionary No-Edge concept eliminates traditional sole edges for closer contact to rock and enhanced sensitivity
Hook-and-loop closure allows for a snug fit and easy-on, easy-off access during boulder sessions
Permanent Power Platform technology helps preserve down-turned shape to maintain overhang-climbing abilities and sole power throughout shoe life
Combination leather and synthetic leather upper encourages comfort and ventilation so your skin breathes during challenging sequences
Absolutely Amazing
Familiarity:

I've put it through the wringer

Fit:

Runs large
If you have strong toes, and strong feet, then these things will literally glue themselves to anything you put them on. I don't care what anyone says, even ultra fine edging is not only possible, but easy in these.

They also allow for some very interesting footwork. For higher level climbing (5.12 and up), foot switches can become tricky when needed in edged shoes, but these allow you to roll one off while rolling the other foot onto the hold simultaneously, which doesn't feel as natural, or as easy in an edged shoe, especially when your hand(s) are on super precarious holds to begin with.

I honestly don't understand, or care why these preform so much better, but I recently got a pair of Pythons as knock around shoes, and the edge just feels too weird.

Again, though, it takes time to get used to, and they aren't going to instantly give you grades or anything. But they do allow you to feel everything, and use your foot's/toes' strength, rather than relying on the rigidity of a shoe, as these are quite soft/sensitive. And because they're so sensitive, and it relies mostly on your foot/toes' rigidity, within a short amount of time you'll know 100% weather or not to trust a foot. If your foot pops, you probably knew if might and went for it anyway.

I guess the best way of putting it is that it allows your footwork to evolve for the better, which brings your climbing to a higher level in its own way.

Lastly, downsize the absolute crap out of them. If the shoe is so tight you're worried about breaking the straps, and you can just barely work it on, it's the right size. They will hurt for a time, but these stretch a LOT, and will lose a ton of performance if not sized correctly.

Eventually they'll fit like a glove, be super comfortable, and still maintain all the performance.
Unanswered Question
Anyone know how this sizing/fit compares to that of the women's solution? I adore those, but have heard a lot of good things about these
Durable!
Familiarity:

I've put it through the wringer

Fit:

True to size
This was my first pair of aggressive shoes. They took a couple of weeks climbing to get used to just because I had no experience with an aggressive shoe. I can now wear them around the gym for a couple of hours without taking them off, literally 2-3 hours. I have climbed in these shoes for two years, mainly gym climbing but a lot of bouldering in yosemite valley. I just ordered my second pair because I finally wore through the toes. I climb in the gym 2-4 times a week and boulder in the valley 1-2 times a month. The strap for closing them is worn but it still is not torn and holds tight.
I can say that I really didn't know what I was buying when I first got them nor could I really put all they had to offer to use. These shoes are incredible! The have so much edging power and the heel hooks stay right where I put them. I still don't toe hook a lot
and I don't have anything to compare it to so I can't really comment on them.
Although kind of spendy these shoes are worth it. Can't wait for my new pair to arrive!
Street shoe 12.5-13
Futuras 45
TC Pros 46
Loved them
Gender:

Male

Familiarity:

I've used it several times

Fit:

Runs large
I've mostly used the Futura shoes in the gym so far, but have really enjoyed them. As some other reviewers have stated they run a bit large (normally wear a 43 but the 42s i ordered are a solid fit). I was originally concerned about the edgeless sole, but went for them based on other reviews to focus on my footwork. Definitely not a first shoe, but I have noticed a very solid grip with proper placement. The edgeless design has really surpassed my expectations and helped me focus on toe placement on some small nubs, and the smearing on blank surfaces isn't really any different than any other shoe I've used. The heel is solid and well anchored to the rest of the shoe. Of course it is an aggressive shoe and not well suited to long term wear, I normally wear in in short 15-20 minute bursts for bouldering, top-roping, and short sport routes. For a bouldering or other short climbing route I haven't really worn a shoe I've felt more confident in. I really felt that 10-15 hours of total wear were enough to break them in enough to be comfortable enough to wear for about a half hour tops( I guess I should add that extensive distance hiking has lead my feet to be pretty susceptible to pains and aches from most climbing shoes)
Not My favorite
Familiarity:

I've put it through the wringer
I know a lot of people love these shoes but I haven't ever loved them. I feel like if you are not climbing steep stuff you are just going to slip off the wall with these on. I would rather go for the dragons, the muira's, or the solutions they are a way better shoe and perform way better than these. I have a very skinny foot and feel like these just can't get tight enough ever. I wouldn't recommend these ever, but do have friends that love them.
are these shoes good for the gym

Vance,



These will work great for the gym, as well as outdoors. Feel free to reach out to me directly with any questions or needs you have.



Emily Jenson

Expert Gearhead

ejenson@backcountry.com

801.746.7587


The crew at Rock and Resole in Boulder CO have No-Edge resoles for the Futura, Genius and Speedster. They do an amazing job!!!

www.rockandresole.com
Great for any type of climbing
Familiarity:

I've put it through the wringer

Fit:

True to size
I originally got these shoes for overhung sport climbing in Little Cottonwood Canyon and Big Cottonwood Canyon. What I didn't realize was that such an aggressive shoe would be versatile enough to climb big multipitch sport and trad days in. While it may not be ideal for those types of climbs, it does work surprisingly well as the rubber is softer than the similarly shaped Solution. Further, I was hesitant originally about the No-Edge technology, but even with it, edging in these is no problem and the many layers of rubber used allow for the durability of these shoes to be unlike anything I've ever seen before. I have blown holes in both shoes now and they have enough rubber underneath the first layer to continue climbing on them with no issue. Further, they have held up through constant use, 4-5 times a week, for about a year and a half. Great shoes!
I would really love for someone to help me find out what size I need, I wear a size 7 street shoe and don't know what size to get these in
My favorite shoe!!!
Gender:

Female

Familiarity:

I've put it through the wringer

Fit:

True to size
I am a 12 year old competitive rock climber, and I've worn 5+ styles of La Sportiva climbing shoes for over 4 years, but these are by far my favorite. I use these shoes for bouldering and rope climbing inside and outside. I found the Solution shoe similar, but when I put the Futura back on, I have never gone back. The first time I climbed in the Futura my friend's Mom (a very experienced climber) said foot work instantly got better. I have never loved to heel hook. I felt like my heel would pop off. These shoes helped me to heel hook more. When you place this shoe on a hold, it will stick! It is quite an aggressive shoe, but I love my shoes that way. After you've worn them for a while, you'll notice that they mold to your foot shape. They are literally a second skin. I love how I can feel the hold I'm on. I trust me feet much more with these shoes. I recommend these shoes to an intermediate to advanced climber.
A new level of shoe
Gender:

Male

Familiarity:

I've put it through the wringer

Fit:

True to size
After a while with the Nexxo, which I thought was my ultimate climbing shoe, I decided to try the Futura at the behest of friends who kept insisting it was the bees knees. I'd tried the shoe on before but was too intimidated at the thought of no edges to keep them. That was a mistake!



This shoe blows away anything else I've ever climbed in. The Futuras are better than other downturned shoes to the same extent that other downturned shoes are compared to a flat-lasted shoe. It's really like a whole new category. In my first day in Futuras I tried a boulder problem that I had hurt my knee on the week before when I foot slipped off a bad hold. I had seen other people fall off the same hold the same way, so it seemed to fluster even the best footwork. In the Futuras it was trivial to stand on it! Even the tiniest edges get dominated by these!



What's also crazy is how comfortable they are. Easily the most comfortable downturned shoes I've ever worn. I got these in the same size as I wear in Solutions (42.5) and the comfort is amazing. Most Sportivas are a little narrow for me, and at first this was true for the Futuras as well, but after a couple days in them they conform perfectly to my foot. I'd recommend the same size as you wear in Solutions or if you really want something super tight, a half size down. When I tried a half size up they actually were less comfortable because of the worse heel fit. You don't really need to size tightly though, just snuggly. This very close to the "ideal" downturned shoe: one that doesn't really force your toes to curl, but is more like dipping your toes in rubber and then letting you curl your toes naturally. For comparison, I can only barely wear the Miura VS, which has the same last; it seems the softness of this shoe makes the fit very forgiving.
Pretty Good "Smedging" shoe
Familiarity:

I've used it several times

Fit:

True to size
I've been wearing these shoes for over a month, sport climbing on the east coast. They have performed excellently in all arenas: from steep sloper-jugs, to techy slaps. if where you are climbing, requires a lot of smearing and twisting, these are the shoes. Because the "No-Edge" rands, you can really twist and roll around on your toes, without worrying about a foot pop. This allows for intuitive movement, and quick foot placements. However, if you require power edging, these shoes do not provide excellent support.



The unlined, leather uppers are incredibly comfortable, and stretch a lot. The have a similar to the Miura VS's. Once they are broken in, they do not feel real aggressive. The glue La Sportiva uses is rather weak. Parts of the rand, and the toe patch are starting to separate from the shoe, as the rubber has a bulky fit on the shoe. I had the same problem with the Rubber splitting on from the heel.



My other shoes

La Sportiva Boulder X: 42.5 (street fit)

La Sportiva Lace-up Katana: 39.5 (comfort/tight fit)

La Sportiva Testarossa: 38.5 (tight fit)

La Sportiva Solution: 38.5 (very tight fit)

La Sportiva Futura: 38.5 (comfort/tight fit)



I thought these broke in rather quickly; after a few pitches.
Great Performance...for a price
Familiarity:

I've put it through the wringer

Fit:

Runs small
hello fellow gearheads,

Background: this is my third pair of rock shoes, but first pair of highly technical sport climbing/bouldering shoe.

Size: I'm a size 42 normal shoe, and everyone said to go down sizes when purchasing, so I got the 40. They hurt. Took at least 20 hours to break in (roughly 4/5 times at the gym or outside), but once they're broken in, they're great like frosted flakes. they don't stretch much, maybe a half size or 3/4 size, but its better for them to fit snugly to get the full effect of the no-edge. Also the heel is a bit wonky at times, but you can still stick decent heel hooks when needed, just pull 'em tighter.

Feel: when La Sportiva advertises the sensitivity on these "no-edge" tech, they really mean it. you can feel everything on the rock from the smallest crimpiest ledge to slabs <-- which I will get to in a second.

Usage: I've used these mostly at the gym and some boulder problems outside (NH/NY), I would NOT recommend these for longer slab or alpine climbs, they were NOT designed for that. Silly me thought the performance would outshine the pain on longer climbs, but you def feel the pain after about one typical 70m rope top off. IF you're climbing that stuff, then check out the TC pros or lady Mura's (yes, even if you're a dude, they fit more comfortably!) You should know if you're a serious boulderer, you need to give the soles a good hand-rub before attempting to send those tough routes, and this shoe can take it for awhile, I don't see myself re-soling for at least another season and a half, but we will see.
Amazing Grip
Familiarity:

I've put it through the wringer

Fit:

True to size
Even though the edge isn't as sharp as other shoes it is still great for technical climbing. My only quarrel is that the heel is a tiny bit slippery so I don't 100% trust heel hooking. Because of that I'd use it mostly for balancing routes on vertical or slab.
Edging, heekcups, and hookers
Gender:

Male

Familiarity:

I've put it through the wringer
These shoes are incredible,



I have been climbing in Rumeny, Maple, Rifle, Fontainebleau, LRC and these things have been incredible. Not quite sure how good they are when they start breaking down (on my third pair and had to return two of them) BUT I keep coming back. Has to mean something.
Good shoe but eh
Familiarity:

I've put it through the wringer

Fit:

True to size
favorite shoe by far but....



It feels nice and breaks in nice. Heel is a bit to flimsy for my liking but other then that solid. This shoe has great toe hooking, edging, everything. The no edge technology is amazing except that it wears out in less then a year. If you are someone who is cool with new shoes every year then this shoe tops the solutions but if you want durability go with the solutions you wont be dissapointed.
Have you tried them on vertical technical...
Have you tried them on vertical technical routes?
Best Answer
Hello again G!

I have climbed in the Futura's on vertical technical routes. They work great on slab too. You'd think because they have no edge it'd be a problem. But the fact is, I trust them on slab and technical routes more than my Muiras (and those have a fantastic edge!).



I think the best feedback I can give about the Futura's is, you can really feel the wall. You can feel every chip and as you learn to trust your Futura's you'll find that feeling makes a difference!



Do you have a specific question in regards to the Futura's and a vertical technical route?


No more questions, that was all I wanted to hear :) I'll finally order a pair and try them, thanks a lot Elle!
Gives you confidence to place your foot
Familiarity:

I've used it several times

Fit:

True to size
The Futuras are soft and supple shoes. From what I've read, it's made of suede rather than synthetic rubber and it's the first pair of climbing shoes that I've found that's manage to fit true to my size.



My feet are around 256mm and I've never managed to fit into the correct size until I found the Futuras. However, after wearing them for a while, I would recommend that you keep going smaller until you can no longer physically fit into the shoes. This is because these shoes will expand quite a bit. My sizing is 40 and it fitted exactly when new but it has expanded since then. I should probably gone for a 39.5 as that's the smallest size I could get my feet into. It hurts but now I know after expansion it should fit like a glove like the size 40 when new.



I don't know if it's the shoes but I've flashed 4 of my projects since getting them. They have made me much more conscious of my footwork and it's very sensitive as advertised.