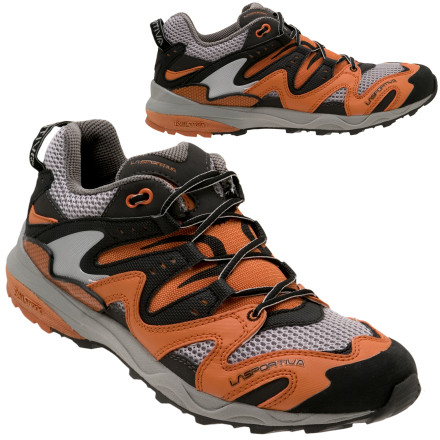 Detail Images

Community Images
Whether you run on trails, roads, or a bit of both, the La Sportiva Fireblade Men's Trail Running Shoes provide the traction, support, and lightweight performance you need. Their 1lb 6oz weight keeps you light on your feet as you cover the miles. Runner's World was impressed enough to give them their Best Debut award. La Sportiva added a padded, triple density midsole for long-lasting comfort and pronation control. The Fireblade Shoes' FriXion outsoles stick to pavement like glue and give you great traction on the dirt. To top things off, La Sportiva used mesh inserts for increased breathability and comfort on hot summer days.
Unanswered Question
I've been running on the Fireblades for 3...
I've been running on the Fireblades for 3 years now (6 pairs) and I can't find them anymore. Absolutely the best trail running shoe I've ever worn. What did they replace it with? Does anyone know of a suitable replacement?
I've had these shoes for a few weeks now and have put a few miles on them. My typical run is a 6 mile loop that goes up and over "Big and Little" Kennisaw Mountain in the Atlanta area. Very steep in places with some really gnarly rock sections. First thing I noticed about these shoes is how nimble they are. This proved to be a good and a bad thing. The slipper like fit gets me through the rocks quicker than any other shoe in my quiver but I pay a price in terms of pain as a result of the light, minimalist cushioning. At 6'1" and 187 pounds, I'm pushing the limits of the cushioning in this shoe. I think it would be perfect on single tracks that aren't too rocky. As a fix, I put in some "green" super feet in soles and that seems to have done the trick. Traction over wet rock is pretty good. All in all a pretty good shoe.
I decided to start running only a few months back and was looking for a good beginner's running shoe and narrowed down on the Fireblade.
I spoke to a gear expert on live chat who helped me decide the size of the shoes.
I ordered them, they arrived quickly and it was a perfect fit thanks to the gear expert.
I have been using them regularly and I find it to be just perfect.
Loving them.

US shoe size is 10. Got a 44.5 size Fireblade. Perfect fit.
Unsure if this is the right shoe for me
Bear in mind that I am no expert when it comes to shoes. To be honest, I'm not entirely sure what the intended purpose of these shoes is. They have good traction, appear to be constructed well, have a sturdy feeling heal, and hug your feet nicely (excellent fit for me ~ narrow foot with a high arch). Having said that, the padding on the forefoot is minimal (don't know if this would be an issue for you) .I have custom orthotics in mine...they fit in the shoe nicely, which is a plus. The shoe doesn't appear to have any inherent arch support though...I don't know if this is standard on shoes of this type. I also don't think it has much lateral support, which could potentially be a problem for ankles. I would not recommend this shoe to anyone wanting to carry a heavy pack, but see no reason for complaint otherwise. Pretty nice looking shoe.
I'm a trouble case for fit - narrow, low-volume, Morton's Toe, etc. Since New Balance stopped making trail runners in narrow I've been looking for trail running shoes that even sort of fit. These are the ones. A good low-volume fit, relatively little lift at the heel so the foot position is neutral. They're new, so don't know yet about the durability. The soles have incredible traction on rock, and the low-profile tread pattern gives good grip in loose surfaces while not catching on stuff like deep treads sometimes can. I hope they never stop making these.
Do La Sportiva's fit pretty true to size?...
Do La Sportiva's fit pretty true to size? or do they tend to be like a half size off? Im an 11 1/2 in Salomons and an 11 in vasques
IMO, La Sportiva's are very consistent with their sizing and I always size up a 1/2 size with their products. If you are 11.5 in the Salomons I would try the 45.0 first.
I wear an 11 and I ordered 44.5 which fit perfect.
No nonsense, hybrid trail shoe
While not the best choice for slick trails, this shoe handles most terrain well; roads (paved & gravel), trails, off-trail, etc... The fit is very comfortable, and is lighter in weight than it seems. For anybody wanting a very long distance trail running shoe this is a good choice. As a member of the Wasatch Speed Goat Mountain Racing Team I've gone through A LOT of different trail shoes. I can honestly say that the Fireblade is one of the most comfortable trail shoes I've ever worn. The really saved my bacon over the last couple of days of my speed-hike of the 335 mile Pinhoti Trail a couple years ago!
Better suited for technical runs? Sizing... arrrgh!
Good looking shoe with a nice "feel" on the foot. Large/roomy toebox may take some getting used to. Not much forefoot cushioning - especially if running a trail with lots of small/sharp rabble: expect frequent "stingers." Sole grip is awesome - no slip. Would expect these to perform very well on broad/flatter stone surfaces - even in wet conditions

I have SO many problems finding the right size running shoe! I wear a US 10 in the Mizuno Wave Rider, Columbia Ravenous, Montrail Mountain Masochist. ALL three of those call a US 10 a EURO 44. EURO 44 was WAY too big in the LaSportiva Fireblade. I downsized to a 43.5 and the shoe is STILL a little too big, but I'll make it work. Just the slightest bit of heel slip... Wish I'd tried the 43.

All in all, can't beat the shoe for the price - but they wouldn't be worth paying full retail.
My husband wears an 11.5 US size. I cannot...
My husband wears an 11.5 US size. I cannot find a size chart for these. What size should he try?
Best Answer
You are in luck as La Sportiva has an excellent size chart! Here is a direct link to this information:

http://tinyurl.com/7xloz82
I wear an 11 and ordered the 44.5 ... and they fit perfect ... in La Sportiva shoes and boots of which I own both. Based on that, seems like you'd be safe ordering a 45
I wore these shoes on the portion of my Appalachian Trail thru-hike from Pearisburg, VA, to Port Clinton, PA -- 582 miles. As always, I substituted the insoles with a set of Superfeet to add extra support while carrying a heavy pack. Although the sleek design made me feel more athletic, these shoes wore out pretty quickly compared to my Merrell hiking shoes. What did them in finally was a hole on the side of the shoe. They felt great, but make sure you know your European shoe size -- these run a little small. (I cannot speak to these shoes' effectiveness in trail running, however...) Overall, recommended if you want something extremely lightweight, you don't expect them to last forever, and you don't need ankle support.

In the picture, you can see the dental floss holding together my Fireblade until I got into the next town to replace the shoes.
my size is a 9 medium in a regular running...
my size is a 9 medium in a regular running shoe, how does the fireblade compare?
Richard, I would try the 42.5 first. IMO these tend to run about a .5 size small.
Trail Dancing with Step'mo
I trail run in the high country of colorado all year long. when the snow get's to deep, I strap on the running snow shoe's. I use gaiters and stay in trail running shoe's. I login 20mile+ week. I have try many, I do mean many other types of trail runners [shoe's] and they where ok. But when i try'd the Fireblade trail running shoe by La Sportiva. At last i fond the shoe that only fit good when i first wore them [true to size] they are great to this day! They work great on almost any kind of trail from dry to slick rock to mud to grass! keep on dancing STEP'MO
A perfect shoe, for me, anyway. A deep, narrow heel with a wide forefoot, low and agile while still supportive. Maybe less than gorgeous, but I have several pair and wear 'em for everything. As comfortable in town as on the trail.
La Sportiva Fireblade Trail Running Shoe - Men's
I am getting back into trail running and after reading many reviews I went with the Fireblade. It is a super good fit right out of the box. I normally wear a 11.5 and went with the 44.5. It gives me plenty of room in the toe box when my feet start to swell. I have had them a little over a month and they are showing no signs of wear.
These are a solid shoe with decent rock protection for such a lightweight product. They grip well and breathe nicely for those hot summer trail runs. They have a roomy toe box but overall the shoes are more on the narrow side as most La Sportiva's are. Comfortable and offer decent support.

Edit on 01/20/12: I have since switched to the La Sportiva Wildcats and prefer them over this product.
So far, so good. These shoes fit my feet like gloves and are super comfortable to wear, both around town and on the trail. I would definitely reccomend them to anyone with "low volume" feet like mine.
This is one I hope is never discontinued! I'm on my 4th pair now and will most likely go through many more... Very tough shoe that offers great response and feel for the trail. The sticky sole is perfect for approach and I even use it for low 5th rock climbing. Have used these at Leadville and many other races and long runs and they work very very well on all types of terrain (especially trail), dry fairly quickly after stream crossings, and are comfortable to wear for 24+ hours...
Great shoes for trail running and hiking. Heel is held securely but toebox is wide and comfortable. Be sure to size up 1 euro size. I wear a 9.5 American size which is 42.5 Euro size. I purchased Euro 43 and they fit perfectly. They are really well made and last and last and last. Grip is excellent on most surfaces. I have used Salomon, Montrail and La Fuma shoes in the past. These are way better. Get 'em while you can.
This shoe is made for runner's with a narrow foot. It solved my forever long venture to find the perfect running shoe. Put multiple pairs through 3 Wasatch Backs, 1/2 Marathons, Hikes and Canyoneering.

Only issue I ever have is about 100 miles or so the shoe strings give out. So if you don't mind replacing your good to go.