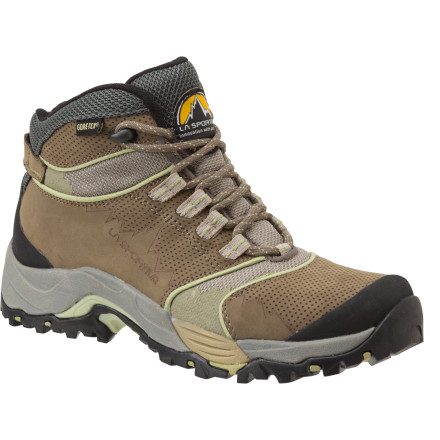 Detail Images

Videos

Community Images
You kick the Earth, you stomp on the Earth, you pound your feet into the Earth, but really you love the Earth—show it you care by wearing the La Sportiva Fc Eco 3.0 GTX Women's Hiking Boot when you hit the trail. This Gore-Tex boot, constructed with eco-friendly materials, keeps your feet and the Earth happy on your day hikes and light-load backpacking trips. The flexible, mid-height upper allows for increased mobility and a comfortable fit while maintaining stability. All that pounding can take a toll on you, so the Fc Eco 3.0 absorbs shock with its Impact Brake System that reduces up to 20 percent of the impact on your feet, knees, and back.
Winner of the 2010 Backpacker Magazine Editors' Choice Green Award for innovative and environmentally conscious design that helps support a sustainable future for the great outdoors.
Last is too curved for me!
Familiarity:

I've used it once or twice and have initial impressions

Fit:

Runs large
I've had great luck with La Sportiva Raptor shoes, so I thought these would be just the ticket for hiking boots. I was wanting something a little lighter than my Zamberland Vioz boots, yet more sturdy than Keen Targhee's, and these were exactly that. Unfortunately the fit was all wrong for me. They are built on an extremely curved last. Curved lasts have never work for me in running shoes, but I thought what the heck, I'll give these a try. I just went for a walk around the block to try them out. They felt very unusual. Because of the curve, my little toes were mashed against the side of the toebox, while my big toes were swimming with room on the sides. It was clear I was trying to fit a straight foot into a curved shoe. If curved lasts work for you, these are probably really great boots.
Best all-around hiking shoe!
Familiarity:

I've put it through the wringer

Fit:

Runs large
I've had Garmonts, Merrills, and Asolos and this shoe tops them all! It runs big so I had to get a size smaller but I hiked the rest of my New England 4ks in this shoe with very few problems. I did have a blister on one heel in the beginning but otherwise no problem breaking in. Very sticky on rocks.
This is the first boot of all that I have tried on that I did not have to think of having to wear it for awhile to break it in. I have a C width foot and this boot comfortably made my feet feel at home and ready to hike.
La Sportiva FC Eco 3.0 GTX Hiking Boot
, ☃bcs_badge_alumni_label☃
Also work well for wider feet!
I love these boots. I have owned two pairs of them. I will probably never buy another hiking boot. They are very supportive and extremely comfortable. I have used these in all different conditions from hiking in the summer to extremely cold conditions in the winter and they have been kept my feet happy.
Great boot for narrow feet
I bought these boots for my mother as I had a prior version and we both have narrow feet and pretty narrow ankles (like mother like daughter). They fit great on my feet, never got blisters and were very durable. My mother has not used them yet but plans to this spring for hiking
I'm looking at ordering the 2.0 version...
I'm looking at ordering the 2.0 version of these (the shoes, not boots). I'm wondering about size, is it true to size or should I go a half size up. I usually have to with hiking shoes.
Go 1/2 size and see. Try both. I think they are pretty true to size, but each foot varies.
I love La Sportiva because they fit my feet perfectly. I bought these boots recently and wore them hiking with no break in--no problem. I have a slender foot in the narrow-medium width and they were soft as slippers.
Fantastic boots - will keep buying La Sportiva
I have had a pair of La Sportiva hiking boots (GTX Hiking - Ice (?)) for the last two years and they have brought me through thick and thin. I am a geologist and have covered a lot of ground over different types of terrain and these boots have served me well. I have skinny feet and ankles and I originally bought these because they were the only boot that (a) offered a narrower footbed (which is surprisingly hard among hiking boots; and (b) gave me the ankle support I need for billygoating on rocks while mapping or hiking. Plus, if you can find a La Sportiva pair that have the "Impact Brake System", or really just the extra grippy cut of the Vibram sole, it really is fabulous. I cannot tell you how many times I have saved myself from falling on loose talus or scree with that.

The only downside to these boots is that, well, they don't last forever. I have blown the outside seams from too much slope walking and the "Impact Break System" is worn down to an average hiking sole now from all the rough limestone. Here are also a few minor peeves I had with these boots: (1) even with thick hiking socks, these still weren't narrow enough.. but that's my fault, really... I have very narrow feet; (2) these are not an easily broken-in boot. You've got to take these bad boys on a long trek until they stop rubbing the back of your ankle; (3) the round shape of the laces make them easier on/off but can be irritating when you have to retie them (just tie 'em tight!); (4) can't waterproof the kind I had because it will ruin the Goretex (kind of waterproof) and suede outer; (5) and this one is kind of typical with mountainous hiking: make sure you lace up according to whether is mostly ascent or descent; otherwise the front of ankle will bruise or your toes will go numb. The high rise of these boots make that particularly important, imo.

Anyway, if you're looking for a high quality boot that you can even live in, this is it.
These are the 4th pair of La Sportiva Boots I own (not including climbing shoes). I have Narrow feet with very high arches and they always seem to fit better. These turned out to run just a bit bigger than the mountaineering boots I own.

My only concern is that the Eco Friendly materials won't be as durable as the more heavy duty (and less "green") materials. I suppose only time will tell.
My wife raves about how lightweight these boots are. They breathe well and are mid height to give some ankle support. Constructed with Gore-Tex to keep your feet dry on those nasty days. The Vibram sole keeps it's grip on most surfaces. Typical La Sportiva quality.
After three bad sprains, my right ankle is weak and wobbly. For my upcoming expedition to the Indian Himalayas, I need a lightweight hiking boot with good ankle support, comfortable construction, and a sticky sole. This past weekend I tested out Sportiva's Eco 3.0 at Mount Evans hiking through spongy alpine terrain, insecure talus fields and substantial rainfall. They kept my ankle safe and feet happy all day long.