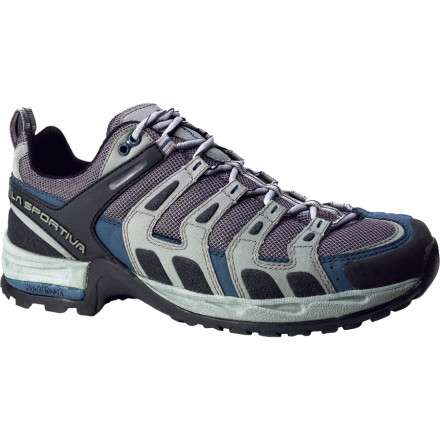 Detail Images

Community Images
The La Sportiva Men's Exum Pro Approach Shoe blurs the line between trail running shoes and approach footwear, so you can take on any terrain. FriXion soles let you climb up to 4th class terrain and a supportive upper gives you extra stability when you travel through the boulder field below. If long ridge traverses and technical linkups are your thing, then these La Sportiva shoes should be on your feet.
La Sportiva Exum Pro Approach Shoe
The La Sportiva Exum Pro Approach Shoe is my favorite approach shoe. This first narrow foot types better than any other brands. Great friction on those rock scrambles or alpine rock climbs. Works well when wet and even when canyoneering
Excellent approach/light hiker
Purchased this on SAC for $44, and well worth the bargain. Have used it as a general light hiker and approach shoe throughout the Sierras in 3- season conditions and Red Rocks in the early spring. Normally wear a size 9 shoe and have these guys in 42.5. Fit is a little loose, but works well for hiking. Shoe is very comfortable even on longer hikes, and grips well even on grade 4 scrambles. The shoe is very well ventilated, but the Red Rock dust found it's way inside rather quickly. In wet, rainy, or snowy conditions your feet will soak, save these shoes for the summer.

Bottom line: If you need a summer light hiker or approach shoe, this is an excellent option.
I have some supper wide feet.. ee to eee?...
I have some supper wide feet.. ee to eee? how are these for fit? The vasque blur are tight on me
these shoes run narrow. I think most La sportiva shoes run narrow
These shoes are narrow based like most of the La Sportiva line.
good pair of trail shoes and i enjoy the traction. the bottom of the tongue for some reason rests a little funny on top of my foot...and can be a little irritating. but very trail worthy. so far no other complaints..
La Exum - Shoe Par Exelence!
Bottom line up front- the best approach shoe I have ever owned and only one I have purchased again and again!

I have hiked 35 miles in a day along the divide with these guys and my feet were happy as clams.

I have done 3 fourteeners in a morning including a 4th class mile long ridge traverse and much 3rd class (Little Bear-Blanca-Ellingwood w/SW ridge descent) with happy feet.

I have led 1500 feet of fairly sustained 5.5 & 5.6 in a day (Red Rocks- Johnny Vegas & Solar Slab) with 'em and still, happy feet. OK, they were tired feet, but happy!

Ive even led 5.10s at the crag in them from time to time.

I can even boulder V0 in them - Im totally not worthy - I know!

The Exum is not your typical approach shoe since it doesn't have super thin padding in the mid sole. It is built more like a trail runner with an outer sole that is about 1/2 way between a slick approach sole and a knobby trail runner. Why is it such a good approach shoe then? Well, basically, IMHO, approaching is a LOT more about hiking and a lot less about climbing. My knees thank me for the extra cushion and there is plenty of climbability in them as referenced above. Im nothing fancy as a climber so if I can do it...

A note on sizing- I have skinny feet and these fit perfectly. I get them 1/2 size smaller than my typical running shoe size. Seems to work out great.

Anyway, bottom line on the bottom- I am obviously a big fan of these shoes and would be hard pressed to wear or recommend anything else.
Please read my review on my hiking blog http://blog.eleventhframephoto.com/?p=68
how is this shoe on ice? because we get...
how is this shoe on ice? because we get some wicked ice storms where i live, and it's hard to get around. so i'm looking for a shoe that will handle well on slick ice, and not look much different than a tennis shoe.
No shoe does really well on ice. I thick and beefy vibram sole boot will do okay, but otherwise get some spikes that go on over any shoe to run around on the ice! Sticky rubber isn't sticky on ice!
After my last expedition ended in July, I had to travel over the Gondogoro La (google it) in the Karakoram, Pakistan wearing these shoes. Honestly, traveling over icy rock and hard snow in these things was one of the most terrifying experiences of my life. The rubber on these shoes are excellent for rock but do NOT work well in ice or snow. Get some crampons, for the sake of Pete.
Great approach shoe if you get the right fit. Unfortunately thats easier said then done. Bought a pair in N.Z. which were just perfect and really good climbers. However, after purchasing a replacement pair off the web (as no one sells them in Aus), the size was a larger. Still recommend them though.
I've been an avid believer in buying the best hiking shoes I could afford. I have loved the Asolo top of the line boots. That being said, I've recently become a newbie in the ultralight packing idea. Going to trail runners was my last point of resistance. I did a 3 day Utah King's Peak climb as a test of a 52 mile cross country across Utah's Highline Trail. The upper part of the trail from Gunsight Pass to King's Peak and down the main chute is across extremely rugged rock fields. Given two important adjustments: much lighter pack of 25 lbs and using walking poles, I am very pleased with the La Sportivas. They dried out fast after a snow storm. One important point however is make sure you use closed cell foam inserts if you switch out the stock inserts. That was the biggest adjustment I made from the test run to the 52 mile trek. Makes a big difference in how fast they dry out.
I think my Asolo's will have to wait until the snow flies.
1. would they fit wide feet w/ low arches? 2....
1. would they fit wide feet w/ low arches?
2. good for 3rd/4th class scrambling?
3. how good is underfeet protection from rock/scree/talus since tpu shank is only in the heel of shoe?
4. what happens when they get soaked or wet?
5. how long do the frixion soles last?
I can't answer all your questions, but I know that the sole will last for ages (I have two pairs of Sportiva shoes, been wearing them for two years, and you can hardly see any wear) and they're excellent for 3rd/4th class scrambling. Someone else is going to have to take your other questions.
Best Answer
narrow fit, great traction, i've taken mine through several canyons is southern utah and they preform flawlessly. they dry quick but the soles will wear quicker then a normal sole. great support, i trail run in them as well.
They might not fit correctly for someone that has a very wide foot. I have almost no arch and they feel good. Some of the shoes designed for high arches are not comfortable for me.

They soak up water like a sponge but dry quickly. Decent rock protection and the soles will outlast the upper.
Bought these for my boyfriend to replace his old stinky exum ridges... He said they feel a whole size bigger than his old ones... FYI
Write your question here... Exum Pro. I...
Write your question here... Exum Pro. I wear an 11.5 (US mens). Per the size chart this is a size 45.1. THe available sizes are:
45.0 & 45.5. What size should I order? Thanks.
I would go with the 45's. If they are tight, get the 45.5's. I am an 11.5 and wear 44.5/45...
Good luck!
On the hiker / climber sliding scale, I found the Exum Pros to be more hiker than climber. The rubber is very good, though not tacky like the Evolvs or the Montrails. On the other hand the sole, with its softer heel and braking lugs will work much better on your descent. As light hikers they work great!
They fit me what else can I say. The rubber is sticky like I like it, but they will wear out faster as a result. A trade off I'm willing to make. I try not to wear them about town so as to get some longevity out of the soles. If Brooks or Solomon fit you this might be a good bet for you.

Well it is it's 7 months later and they are beat but still alive. i thought they would be done by now but they held up well for a light weight. Worthy of a resole?...No too packed out but I see them going to spring. All translated: Very well built for a light weight. Floppy like a runner but with an insole they support enough. If you want re-sole-able beef go elsewhere.