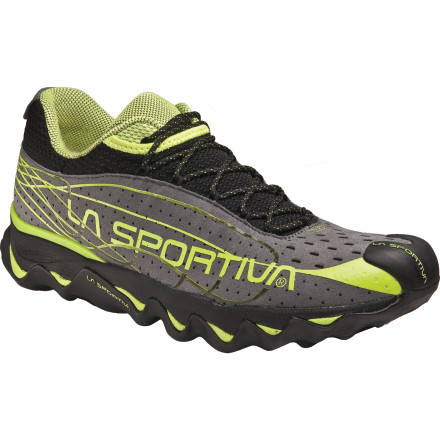 Community Images
Versatile cushioning technology allows the sole of the La Sportiva Women's Electron Trail Running Shoe to soak up the impact of abusive trails so your knees and feet don't have to. Technical trail runs require agility, and the Electron helps you stay quick on your feet for a plush, light-and-fast ride through the woods.
Flexible slip-lasted upper fits your foot like a glove
Hardened cap protects your toes from vicious trail hazards while you hammer through rock gardens
Cup-like heel counter keeps your heel securely locked in place
La Sportiva's MorphoDynamic construction uses soft synthetic materials to absorb the impact of the terrain under your foot, providing cushioning for comfort and powerful forward spring that adds speed to each stride
Four-way stretch allows the scree guard (no more gravel in your socks) and the breathable upper to flex so your feet won't feel constricted or cramped
Sticky FriXion AT sole material provides steadfast traction on loose gravel, hard-packed trails, and slick foot bridges
size up
Familiarity:

I returned this product before using it

Fit:

Runs small
this shoe definitely runs small. get at least 1/2 size larger.
Run Girl Run!
Familiarity:

I've put it through the wringer

Fit:

True to size
Love La Sportiva anyway..so not surprised that these runners are right up my alley. True to size. I wear anywhere between a 5-6. In this shoe I got a 5.5 and they're just right. My foot is a little wide in the toebox..these could be a little wider for me,but they fit nice still, size is still right on too. Lightweight, durable, comfy..fit is not funky. Smooth on the trails, good traction.
Unique and excellent
Gender:

Male

Familiarity:

I've used it several times
My wife has had an issue with running shoes in the past. We've tried Asics, Solomon's and few others and the fit and comfort level never seemed to work right until I got her a pair of these.

So far she's only had great things to say. Her feet don't ache at the end of a 3-5 mile run and she really loves the colors and styles.

She says they fit a little narrow but not so much that she would size up. She normally wears an 8 and she went with a 40.5 in these.
Solid shoe
Gender:

Female

Familiarity:

I've used it several times
I ordered the shoes a half-size up and when I first tried them on I thought they were still going to be a little tight. I decided to give them and chance and they actually feel like a very good fit--they stretch and break in nicely. There is one spot, however, that rubs the outside ball of my left ankle . I think with a little manipulation, I can get the stiff part of the lip of the shoe to become a little more pliant and not rub me so badly.



The sole of the shoe does best on hard packed trails, mud, or mulched/manicured trails. It's not quite as stable as I would like on uneven, rocky terrain.



Overall, a good shoe. I would recommend it.
I would like to know which of the La...
I would like to know which of the La Sportiva trail running shoes are best for an under pronator? None of the stores within a 50 mile radius from where I live carry La Sportiva so I can't try them on. I run mostly on rough trails. Thankyou.
Best Answer
You might want to check here for some ideas:
http://www.pronationshoes.com/under-pronation-running-shoes/

But much better advice would be from a lady who has actually run these shoes for some serious mileage. The Firblade is generally considered a good shoe in this line for under pronation. Good luck!
A Great Cushy and Comfy Trail Running Shoe
I've worn this shoe for numerous long (20+ mile) single-track trail runs, as well as a 50 mile trail race. It fits well (I like a fit that's fairly snug through the midfoot but roomier in the toe box), and the morphodynamic cushioning makes for a very smooth ride.

The cushioning system is particularly nice for runs that start on the road but end up on trail (many of my runs from home are like this), and for runs/races that include a fair amount of double-track trail or road, in addition to single track.

On sizing, my experience is like the others: this shoe (and the Quantum) tend to run small. I get a half size larger than I do in other La Sportiva shoes (than, for instance, the Crosslite).

Disclaimer: I'm a member of the La Sportiva Mountain Running Team, so of course I like their shoes! But I've also run in many brands of road and trail running shoes over the years, and this is honest feedback on a shoe I really like!
She has enjoyed these shoes quite a bit. She's psyched on the look, the toughness, and the sticky rubber which is solid on rock and loose rock. The one thing she's a bit bummed about is that on long runs (above 10 miles) her big toes take a beating inside the shoe. Perhaps like some other reviewers, she should have sized up.
I did the research on Sportiva sizing an...
I did the research on Sportiva sizing an a 9.5 is a 41 and 9.5plus is 41.5. So the comment made on the sizing makes me believe they really do not fit true to Sportiva sizing ,,,the comment was made by someone who wore an 8.5... I think she ordered a 41.. Can anyone comment on the sizing?
The comment was by Dunski on May 4,2011...I am thinking about ordering a pair and would like to order the right size the first time.
I actuall went to my local store to try on the Wildcats since i too was confused on sizing. I am a 9.5 and the 41 was too small, fit like a 9. Go for 41.5.
La Sportiva Mountain Running presents: MorphoDynamic Technology (ENG)
The fit is great, but snug. I'd go up 1/2 size.