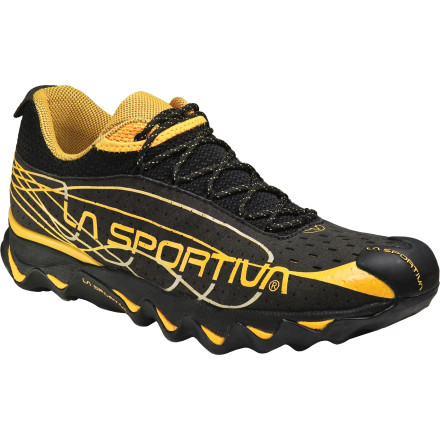 Community Images
Harness the power of the periodic table with the La Sportiva Electron Trail Running Shoe. Protons will cower in fear as the MorphoDynamic sole helps you conquer positive slopes and negative grades. Neutrons appear to not care, but secretly, they're jealous of your shoe's microfiber upper, which conforms to the shape of your foot for a comfortable fit.
Slip-lasting provides a form-fitting feel that offers greater flex a lighter overall weight compared to a traditional upper designs
Soft, microfiber upper breathes well, is less restrictive and provides a comfortable fit
MorphDynamic sole technology is designed to maximize cushioning, comfort, and agility over technical terrain
FriXion AT outsole is made from soft, super tacky rubber for excellent grip on wet roads and muddy trails
With a bit less weight than the La Sportiva Quantum, the Electron Trail Running Shoe is your go-to shoe when you're gearing up for a race
Share your thoughts
What do you think of the
La Sportiva
Electron Trail Running Shoe - Men's
? Share a...
are these good for cross country 5k on...
are these good for cross country 5k on mostly grass courses

These shoes are made for way more than just grass courses. I take these out mostly in steep rocky terrain but they perform well in dirt tracks as well. Where you will really see these shoes shine is in steep downhills because that breaking system they have in the tread give you great control.

Make sure you size up!!!
comfortable, but poor traction
these are great trail runners on dry or damp, hard packed trails. I found them to be very comfortable for long runs and steep hikes. Traction is very good in these conditions, as well as across boulder and rock fields where the rock has good friction (basalt, granite, etc).
However, when it gets muddy (as it tends to do in the Cascades), the tread on these shoes just does not cut it.
I have also found them to be really poor on slick granite (like a polished slab), and on trails with loose gravel.
If you run on this sort of stuff, you'd be better off with a more aggressive tread, maybe the C-Lite.
Do these have a removable in sole? I.e....
Do these have a removable in sole? I.e. can I use them with custom orthotics?
Yes the sole is removable for washing or wearing orthotic
As a regular wearer of the Crosslite, I found these shoes to be a little too much for my feet. They are higher from the ground, thus much more cushioned, if you like that. Yet, the cushion isn't so much that you don't feel low to the trail. These shoes fit a little small/tight, so up your size by a half size.
Steve Pero
Wasatch Speedgoat Mountain Racing Team
Bought the La Sportiva Electron for a R2R2R run of the Grand Canyon and they performed wonderfully. Ran 54 miles in them 100 degree temps wiith minimal break in with no blisters. The sizing requires some dialing in to get a proper fit, so I contacted LaSportiva directly, but the morphodynamic sole provides incredible cushion and the sticky rubber sole was great for bouldering a V1, while waiting for buddies, and gripping water bars on the trail.
I love these shoes.

La Sportiva has been my favorite bootmaker for quite some time. I also enjoyed the fit and performance of their Fireblades for trail running.

That said, my go to trail running shoe has been the Salomon XT Wings. Their construction, support, and comfort made them a winner in my book. I recently purchased a pair of the Electrons and they quickly became my favorite shoes.

The Electrons are very comfortable. The MorphDynamic sole offers great cushioning and good traction on dry trails. Support of the shoes is superb. Quality of construction seems to be excellent so far.

I've presently got about 200mi of running in the shoes and they are holding up well. Ordered them 1/2 size larger than my normal street shoe size and I'm very happy with the fit.
What are the differences between the...
What are the differences between the Electron and the La Sportiva Quantum? Looks like the Quantum is a tad lighter, has more mesh? Anything else?
A bit less weight than the La Sportiva Quantum
These will have a tougher exterior, but sacrifices breathablity. Otherwise the fit and sole is the same.
First off, I have gone through 4 pairs of the Wildcats and really like them. They are my go to shoe. I decided to try these and see how well they preformed.

First impressions - much smaller than the Wildcats and noticeably heavier. I like my Wildcats a bit roomy and to get the same kind of fit in these shoes I needed to go up a full size.

Took them out on a 30 mile run and here were my impressions:

They are really comfortable and not quite a soft/spongy as the Wildcats. I like the new Morphodynamic sole. Works great on dry/rocky/technical terrain. Terrible on snow and not so great in mud, but then again, what trial shoe really is unless they have huge lugs.
The fit is a bit more aggressive than the Wildcats and not quite as roomy in the toe box. They are no where near as breathable as the Wildcats as well. This is really disappointing.

Pros - Great Morphodynamic sole, super comfy. If you have a narrow foot that doesn't sweat a lot, these are great.
Cons - HEAVY and don't breathe well.

If they put the Wildcat upper on these soles and got rid of 1/2 the heel to toe drop, these shoes would be prefect. They are kind of like a super scaled down version of the Hoka's.

Good training shoe, but I doubt I'll wear them for more than 20 mile runs.
Skeptical now convinced!!!
Okay so I am getting back into running after some time off due to injuries and health problems including back, knees, achilles, hip etc. I turned to biking and have enjoyed competitive mtn and road biking now for several years. I will say that I have missed the benefits of running and cross training and to be honest have become bored with biking only so I decided to gradually step back in to running. After years of research and discussions with running experts I decided that trail running was the thing that would get me back running and hopefully avoid injury. I now run 5 miles 3 times a week with an occasional long run on the weekends or a long hike with my sons.

I thought the bare foot trend was the way initially but with my large frame 6'3" and flirting with 200 lbs. and a history of injuries that just hasn't panned out for me. Even with forefoot striking I am not getting over the knee and back pain. I will say that running on the trail is the only thing that really gives me comfort. Stay off the pavement and concrete! So during my journey back I have now tried 5+ shoe manufactures and who knows how many different shoes. Here is a breakdown:

Montrail- Hurricane Ridge, Hark Rock, Continental Divide, Masochist, Vitesse

Montrail makes a good shoe and I can't knock them too much. I mean they were one of the original trail runners and have a good product, just not the best for my foot. I would still rank them as one of the top 3 and if they fit you good then they are great.

Salomon- XA Pro 3D Ultra GTX, XA Pro 3D Ultra, and XA Pro 3D Ultra 2

I really like Salomon and love the lace design. Before I found the Electron I was convinced that the XA Pro 3D Ultra family of shoes was the best shoe around and I will still give those shoes high marks any day of the week. I really enjoy these shoes now for everyday shoes. I wear them hiking, running, mowing lawn, and just about any time I come home from work and put on casual shoes. Love them!

North Face- I forget the shoe but didn't like it

Never been a fan of anything North Face except for their clothes and outerwear so the shoes I have worn get low ratings.

Vibram 5 Fingers- not good on trails

Great water shoes or around the yard but not a fan of running in them.

Vasque- Velocity and Blur

Both pairs of Vasque shoes that I have owned developed a squeak in the sole and that annoys the heck out of me. They were decent shoes because of the shanks and rock protection but at the end of the day the squeaks got the best of me.

LaSportiva- CrossLite, CrossLite 2.0, Wildcat GTX, and now ELECTRON

Alas, I gave in and tried the best shoes ever! My uncle hikes in LS boots and has climbed Aconcagua, Kilamanjaro, and is doing Everest next year and he swears by LS and Scarpa boots. So I decided to try the running shoes, thank you.
The CrossLite's have been good because I can really feel the trail but when running down hill they just don't have the cushion I need to avoid the knee pain. Running on the flats or gradual elevation change they are great.
The Wildcat has a horrible tongue and I don't like them at all, in fact I am surprised that LS made such a shoe. Great traction but horrible fit.

So last week my brother and I decided to hike the Grand Canyon rim to rim to rim in October this year. My main concern is finding the perfect shoe that will get me through the 50 miles but provide enough support that I won't blister and be able to have sufficient cushioning. I was online chatting with a gear expert at Backcountry and after a long discussion he introduced me to the Electron concept (a new shoe). The MorphoDynamic sole is absolutely amazing...wow. I thought they seemed ugly online, then I decided to go down to BC in SLC and try them on and boy am I glad I did. I spent the better part of 2 hours in the store deciding between another new brand or just jumping in and giving the Electron a try. In the end I decided to bite the bullet and now two weeks later I am hooked. I can't take them off, in fact I can't wait to come home from work and put them on and just walk around.

I did my first run in them and went 5.5 miles and could not believe the comfort. Most shoes with this much comfort and cushion in the past have been too bulky or stiff, not this one baby. Not only did I just roll over the rocks and roots and dirt I was still able to feel the trail and have control and stability without compromising the benefits of trail running. Imagine standing barefoot on top of a real dense memory foam on top of a bunch or rocks and that is what this shoes feels like. It is very hard to explain without actually trying them. Don't let the weird look fool you, these shoes are amazing.

Another thing that is nice is the for fitting upper microfiber. It seriously feels like a sock with memory foam sewed underneath. The shoe breathes very well and the Morph technology really is unique. I ran the same route I have been running with my other shoes and this is the first time I came home with little to no knee pain. I run in the foothills of the Wasatch mountains in Orem, Utah and there is a lot of vertical climb, descent in my normal routes. I usually run 4-6 miles with about 1,200-1,500 feet of elevation gain and equal descent totaling 2,400-3,000 total elevation change and it normally takes me about an hour depending on the trail of the day.

Now after running in these for a couple of weeks I must say that I am hooked. In fact I will probably have to purchase several pairs in the event they stop making them. This shoe also has a sister called the Quantum and I haven't tried that yet so I am not sure of the differences, I am assuming one is lighter weight than the other. Some purists may be concerned with the 11 mm drop but I am telling you this shoe is amazing and as far as I can tell, so far this shoe is amazing. I have not been in super wet conditions yet to see the performance but with the traction this sole has I have to think that it will perform pretty well under most if not all conditions.

The only thing I can see to give it a fraction of a mark off would be the sizing. As for sizing, the Electron runs on the small side, as do most La Sportivas. In most trail shoes I run a size 12 or 45.5. In the Salomon's I run a 11.5 or a 45 since they run a little big. La Sportiva runs small and in most LS models I wear a 12.5 or a 46, in the new Electron I had to step up to a size 13 or 47. Very weird that I had to go up so much but believe me I tried all of them on and with the Grand Canyon coming up in October I want to keep my toe nails and anything less than the 47's would be too small. I think something with the new Morph sole and sock like upper have made them size differently. Try them and if you don't get the right size Backcountry is amazing to return your product if it isn't perfect.

Anyway, in the end I am very happy with these shoes and hope to have many more years of comfort running in the Wasatch Mountains.