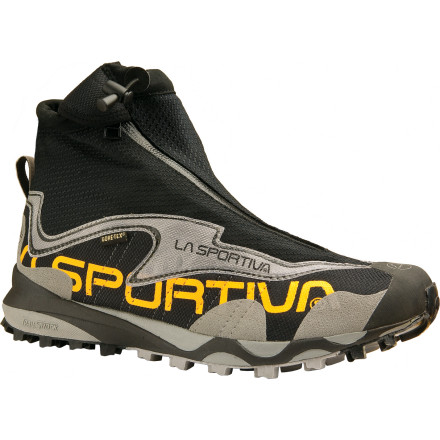 Videos

Community Images
Lace up the La Sportiva Crossover GTX Trail Running Shoe when it's time to call it a day and disappear into the foothills. Attack the muddy trails without fear thanks to the Gore-Tex lining and an integrated gaiter. La Sportiva's FriXion AT sole with directional impact brake system provides greater traction and stop-and-go ability for when you happen upon a herd of angry chipmunks. Thanks to a dual-density MEMlex midsole, the Crossover GTX takes it easy on your joints, even if you don't take it easy on the trail.
The Italian SUV
Familiarity:

I've used it several times

Fit:

Runs small
Great shoe. Get one size larger. Stud them up and have at it.

Super comfy, warm and precise for winter running and hiking.
Great shoes, questionable build quality
Gender:

Male

Familiarity:

I've put it through the wringer

Fit:

Runs small
These shoes are truly awesome. I've used them in mixed conditions and winter conditions for hikes upwards of 30 miles and 10,000' of gain in a day over dry trail, ice, packed snow and powder and my feet stayed dry.



As far as trail shoes, these are pretty stiff. They feel like a stiffer version of the C-Lite 2.0s, and maybe overall they are a tighter shoe. As always with La Sportivas, they run small. I usually wear a US10.5 and I almost always get a EU45 in trail shoes from LS.



The gaiter alone will keep snow out in fresh snow on a trail if the snow isn't more than a foot deep. For postholing conditions or deep powder, I have used traditional gaiters in addition to keep the snow off my legs and out of the shoes. Using midweight Darn Tough wool socks, I could keep my feet warm in winter conditions for several hours. But the tightness of the shoe prevented me from using a bigger sock, and when I stood still in mid 20 degrees, my feet eventually got cold. Unless you size up a lot for an expedition weight sock, these won't be suitable for extended journeys in very cold places.



The grip is phenomenal on mud, dry rock, and packed snow where the lugs can bite into the surface. The lugs do fade quickly though, but I think this is the trade off for grip.



The main problem with these shoes has been the build quality, especially for the stitching on the gaiter. The first pair I got came with a blown seam on the heel where the gaiter joins the shoe. I returned them to BC and got another pair. After a little bit of use, this pair got a blown seam on the top of the foot where the gaiter meets the shoe. This time I superglued it and it's doing just fine. Over a rather short time, the striking LS logos begin to crack and break off, which doesn't necessarily look bad, just weathered.
Best yet
Familiarity:

I've put it through the wringer

Fit:

Runs small
I've been running trails seriously for a few years and have just signed up for a 100k in the German Alps. Having run with the 3 pairs of the non-Goretex version of this shoe in 2 years, I decided to grab these for winter training in soggy ole Germany. These fit almost exactly like the non-gore version though they don't wrap and snug around the foot. There are slight modifications to the pull tabs which can get folded onto your achilles if you aren't careful putting them on. Otherwise, the large lugs give great grip in the mud, but the rubber on these sticks well when navigating rocky terrain. The shank is stiff enough to dampen the sharp limestone edges we run over, but still leaves flex in the foot which gives good trail feel. I have put a couple hundred miles on these, and I have been worried from the start about the durability of the zipper, but it has yet to fail.



All in all this is the best trail runner I have used when compared with some Montrail (Hardrock, Masochist) and New Balance (MT 100 (but I dont run minimalist anymore).



These definately seem geared towards a narrower foot.
i woulod like to exchange my shoes the...
i woulod like to exchange my shoes the ones I have the zipper is broken


We have one of the best return policies out there so we'd be more than glad to get that setup for you! Just chat or call in so we can handle that exchange accordingly. :)
Treadmills suck! Grow a beard, buy these shoes, and don't be one of those suckers stuck inside all winter.
Great cold weather trail shoe
Familiarity:

I've used it once or twice and have initial impressions

Fit:

True to size
I have worn these shoes on 2 runs here in Minnesota. We are 'easing' into winter so far (I write this on Nov 25). We have not had any snow that has accumulated and stuck around for me to run in yet... The first run I went on the temps were over 25 degrees, after a 45 min run my feet were getting a bit sweaty. I just did a 2.5 hour run 3 days ago, temps were 10-15 degrees with some chilly wind. I did not get sweaty feet, they were great. SO, for this true blood MN runner, these gore-tex shoes might be a bit warm if temps are over 20 (I will likely use 'regular' trail shoes then). The Crossover GTX seem like they will work well when temps are in the mid teens and lower. Of course we all vary with how hot/cold we get in different weather conditions, so others may not get warm/sweaty feet as easily as me.

For GoreTex shoes, with build in gaiters, these shoes seem to be on the lighter side. I am pleased with the cold weather protection and that they are not heavy and bulky.

They are comfortable as well. Of course, these comments are my initial thoughts after 2 runs.
La Sportiva Crossover GTX Trail Running
I have two pairs of these for year-round running/hiking in Alaska. I stud one with Grip Studs for winter trail running, and I use the other for hiking and wet-weather trail running. Excellent support and grip from the sole while still having a light flexible upper. Runs small. I wear a 43 in these and normally wear a 42. Fit and feel is very similar to Crosslites which I also use. Laces are more accessible for adjustment on Crossovers. I get 8-10 months of use from a pair, seems about average for trail runners.
Unanswered Question
How do these compare to the Crosslites?...
How do these compare to the Crosslites? Are they bulkier, aside from the integrated gaiter? I like the profile of the Crosslite, but I need a goretex shoe.
LOVE These Shoes
Familiarity:

I've put it through the wringer
When Asics discontinued the Trabuco GTX a few years ago, I was left looking for a replacement for a long-time favorite trail runner. This is it, no doubt. I love the built-in gaiter and the weight is good for a solid shoe. I haven't destroyed them yet, despite my best efforts on the scree and the muck of the Cascades. I'll buy another pair when I need to replace these. Full Disclosure, I've participated in the Gore MountainTechs project since 2007, but I had to buy these myself. I'd do it again, too...
Could have been betetr
Gender:

Male

Familiarity:

I've put it through the wringer
I wore this shoe for 3 months in Pakistan from June to end of August this year. The shoe mostly performed well hiking to concordia and back over the Gondogoro La pass. Towards the end of 3 months though, the sole started to seperate from teh shoe and I suspect wouldnt have lasted much longer.
Size runs small but very comfy
Gender:

Male

Familiarity:

I've put it through the wringer
I normally wear a 33 but ultimately settled on a 35.



I'm registered for a mud run event and really looking forward to using these shoes..! Otherwise, they're performing beautifully for the trails I'm currently running. (I have slightly wider feet.)
Ultimate Winter Trail Running and Snowshoe Running Shoe
The La Sportiva Crossover GTX is the ultimate winter trail running shoe. Living in Canada, I have to run through some nasty winters. As a summer shoe, I've loved the Crosslites and the Crossover GTX give me the same fit and feel, but in a winter version to keep my feet warm and dry.

I used the Crossover GTX for running the Yukon Arctic Ultra 100 miler (while pulling a sled) in Northern Canada last year. The temperature dropped down to -30C. I had zero blisters or other foot issues during the race.

I've also found them to be exceptional as a shoe for snowshoe running as my feet have gotten cold and wet in the past in other models.

Derrick Spafford
La Sportiva Running Team
Choice for Deep Sloppy Mud or Running in Snow
My Crossovers are the ultimate for majorly muddy conditions during Bay Area winters (feet sinking in several inches into deep, goopy mud) and for quick runs when I'm up snowboarding in Tahoe.
The built-in gaiters keep out the mud or snow.
Being a trail runner, getting wet or dirty feet is not that huge a deal for me, but I'm an ultrarunner, so often out there for hours. Wet feet sort of get old after 2-3 hours, and really gnarly after 4-5. It's also nice to be able to avoid wringing out the muddy water out of my socks 20 times before I throw them in my laundry pile.
I'm not sure if I agree with the 1.5 sizes up recommendation. These fit like the Crosslites, and not the tight fit of the Quantums, Electrons or Verticals.
(For full disclosure-- I am a La Sportiva Mountain Running Team member)
Does this shoe help prevent ankle rolls?
Does this shoe help prevent ankle rolls?
Best Answer
It will help some over ankle high trail runners but nothing like a quality hiker.
I don't use it to prevent ankle rolls, but it's hard to roll your ankles while wearing them. I still do most of my hike with trail running shoes.
Amazing winter running shoe!
This is an amazing running shoe. Anyone who says they're clunky, doesn't know trail running. They take a solid 75 miles to wear in. They are pretty uncomfortable to start! I can run in shin deep snow with NO snow entering the shoe. Run hard and live at 10,000 ft. Get the same size as your other la sportiva shoes! And run in pow with these great shoes.
Perfect winter trail runners or approach shoes for those with feet that hate ice boots!!
So.... are they waterproof?
So.... are they waterproof?
Hey Jon, yes they have a waterproof/breathable Goretex liner...
They are waterproof as long as your foot is not entirely submerged.
The Gore Tex lining comes up just below the ankle. The gaiter portion is simply a membrane that repels debris and light sprinklings but do not hold well against large dousing. Puddles up to the ankle are generally well protected.