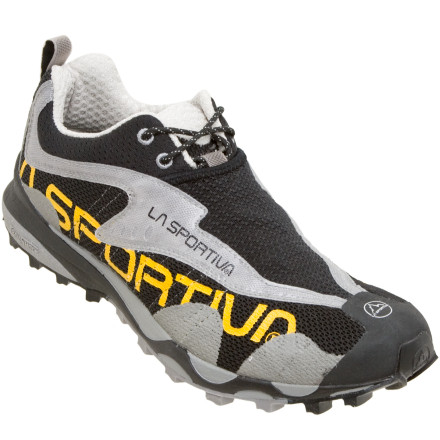 Detail Images

Community Images
Not all races take place on bluebird days, so La Sportiva gave the Men's Crosslite Racing Shoe an aggressive outsole to provide traction for whatever conditions you encounter. These featherweight trail running shoes were named Best Buy by Runner's World and include La Sportiva's Impact Brake System to provide impressive cushioning, especially for a minimalist shoe that you're only going to lace up when you have on a number pined to your shirt. The Crosslite Racing Shoe isn't for your every-day trail run. This shoe is for the 50-miler where you plan to dust the competition by minutes, not seconds.
Share your thoughts
What do you think of the
La Sportiva
Crosslite Trail Running Shoe - Men's
? Share a...
i have a 3a narrow width. Will these...
i have a 3a narrow width. Will these fit?
Hey josh,

Thanks for the question. When it comes to the La Sportiva Crosslite Trail Running Shoe - Men's along with any La Sportiva trail running shoe, the narrower the better. This shoe definitely has the narrow fit that you are looking for, but is also slightly short in length. So, if you are between sizes length wise, size up.
The Crosslite is by far my favorite trail shoe. Light weight, very flexible, great traction. I love the aggressive tread and the flexibility makes you feel nimble even if you're not. Downsides? A couple for me. First, If you plan on running a 100 mile event in these, your feet had better be ready. I ran a 100K and by the finish, my soles were hammered due to the minimal cushioning. That can probably be overcome just by toughening up my feet. The other is that they are certainly not made for cold weather running. Get them wet from snow, and your feet will freeze. I will definitely be buying some more Crosslites. Love them.
Great mountain running shoe
After 20 years of ultra trail running, the original La Sportiva Crosslites are one of my favorites. I generally get over 500 miles on a pair, they are low to the ground, are stable and have fantastic traction. I have worn these at races such as the Speedgoat 50K in Utah and the Hardrock Hundered in Colorado with no problems.
My only mod I make to the shoe is to remove the corset over the laces to better allow me to make adjustments to these and to give me a little more comfy room for my foot. Here's a blog post I wrote on the La Sportiva blog on how to do this easily. http://mountainrun.wordpress.com/2011/04/04/crosslites-review-and-little-tlc/
I'm looking for a running shoe that has...
I'm looking for a running shoe that has good traction in wet slick conditions. I have wider feet and am usually about an 8.5 in size. Does anyone know whether these shoes run on the big or small side and whether these shoes sound like a good option for me? Thanks for the feedback.
Leo, these shoes meet all of your criteria except they run on the narrow side. If you have wide feet I am not sure these would work for you. IMO they run about a .5 size small.
If you're a La Sportiva fan and love to run on gnarly trails (mud, rocks, steep grades, etc...) then you'll love this shoe. Be prepared as it is very low profile and the midsole isn't as thick as a traditional trail running shoe so you will feel the ground and what's under your feet. There is a built in rock-plate that does help mitigate this feel somewhat, but it also makes the shoe quite stiff. Overall the shoe has great traction though was not very effective on some of the slicker, wet rocks I typically run on (polished limestone), but then again nothing is too good on the wet rocks around here. The lace corset isn't the best feature, in fact myself and others typically just cut the thing off to gain access to the laces easier. Also, a common issue with trail shoes that utilize a lot of fabric mesh on the upper, they tend to tear up at the metatarsal flex point in the shoe, both pair I owned did this after just a couple hundred miles.

Overall this is a good, no nonsense, serious trail shoe that will work for most trail runners.

Rob Youngren
Wasatch Speed Goat Mountain Racing Team
I use these in the winter on the snow and ice, tons of traction. the sole is very rigid, these are awesome on uneven and slippery surfaces.
I bought a pair of these a few years ago and love the snug fit and traction. I wore them for the entire 50 miles of the White River 50 last summer and they were great climbing the hills and good coming down the soft, single-track. It wasn't until after mile 37 when running down a 6 mile gravel road that I wished they had more cushioning.

Another possible concern is that these shes don't allow easy attachment of gaiters, but I have a pair that I slip under the mesh shoestring protector and hook onto the laces. It works fine.

The toe box is not roomy so if you have bigger feet this shoe may not be for you.
i love these shoes, i'm on my third pair. i've done 2 tough mudders in them and the traction is absolutely incredible. my only complaint is that you cant replace the laces, but havent had to so it hasn't been an issue yet. great for day hikes too with a moderate load.
I like these shoes, but I don't love them. I like that they have a limited amount of support, which goes along with my minimal shoe theory (I run in Five Fingers at least once a week), and they have solid traction. The negative is that they are on the narrow side compared to the rest of the La Sportiva trail running line. With the minimal support, there are times when you will certainly notice rocks and they could be painful if you're not careful. Running in full blown shoes, I become slightly lazy when running over rocks, which can certainly be a negative with these shoes. You almost have to pretend that you're running in Five Fingers due to the lack of protection underfoot. That being said, I do like them and have about 300 miles on them thusfar.
Was really picky when it came time to pick a new trail run shoe. I narrowed down to this one and let me tell you, best decision I ever made! Was looking toward goin with a minimalist shoe, but still needed a little bit of support for my knees and shins! This shoes has a lot to offer, their lightweight, and have great support and cushion. My favorite part of this shoes is the traction. The traction is amazing on all sorts of terrain, sharp rocks had no chance with these shoes. Also the area I run has a little bit of pavement that transitions the trails, was way surprised with the huge cleat like traction how well these shoes did even on the hard stuff! I run everyday around 3 to 4 miles, and these shoes supposedly being a race shoe, work perfect for a everyday runner! Love em!
After 6 months of daily use
I bought these after checking out a friends pair. Used them to compete in the North Georgia Adventure Race right out of the box with no problems at all. They have incredible traction (except for on slab by rocks thanks to the cleat like bottoms which equal a relatively small contact area on the rock), and are super comfy...Sort of fit like a big sock. They have a minimal heel-toe drop too with makes them a good fit for pose/barefoot running techniques. I feel that they run pretty true to size also.

My only complaint is that the lugs on the balls of my feet and at the heel are almost completely gone - as shown in the pictures below. I have worn them everyday for the past 6 months though so that was sort of to be expected.

Overall...great shoe.
I need to know what the toe box width is....
I need to know what the toe box width is. I don't want too snug a fit as I plan on using these for extended runs.
I don't know specifics, but I know that La Sportiva shoes fit my very narrow feet really well. If you wider feet then I'd suggest a different brand. Brooks or Salomon.
the crosslite 2.0 has a wider toe box these are a little snug, i use them all the time for 8-10 mile runs and they feel great.
So what is the width measurement for the...
So what is the width measurement for the toe box?
Can't give you an exact measurement but these have a very narrow toe box.
I have used these about 8 times so far. I would not recommend them if you have a wide foot like myself. The extra covering over the laces seems to be too snug for my fat as do the sides. I can not run for distance in these because my feet start to throb. I am alright at short distances though. I wear a 9.5 in my asics and got a 9.5 in these. The length is fine, but like I said, they are pretty snug.
If your looking for a show that can be walked around in all day and then if needed can excel very well in the trails you need to turn your little consumer ass around and go take a look at something like the FIREBLADE or WILDCAT both equally great shoes but with more of a multipurpose build to them especially in the tread department.

When I first slipped my foot into my brand new CROSSLITES I just wanted to run and thats all! This shoe fit great right out of the box and with the lacing system all it takes is a little tug and this shoe is tight and ready to take on whatever you got for it. The rock guard toe is a life saver especially if your running a lot in the spring time when all the water run off is still fresh and rogue rocks and roots seem to be everywhere like some kind earthy mine field.

Another feature that really set this shoe apart from the rest was the tread design with its highly spaced tooth like treads, steep hills were no match for this shoe and I never found myself slipping. When done running in the mud and whatever you find yourself running through you simply just bang the two shoes together and all the crap comes right off the bottom which means your not bringing the earth in the car with you.

This shoe is well designed to allow your feet to breath and thats huge for me since my feat sweat like its going out of style and really there is nothing worse than soggy sweaty feet when your running. But don't worry the lower half of the shoe is lined to not allow water in so don't worry about puddles and such.

Now of course with all great things there is always some kind of problem and this one is really a personal problem but since a lot of people suffer from it and some suffer from it and don't know they do I thought I would comment on it. This shoe has absolutely no arch support and if you pronate when you run your gonna feel some nasty pain in your ankles an knees and with this shoe being such a low profile design its hard to find insoles that have arch support that will still allow your feet to fit in the shoe.