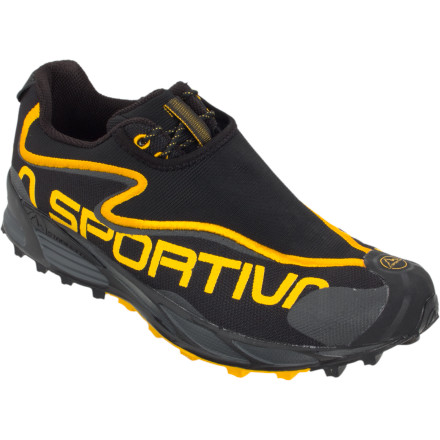 Detail Images
An aggressive outsole and a responsive, close-to-the-ground feel make the Sportiva Men's C-Lite 2.0 Trail Running Shoe your ticket to single-track nirvana.
Injection-molded EVA midsole creates a stable platform that's lightweight and flexible
Slip-lasted construction cradles your foot with support and encourages powerful heel-to-toe roll for efficient use of your energy
AirMesh upper shrugs off the elements and still allows your feet to breathe
Newer models not as durable as the old
Familiarity:

I've put it through the wringer

Fit:

Runs small
I bought my first c-lites in 2011 (black & yellow) and put them through a lot: I don't do much trail running but tons of long hikes and ridge scrambles, and that pair took me over many trail miles and up and over class 3, 4 and 5 rock faces. After a couple years, they understandably started to wear down. So I bought two pair in Fall 2013 on sale (black and gray/silver) but have not been near as happy. The fit is still good (I size at a 10.5 but wear 11.5 in Sportiva) and the rubber is still grippy for the rock, but the material on the sides is not near a tough. One scramble showed the sides (just behind the little gray patch) to be frayed up like a regular road running shoe would.
Perfect for the Camino de Santiago
Familiarity:

I've put it through the wringer

Fit:

True to size
Over the course of my training and the actual Camino de Santiago I've put over 600 miles on my C-Lite 2.0's. Aside from the once grippy rubber being worn smooth, the only damage that my shoes have to show is some tearing around the inside ankle. Luckily, this problem was easily fixed with some duct tape. My experience with these shoes was excellent. They were comfortable right out of the box and lasted longer then any boots or trail runners I've owned in the past. If you're looking for a lightweight pair of hikers to be worn with a light pack you couldn't ask for a better shoe then the C-Lite 2.0.
Killed my feet
Familiarity:

I've used it once or twice and have initial impressions

Fit:

Runs small
I had the older leather version of these and they were my go-to for trail runs and steep hikes. I am a long time LaSportiva fan. This new version killed my feet, one of my toenails is badly bruised and falling off after a long day in these. They rolled over constantly and absolutely destroyed my ankles. Had to return.
This seems like a very well designed shoe but they run very narrow and the sizing is not comparable to other La Sportiva models that I've purchased in the past. This resulted in a few inconvenient and time-consuming returns/exchanges until I finally realize this is not the shoe for me. I took the second pair I received out on the trail and the narrowness of the shoe sacrifices lateral stability and makes for wobbly hiking on uneven terrain. I wish they would get this shoe right, because I like everything else about it including the slip-on upper and heavy-duty tread.
Great shoe for challenging runs
I'm on my second week with the C-Lite 2.0, and I thought I'd give my impressions. As background, I typically wear an 11.5 (45), but I went with a 12 (45.5) in this shoe, as I think it runs a little small (especially width). I have a high arch, and wish there was a little more arch in this shoe.

First, I think the other commentators nailed it: the sole is superb. I run in New Mexico, where the trails are very rocky and/or sandy and these shoes just bite into the ground and grip the rocks. Nice soft lugs give some cushioning on the downhills, but you can still feel everything under your feet in a way you can't in more shoes with more padding (the only padding is the sole itself).

Second, they're a little hot, as the other guys have said, but not "don't use them in weather over 75 degrees" hot. Compared to my road-running shoes (Asics 2170), they don't breath very well, but it's well worth the extra heat when you consider all the protection from water, rocks, and mud the fairly substantial upper gives you. Also, the 2.0s have a rubber toe guard that's really helpful.

As for lacing, it's fantastic. The shoe opens up when unlaced, so they're easy to slip on and off (there's also a pull tab on the back that's way better than the rear loop on the original C-Lites). When you lace them up, the whole shoe wraps snugly around your foot, which I just love. Be careful you don't tighten them too much, or you'll lose feeling in your feet!

If I have a gripe, it's the fairly narrow toe-box (larger, for sure, than the originals, but still too narrow for my toes to really spread out and provide balance like in the minimalist shoes on the market now). I have a narrow foot in general, especially the heal, and the rest of the shoe fits great.

Maybe another gripe would be what happens when a lace breaks? I've had the original C-Lites for two years and one of the laces is starting to fray. I don't see any easy way to get a new pair of laces in there. I'm thinking it will be like arthroscopic surgery when I have to replace them . . . but that problem is for another day.

Anyway, this is a great running (and hiking) shoe, and I'd recommend it if you like to run on difficult terrain. (It also works great as a golf shoe, like the guy in the video review says). Enjoy!
Unanswered Question
How do you change the shoe string
How do you change the shoe string
Excellent Weight:Performance Balance
This shoe strikes such a perfect balance between functionality vs light weight. The toe protection up front is reassuring, and the stability is outstanding. Yet the shoes keeps you to close to the ground without being excessively built up like so many trail runners that probably appeal more to the fashion set than anything else. The integrated lace covering works perfectly – yet another example of the shoe's well-thought-out yet no-gimmicks approach. The grip is especially impressively on loose terrain. I often hike on a trail that has some steep section with very loose old volcanic rock – with my toddler daughter strapped to my back (after we finally get her to stop trying to hike those sections on her own). The Crosslite 2.0 grips so well on those sections that I feel like I have crampons – those little plastic nobs are that effective!
These are really light trail shoes. The top cover acts like a gator and keep rubbish out when on the trail, it also acts as a water barrier. However, that same barrier makes the shoes toasty, so on a warm summer day, anything above about 75, they get too hot. Hot means sweat and sweat means blisters. Still, on a cool morning or during the cooler months, you can't beat them. Good for a narrow foot and fits true to size.
I'm a La Sportiva Athlete and just started using the C-Lite trail shoe this year. Chose the shoe for it's traction and durable upper for winter running.

Throughout the muddy/snowy shoulder season in the Cascades the traction and width of the shoe have proven to be top notch. If you want a wider toe box and billy goat traction this shoe is a good fit.