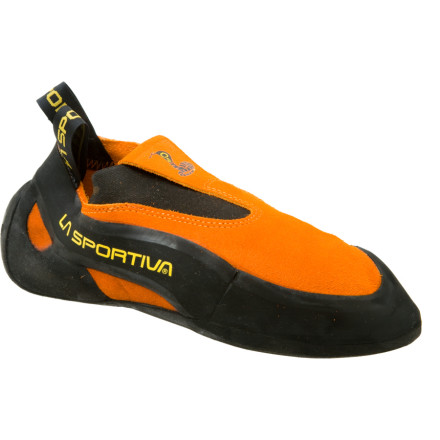 Detail Images

Videos

Community Images
Slip into the La Sportiva Cobra Climbing Shoe when you want a top-notch blend of edging performance and supreme sensitivity. These shoes turn dime edges into sidewalks and give you the precision feel needed to finally send your long-standing project. La Sportiva used an unlined, slip-lasted design to give the Cobra a feel that's one step from bare feet.
Unlined leather upper will stretch about one full size
Aggressive down-turned shape for steep routes and bouldering problems
Vibram XS Grip2 for serious edging performance, smearing performance, and durability
0.8mm LaspoFlex at the midsole uses a super-lightweight, super-thin synthetic laminate for torsional rigidity and a sensitive feel
Slip-on design makes this shoe an excellent choice for bouldering
Share your thoughts
What do you think of the
La Sportiva
Cobra Vibram XS Grip2 Climbing Shoe
? Share a...
I have a size 43 in the Tarantula's (my first and only shoe) and I am long long long overdue for an upgrade. How will these fit compared to my Tarantulas?
I bought a pair of tarantula's in my street shoe size 45.5, which fit incredibly comfortably but not loose. I bought a pair of these in 44.5 and they fit incredibly comfortably. I use them for training and can wear them for an hour gym session before my feet start hurting. If I was going to go for performance, I would probably have gone down another half size to 44.0. So for me, I would guess a difference of a size and a half. Hope this helps.
Anyone use these and TC Pro? Is the shoe length the same in same size for both models?
Aw, man. I had these slippers in a 42 then bought the TC Pro in the same size. The sizes match oh so perfect. Hope that helps. Cheers!
Was on the Fence
Familiarity:

I've used it once or twice and have initial impressions
Now I'm not, I had considered a slip on shoe for a while, I have been climbing in Muiras and Katanas for a while, and while pricey I need something that I could tear up at the gym on the regular without hurting my wallet to much. These shoes fit the bill, but to my suprise I like them better then my Muiras or Katanas. The soft rubber feels great, the leather leaves your feet orange, but these things fit like a glove right out of the box. I am very impressed, this will be my go to shoe for gym bouldering and wall climbing. I wear a size 12 street shoe, and wear size 44.5 in my Muiras, for these shoes I sized down to 44 and its perfect.
Perfect Workout Shoe
Familiarity:

I've used it several times

Fit:

Runs large
I bought a pair of these to work out in at the local gym and they've performed phenomenally. I bought a size down because they tend to run a bit big. I normally wear a 45.5 but I wear a 44.5 in these and they fit comfortably snug. They grip well, edge well, and allow me to use more precise footwork than my old shoes. Will definitely be getting another pair when I eventually wear these out.
Good Slippers
Familiarity:

I've put it through the wringer
I have been wearing a pair of La Sportiva Pythons for a while and wanted a gym version of them, enter the Cobras. I ordered them in the same size as the Pythons and they fit great. They are tight and sensitive but still comfortable so I can easily wear them in the gym for an hour or more. The Cobras work great on vertical and overhang problems, the only issue is if there is some serious heel hooking needed these might not be the best shoes for that, but that seems to be the case for most slippers. I would very much recommend these to a friend.
how do these size compared to the muira...
how do these size compared to the muira lace? wear a 48 street shoe and a 44 in miura, should i get these an extra half size smaller for the stretch? looking for a snug toe curling fit.
Best Answer
Nick,
It sounds like you are already sizing down considerably in your Muira's. If you are achieving a snug "toe curling fit" there I would recommend staying with the 44 in the Cobra. I don't think you will need to go down an extra half size even with the minimal stretching that will occur over time.
I owned both this slipper and have extensive Miura lace experience as it's my all time favorite shoe. These slippers need to be sized around a full size smaller than the Miura lace and velco shoes, even though they are all built on the same PD75 last. As reference, I go for the absolutely tightest fit possible with my shoes where they can break in to have 20min session comfort.

I have a 8 US men's slightly higher volume foot:
41 EU down to 38 in the lace
41 EU down to 37(36.5 is possible) in these slippers

If you really want a long lasting performance fit and can handle a little pain in the beginning, use a plastic bag on your heel the first few times you put on an unlined leather shoe to help it slip on easily. They stretch like crazy and you'll notice huge comfort gains in only a few hours of using the shoe.
Do you carry this shoe in 36.5 or are you...
Do you carry this shoe in 36.5 or are you sold out?
How do these shoes compare to the Pythons...
How do these shoes compare to the Pythons (size, feel, etc)?
Best Answer
So this is basically the slipper version of the Python as far as fit is concerned. Its going to be a little harder to get on since you can't open it up like the Python. Also, without the hook and loop closure you can not tighten it down for a more precise fit. With that said I would get the exact same size unless the Pythons fit either small or large on you in which case I would adjust accordingly since there is no room for adjustment in these shoes.
Thanks, I will go for the same size shoe then!
Great Shoe, size down!
Familiarity:

I've used it several times

Fit:

Runs small
I've used these shoes a couple times, so far they have been great. I sized down a bunch. I originally bought size US6 (38) mens, but they were too big so I exchanged them and got 5.5 (37.5). My street shoe size is size 8, I wear size 8 in 5.10 Teams. So I sized down 2.5 US sizes.



Bought these for bouldering but they have made it into my sport climbing bag too. Great once you develop more foot strength allowing your toes to really pull and push... rubber is thin so dont drag your feet or youll blow though them.
La Sportiva Cobra Vibram XS Grip2 Shoe
good shoe for bouldering, face
Gender:

Male

Familiarity:

I've used it several times
This is a decent shoe, but sizing might be tricky, depending on what you're after. Better for face and bouldering. Heel cup is good, so you can heel hook if you size them tightly enough. I would not recommend them for crack climbing (like, for desert splitters). I looked at these as an alternative to 5.10 Moccasyms. Cobras have a more pointed toe box, so that it is highly unlikely your toes will lie flat. I don't have Morton's toe; regardless, 2nd and 3rd toes will not lie flat, even in larger/looser sizes.

Sizing: I wear a street size US 9 mens shoe. I have a size 40 lace Katana, which are sized for agressive face climbing and bouldering. Toes are curled over, so I can't stick them in a crack (or, it's excruciating to use them for crack). I have a size 41 TC Pro, which is sized for all-day comfort and crack climbing (toes are flat). A size 41 Cobra puts my toes in the same position as the size 40 Katanas.
Love them
Gender:

Male

Familiarity:

I've used it several times
Had these shoes since christmas. They took awhile to break in, but are incredibly solid shoes. I wear a 9.5 / 10 in a street shoe. Went with a 39.0 in these, and they are reaaaally tight, but after around 10 bouldering sessions they came around and don't hurt anymore. I think next time I would definitely size up to 40.0, but maybe i'm just a wuss.
anyone ever size these for crack? I have...
anyone ever size these for crack? I have had mocs but the fit has always been suspect. also I don't dig the red feet
got some input they are killer for thin crack
good for thin cracks where you don't expect to get your full foot/toes in. Your toes will probably not lie flat enough for hand-sized or larger cracks, and it will be really painful on your toes. YMMV, as far as the pain thing is concerned.
in my other crack shoes even if my toes are half curled, as long as the shoe give them room to lie flat I can jam all day. I was really curious if they have something rigid like P3 (but not listed) to give them a down turn. things like that can mess with your sizing of crack shoes
I was curious what size would these be...
I was curious what size would these be best in for crack climbing?

Currently I wear 39 in solutions for bouldering and 39.5 in miuras for sport.

Any suggestions??
I wear roughly an 8.5 shoe, and wear these in a 38.5. The fit is aggressive and I'm not sure if I could handle shoving my toe into a crack. You might need to go with a half size up from your muiras to get a comfy fit. They will stretch a bunch though, so also keep that in mind
I've had a few pair of these and they are still one on my favorite shoes. I use them for warm-ups, gym endurance training, and most of my bouldering up to a certain level and type of climbing. For overhanging caves you probably want the Solution or Pythons.

For a performance fit you want 4 Sizes down from street!

There is a lot of questionable climbing shoe sizing advice on Backcountry so be careful what you use as a guide. The following suggestions (best for lower volume feet) are pretty accurate IMO and matches the words of others who seem to speak with wisdom...

3.5 or 4 down from street (Miura VS)
4.0 down from street (Cobra)
4.5 down from street (Solution)
5.0 down from street (Futura)

For example, with a 10.5 street shoe you want about a 39.5. Yes its going to hurt for awhile but otherwise they will be sloppy after breaking in.
Essentially a Miura slipper
Great shoe, a lot like the Miura lace, they're versatile, high performance and sleek.

The main difference with this shoe is that its unlined leather upper and thin (3.5mm) sole make it more flexible and sensitive, but less precise than the Miura. This is great for overhangs and gym climbing, but makes them suffer on edges, especially as they break in. The vast amount of elastic needed in this shoe to keep them snug on the feet is also less comfortable than a lacing system, because you can't eliminate pressure points.

On the upside, they are not too expensive, and go on and off really easily. I sized them they same as my Miura's and the fit just a hair tighter.
bought these a few weeks back and i have to say i love them, for beginners and more advanced climbers. If you are considering to buy them take in to account that you must buy them 3 euro sizes smaller than you normally would, I usually have a size 46 with la sportiva but 43 was the size for me for these shoes

but there are 2 downsides
- it takes a long time to break them in but after that they have a amazing fit nice and snug without constricting
- they stain your feet orange, was kinda funny in the beginning but now its bugging me a little, makes me wonder about the quality of the shoe

Butt... i still recommend them to anybody who wants to get new climbing shoes :D