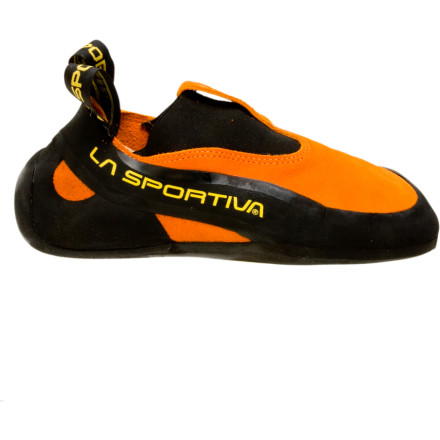 Detail Images
Share your thoughts
What do you think of the
La Sportiva
Cobra Climbing Shoe - Discontinued Rubber
? Share a...
Unanswered Question
I own Solution in a 43 1/2 and they fit perfectly after a difficult period of breaking them in, is it a safe bet to get the Cobras in the same size if I want them as an easy gym climbing shoe?
If anyone is having a problem with the leather staining there feet orange, you should try Retayne. Retayne is a color fixative for fabrics. If you follow the directions it won't work. Instead you should soak the entire shoes, in and out, with the Retayne for an hour or two and then wash them. If it doesn't work, do it one more time.
Excellent shoe from La Sportiva. This is my all around shoe. I mostly sport climb outdoors and boulder indoors and this shoe does the job very well. I use to be really big on 5.10 but the stickiness of the sportiva rubber and overall fit has changed my mind. I did down size two full sizes, but even then the shoe is still comfortable enough to walk around in the gym, plus it's a moc it's not that hard to take off. I wear a size 9 street shoe and i went with the 39.5 in the Cobra.
Hey im a beginning climber and these appeal to me the most. I like the slip ons cuz i have a pair of toms, was considering a muria VS but decided on these. ANy objections? I was wondering about the size I wear and 8.5-9 in mens and another review on here said that he uses a 39 in these. I was thinking maybe a 39.5 to be safe?
La Sportiva Cobra Climbing Shoe
Tried this out and found it to be a better option for sport and bouldering than most of the other slippers I've used. Not much support there and I sized it way too tight to shove it into a crack, but the the downturned shape does provide more power than a copperhead or moccasym. I'm an 11 street shoe and a 41.5 fit about right - might could size down to a 41.0 but that would really, really hurt for a while.
Hi! I got these this morning and I am not...
Hi! I got these this morning and I am not sure what to do. I wear 38,5 in Scarpas and tried 37,5 Katanas and was confident I'd break them in nicely but returned them cause the heel didn't fit all too well.
These beauties are 36 and it's very painfull to even sit around in them. It's easy to get them on and they kind of fit like a glove but my toes are super bent. I am not used to climbing with bent toes (my scarpas are the technos) but I always wanted to give it a try but now I am not sure if these will stretch enough.
I gave the dealer a call and he asured me that the cobras will stretch a lot.

So what do I do, return them or hope for the best?
Thanks, I returned them. Still waiting for the new ones. I just love the fit of the cobras so I am willing to give them a try.

most climbing shoes doesn't fit me and I was looking for months for new shoes. I am tired of the lace-ups of the technos. it's a good shoe but sucks if you have to tie and untie them often during bouldersessions.
yeah i'd go tight on these...just like every other climbing shoe in my opinion. Yes, breaking them in isn't really fun at all, but you end up with an amazing shoe that can heel hook with the best of them if you size them right. Personally that "right size" were 40s and I wear a 10.5/11 street shoe.
as a boulderer, this is currently my main shoe. surprisingly comfortable for the amount downsized (yeah, they stretch a decent amount and sportiva tends to size pretty large for climbing shoes). in street shoes, i wear a men's US 8.5 or 9.0; i ended up getting a 39.0 for these. they don't stay downturned very long but the relatively thin sole tends to make up for that. heelhooking is sometimes iffy but overall the shoe is precise, sensitive edging with amazing comfort. as an added bonus, they're now making these with xs-grip 2!
Ok, I'm having some trouble figuring out...
Ok, I'm having some trouble figuring out the sizing for the cobras. Usually I find someone who lists their sizes in some different models and can figure out what I need to get, but I have yet to find the right combination of info. So, here's my list of properly (read: super-tight) fitted shoes:

5.10 moc's: 7.5
5.10 5x: 7
5.10 dragon: 8.5
5.10 anasazi: 8
5.10 team: 8.5
sportiva testarossa: 39

So if anyone can give me any size suggestions that'd be sweet, thanks a bunch!
Best Answer
Go with the La Sportiva sizing, it will be the most relevant.
I had a chance to try on some broken in 39.5 cobras along with 39.5 testarossas and the 'rossas were nearly right whereas the cobras were super sloppy, so I know some serious downsizing is needed, I'm just wondering how much.
I would do 38.5 cobras. I have a pair of these and had a pair of tess same size, and the tess needed to be half a size bigger.
I have gone through more than my fair share of climbing shoes. However, the Cobras have become my go to shoe for just about everything nowadays. I love the seemingly perfect balance of flexibility and stiffness with this shoe, I can easily paw a foot hold on really step stuff and yet count on them to be there for me when I need support for a thin techy route. At first the heel would slip off, but the shoes have quickly molded to my feet and now the heel is bomber. I sized them the same as my Solutions which are 40.0s, my street shoe size is a 10.5/11...so yeah I really downsized them a lot, but that's how I roll. I don't have much a heel so sometimes I have to go smaller than normal, although these shoes have solved that problem but creating an enormously large callous around both of my heels. It actually now appears that I do in fact have normal feet with normal heels, so that's another plus.

Bottom line is these shoes are what Moses used to solo Mt. Sinai, so don't miss your calling and pick up a pair of these babies.
Do these shoes require super strong feet,...
Do these shoes require super strong feet, and do they edge well?
If you're feet aren't strong they'll get strong with these.
They'll edge great IF you get the correct size for you're feet.
The leather la sportivas stretch like crazy and for some reason they sell them so that you have to size down 1.5 to even 3 sizes down from your sneaker size.

With a shoe like this you can really feel whats going on and can work on accurate foot placement. Quiet feet!
These are sooooo comfy! Perfect for a long gym session or to climb vertical stuff outside. I like steep stuff so I keep my Miura VS for outside and use these at the gym. I got the same size as the VS btw.
The rand is softer than the Venom's which makes it comfier and probably stretchier although I only had my Cobras recently.
Great Shoes, Great Service
I just bought these shoes last week, and they came in 5 days using the economy shipping and I live in Ohio. I'm still breaking the shoes in,but they have were great the days i used them.
ive seen this shoe pictured really downturned...
ive seen this shoe pictured really downturned and slightly upturned as shown in this picture. what is the shoe actually like?
The Cobra is not at all what I would consider a down turned shoe, like the Testarossa. It is a more standard slipper that is a great all around shoe if your feet are strong (you have the strength to stand on small edges without the help of an edging shoe). I size these and most all my climbing shoes large. That way I can be in them comfortably all day, or at least for extended periods without being in pain. Life has enough suffering without tight rock climbing shoes. Do yourself a favor and go BIG! The only drawback is that the shoe can "roll" a bit when you are trying to small edges, which can be overcome with strong toes/feet.
yes they are downturned, no they arent as downturned as some, but more than most
Agreed with Stephen, they're not down turned at all in my experience with sportiva shoes. It's a very soft shoe which you will break in very quickly: It took me 3 routes to feel comfortable with them and I sized them the same as Miura VS and Venom which took me much longer to break in.
it's down, no it's not. for real this shoe it down turned, however if you don't man up and wear tiny shoes it will flatten out because it is soft. be a man and wear tiny shoes
I've had this same shoe for the past 7 years!!!!! I've only resoled it once cause I mainly used it for indoor climbing. Since moving to colorado, I've used it a lot outside bouldering, and I still love the way it performs. It's stretched to about a half to a full size from when I first got it, but I still love the shoe. I can still stand on micro edges and heel hook anything. This shoe is amazing for any level of climber. Be it you are an expert and want a performance slipper or a beginner looking to get your toes and feet stronger by using a supple shoe. I recomend going with a tight fit because they WILL stretch out. My shoe size is an 8 but I wear a 39 to a 39.5 Excellent all around shoe you can use for anything!
Will these stretch out more than La Sportiva...
Will these stretch out more than La Sportiva Solutions? I'm thinking of going .5 bigger than my solutions, but if they stretch more, then I won't. :)
The Cobra's will probably stretch a bit more than the Solutions.
The shoe is really comfy, has a great toe, and definitely a buy for trad or sport. The heel is iffy, but then again it's a slipper. My only concern is the sizing. Very few stores offer this shoe to try out, and the sizing is way off. I have a 10.5 street shoe (US) and I ordered an 8.5... still way too big. On the first wear I fit easily into the shoe, and now that it stretched out it's barely usable. I would recommend 3 sizes below street for anyone who likes to edge... especially when bouldering. The toe box is massive, so for those with wide feet, this is a great buy.

By far the best part is comfort, so much better then the 5.10 mocs
Remember the commentator from the game NBA JAM... Yes It's the Shoes. I love these shoes. The edging is great and the feel is awesome. I wear about a 9.5 in street shoes and I got them in a 40 (7.5). After about 10 (fairly painful) days, they break in and fit perfectly. The description above is only slightly exaggerating the edging ability (maybe not quite a sidewalk haha), but you'll be amazed by the little pits that you'll be able to stand on. Makes learning and developing technique easy if you're a beginner. Plus you'll get plenty of compliments on your shoes.
I'm so glad La Sportiva brought these back from the dead. This is my all time favorite shoe. Slippers don't get better than this – at least for my feet. I love the rubber and the sensitivity. Now if they'd only put them on steepandcheap for 50 bucks!
I got a killer deal on these in the past- so I bought 2 pairs. They have a great feel to them and good stick. Because they are leather, they stretch, so keep that in mind.
Where can I try these on outside of the...
Where can I try these on outside of the internet? If you know any climbing stores that have these shoes in southeastern PA.?
Best Answer
Macaulay,Here is Sportiva dealers in PA http://sportiva.com/dealers/dealer.php?id=PA If you go to a store to try them on buy them from the store. It is very disrespectful to use a brick and mortar store to try out products and then go order them online. Keep in mind you can always order a couple sizes from backcountry.com, try them on at home, and then return the sizes that don't fit. Good luck.Mahalo, Sumo