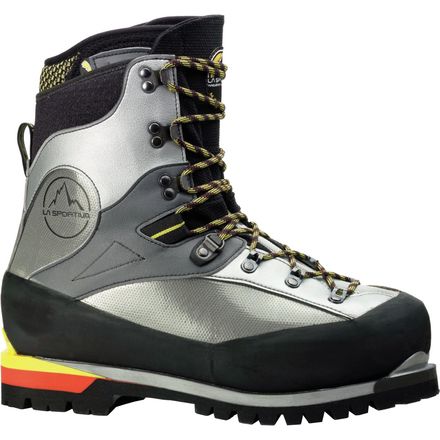 Detail Images

Videos

Community Images
Description
A tough double-boot for the high-altitude realms of the world.
For the cold, foreboding peaks of the world's great ranges, La Sportiva created the sturdy, durable Men's Baruntse Mountaineering Boot. With a PU-coated, two-layer insulating outer boot and a removable, thermo-moldable EVA inner boot, the Baruntse holds in warmth and blocks out snow and weather on high-altitude summit ridges and icy headwalls. A thermo-reflective aluminum layer in the shell helps conserve heat, and abrasion-resistant Cordura reinforcements on both the shell and inner boot hold up to rocky approaches and jagged alpine terrain.
I just got all excited to order a pair in size 49-50...nope. Not going to happen says BC customer service. This is the first time I will have to go elsewhere for outdoor gear (besides local sales...etc) in a little while. Kind of in shock right now. How would BC not be able to get the entire size range from La Sportiva??
Hey RTinVT,



I apologize about that inventory issue. Generally in men's footwear we stock sizes 7-14. If you have a hard time finding that 49-50 size from another vendor let me know and we can look into working with the vendor to get that size. I am sending you an email with a little more information. Again sorry for that issue and thanks for checking our site first.



Thanks!

Dan Gates

Expert Gearhead

801.746.7582

dgates@backcountry.com




Unanswered Question
Hello! I have size 45 Baturas 2.0 and 45.5 Olympus Mons. Which size should I go with the Baruntses?? Thankss
I wear a size 45 Nepal Evo(it fits well), and I"m wondering if I can wear the same size Baruntse, or do I need to go up a half or even a full size to get them to fit properly? Intended use is both Waterfall Ice climbing and high altitude.
I also wear a Nepal 45. I wear the same in the Baruntse. But a 45.5 in Spantik. Only way to know for sure is to go try it on.


I normally wear a size 43 in street shoes and have a semi-wide foot. I am over 4000 miles from the nearest retailer and can't take a day trip to try these on. What size should I order in this boot?
I just got a pair of Baruntses in size 47. I wear a street shoe size 12 and most running shoes in size 13 (47). The 47 Baruntse fits perfectly with a medium Smartwool sock and the thicker Sole footbeds. I still have room to wiggle my toes but the heel stays put (and I still have not heat molded them). I wear a 46 in the Nepal Evo, which is pretty much a performance fit for me for ice climbing....in the Evos I use a Sole thin footbed and I use the extra tongue.
Great boot
Gender:

Female

Familiarity:

I've put it through the wringer
Great boot. Used on several 5000 and 6000m peaks in Ecuador and Peru. Never once had a problem with cold feet, using only a single pair of medium-weight wool socks - and was practically the only person in the group not to have problems with the cold. No hotspots or blisters even on 16 or 18h summit days, and only minimal break in. The heat moulding of the liners was surprisingly simple and made a world of difference in terms of fit - I molded them with green superfeet insoles. Super flexible and comfortable, quite technical. I wear 39/40 in normal shoes and decided on the 41.5 la sportivas, finding the 42 to be a bit too big.
What size should I order if I have very narrow and low instep 280 mm and 275 mm feet and my average size in Lowa trekking boots is 9.5 UK?
I would suggest the size 43.5 in these boots. Obviously, trying them on will give you a better idea if they will fit, but La Sportiva boots typically are 6.6 mm per EU size. 280/6.6 is 42.42 but with the removable liner you will need a little more room.
Great mountaineering boots
Familiarity:

I've used it several times
I purchased the Baruntse's for an expedition to Mt. Rainier. I literally lived in these things for the better part of 6 days. They were a little too warm for a summer ascent of Rainier but I appreciated the extra warmth at camp after the sun went down as well as on our summit bid which took place through the night and into the morning hours. On the upper mountain these things were super bomber. I cut up the rubber around the toe a bit with my crampons but nothing a little patch kit can't fix for me. I purchased the boot a full size up and they were perfect, no toe smashing and absolutely ZERO shin bang. I'll be using these this winter for a winter attempt of the Presidential Traverse in NH and hopefully on Denali and some of the volcanoes in South America. I absolutely recommend these.
I have ordered size 44 of these (not from...
I have ordered size 44 of these (not from here), because my street shoe size is around 43. I find the fit perfect, but without insoles. If I put the insoles, which were in the box, the boots become too tight at the toes. So my question is, is it normal to wear them without insoles or I have bought a size too small or I should thermo mould them with insoles in?
You should order and try a larger size.
Fantastic Boots
Familiarity:

I've put it through the wringer

Fit:

True to size
I think these boots are pretty fantastic. I use them for winter mountaineering and ice climbing in the northeast (mostly in the White Mountains in New Hampshire). I have yet to have cold feet in them, and I've been out when the temperatures were well below 0 F. I really like the flexible ankle, which makes the boots quite walkable, and is also really nice for more technical ice pitches. The lacing system is old school, but works really well and allows you to dial in a perfect fit. These seem to work well with almost all step in crampons as well. I haven't had any issues with durability and expect them to last quite a while, though I do think they will be slightly less durable than Nepals or another full leather boot.



I wear a size 11.5 in street shoes and running shoes, and I found that a size 45 fits me best. I am not an easy fit for boots since I have a relatively wide fore-foot, but a narrow heel (I also have bone spurs on my heels). I get good heel hold from the boot though. I tried a 46 also, but this seemed too big and I got a bunch of heel lift when trying them out on the stairs of my apartment.



One comment I will make though is that since these boots are hand made (or seem to be) there can be quite a lot of variation between boots. When I got my first pair, I noticed that the rocker was quite different from one boot to the other, and that the height and stiffness of the ankle was also quite different between the left and right boots. Even the sizing of the boots seemed different between right and left (and my feet are the same size). This was actually very obvious when walking around my apartment, and the fact that my stride felt very different from right to left was pretty annoying. I worked with Backcountry to resolve this and they were fantastic about helping me, but I thought I would throw this out there as one issue I had with the boots.
Great Once Fit Well
Familiarity:

I've put it through the wringer

Fit:

True to size
Since it's what everyone wonders, I'll open by saying I wear a 45.5 Nepal, and a 45 Baruntse. Arguably should have a 45.5, but the 45 gives me less heal lift than the larger sizes did and a better technical fit.



These are fantastic winter or cold weather boots, especially for overnight use. I've been using them for New Hampshire trips in the White Mountains so far, and they are perfect. I start to get chilly feet standing around for below zero F temperatures. The only time I've been actually cold was waking up to a 0F morning, my toes were pretty painful but warmed up soon when I started moving. I have very cold feet, I'm in serious cold-toes pain standing around in Nepals even at 32F, so no doubt these boots are way warmer.



People say these fit like Nepals and are "the warmer Nepal", but I didn't find that true. They can be adjusted to be, though! The Nepal fits my foot better than any boot I've ever worn, and the Baruntse was initially too narrow for the entire length of the boot. I had to get the toe box punched out, and then I went through a few iterations of punching out the mid-foot width myself (easy to do with a hot air gun). I also had to push the shell up around my 5th metatarsal as it was pushing down quite extensively and caused lots of aching. After forming the liners and four adjustments on the shells, they're finally wide enough and fit great!



The down-side: These are really fragile boots. I'm a little concerned about how the shells will hold up in the long run. I've taken them out on I think 12 trips, and the shells are already taking a beating. Nothing serious, but I imagine the material (fake leather I guess? not sure what to call it) at the front of the boot will become quite shredded. I always wear gaiters even if I don't need them to protect at least half the boot.
Unanswered Question
I have la sportiva karokorum boots size...
I have la sportiva karokorum boots size 45.5 us12 . What size La sportiva baruntse i must to have ?
Unanswered Question
How do the la sportivas fit compared to...
How do the la sportivas fit compared to the Scarpas.. i have a scarpa mont blanc GTX.. 42.5 bigger, smaller??
I ordered a pair of these in 43 and 43.5. Both were too tight on my somewhat wide foot with high arches. I wear a 9.5 US normally. Mostly though, these boots are heavy and cumbersome. I felt disconnected from the ground and had a poor feel for where I was stepping. I also had trouble walking on flat ground, I think these would be very hard for the approach. I ended up ordering the spantiks and really like those. It is an extremely well constructed boot though and if the fit was better they may have been great, not for my foot though.
I have a pair of the Baruntse that I climbed...
I have a pair of the Baruntse that I climbed Aconcagua in last year.Loved them,no problems whatsoever.Several of the other climbers in my group had them and felt the same way.I am going back this January to climb the Polish Direct.I purchased a pair of the Scarpa Phantom 6000.They are about 10 ounces lighter than the Baruntse per boot.(I weighed them on my digital scale) I have a wide foot 4 E + and a high arch. I have found the phantoms to be a tad bit smaller (lower volume wise at the same length) consequently I usually wear a mid weight sock compared to a heavy weight with the Baruntse . My question is, will they keep my feet warm.I have done several winter ascents on 4000 meter peaks in deep snow on zero degree/windy days without any cold issues wearing the phantoms 6000. Considering the fairly significant weight difference I would prefer the lighter weight boot especially on summit day. Any thoughts on this ?

Thanks
Hey there--the Phantom 6000 is a great boot for Aconcagua and as such, is included in a number of major guiding company's recommended equipment lists. See here:



http://cosleyhouston.com/aconcagua-eq-list.htm



http://www.alpenglowexpeditions.com/sites/default/files/downloads/aconcagua_equipment_list_2013.pdf



http://www.ganeshadventures.com/high-altitude-expeditions/aconcagua-6965m/aconcagua-gear-list/



You'll definitely notice the 10oz gone off your feet--that's a huge difference right there. Assuming you're an efficient and skilled climber, the Phantom 6000's should be a perfect boot for you. Good luck on the Polish Direct!
Unanswered Question
Got two pairs to try, normally wear a size...
Got two pairs to try, normally wear a size 12 hiking boots, have wide feet.

1. 45.5 outer with a 45.5/46.0 inner

2. 46.5 outer with a 46.5/47.0 inner.



-How much space should I have on the side of my feet at the widest part? It is not tight, but snug.



-How much toe space should I have?

If I kick a wall in the 45.5 outer, my toes will not hit the front, but my toes will notice where the front is. They will slide forward as I keep on kicking. I have about 1 finger width space in the front of the liner.

In the 46.5 I have about 2 fingers space in the front of the liner and will never even notice the front of the boot.



I do not want to get a boot that is too big.

Will heat moulding make more space in the toe area if I allow enough space with a toe cap?



I am wearing a thin liner and Heavy Smartwool socks.
La Sportiva Baruntse Mountaineering Boot
Going through the list of reviews I am...
Going through the list of reviews I am coming to an understanding that to properly size my boot I must order up to three different pairs to see which one fits best (no suppliers near me). Well, I can't shell out that kind of money right now and I would like to get as close as possible on the size on the first try. Across the board I am a size 10.5; climbing shoes, sneakers, hiking boots. I have a pair of LS Xplorers that are size 44 and fit just fine. Not too big, not too small. Would a 44 be an appropriate place to start? Can anyone give me a comparison of their street shoe size to the Baruntse's?
Best Answer
If there aren't any suppliers near you, I would order the 44.5 (US 11). Try it with thick socks and potentially an insole. If it doesn't fit after a few trips around the house, then work with BC on a return. Hope this helps.
Thanks Jeff. I'll see what BC can do for me.
Dear Bryan, i'm facing a similar conundrum. What size did you eventually end up getting?
I actually have yet to purchase a pair because I really need to try them on. In a couple of weeks I will be in CO and will try on a pair.
planning on climbing mt bona(16,421ft)in...
planning on climbing mt bona(16,421ft)in alaska soon, and planned on wearing these boots. the company i would be going with suggested i have an overboot and im not a fan of overboots. so the question is should i just go with and 8000 meter boot like the olympus mons or should i just go with a different company and just wear the baruntse's?
Best Answer
You've gotta assume they know what they're doing, so if they recommend an overboot, and you hate them, use a warmer boot like the Olympus Mons or Phantom 8000. Did they suggest, or demand that you wear overboots? You could just not wear them and tell the company you'll deal with it. I'd go with the warmer boots and protect your feet.
I need to replace a pair of plastic double...
I need to replace a pair of plastic double boots (an older model Asolo AFS 8000) with something new. I use my mountaineering boots for climbing on vertical ice and for multi-day, backcountry winter treks in the New England mountains rather than high altitude mountaineering. Rainier is most likely the tallest glaciated peak I'll climb in the next five years. I just want to buy one boot to cover all my needs. Can the Baruntse fit the bill, or will I later be finding myself pining for the Nepal EVO GTX? (I can't afford to buy both, of course). Thanks all!
Best Answer
Mike, I think these boots would fit your needs. I would rather hike in the Nepals but these boots are warmer.

If you know what size you wear you can usually find these for about half the price on www.geartrade.com which sells excess and returned stock for Backcountry. But, they do not accept returns if they are the wrong size.