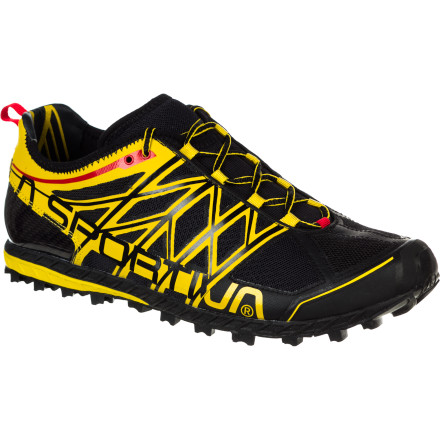 Detail Images

Videos

Community Images
For the mud-loving trail runner on the hunt for a minimalist shoe, the low-profile La Sportiva Men's Anakonda Trail Running shoe is a dream come true. This shoe is low to the ground, lightweight, and packs tons of traction. The AirMesh upper is breathable, it drains away water quickly, and a TPU overlay provides ample lateral support. Stable and neutral for efficient runners, this shoe omits thick cushioning in favor of its Impact Brake System, which features opposing, slanted lugs that deform to absorb shock and provide grip on steep terrain, going up or down.
La Sportiva makes two other minimalist-style trail running shoes: the Vertical K and the Helios. Both shoes are lighter and offer more cushioning, but neither can hold a candle to the traction or control offered by the Anakonda. Something like a burly track flat, this shoes leaves little between your foot and the ground, but it doesn't punish you for it. A dedicated trail runner can easily tackle short or middle distances runs wearing this shoe, whether the terrain calls for rolling, loamy single track or steep trails in deep in a wet forest.
Breathable Poly Grid and AirMesh upper aids temperature regulation and drains away moisture in a flash so your foot stays dry and comfort during long, wet runs
TPU heel stabilizer ensures exceptional sure-footedness and control at the back of the foot
EZ-in pocket secures heel; and EVA AirMesh lining wicks away moisture, so you don't stew in sweat or slop
Durable MEMlex midsole and UltraGuard EVA insert combine to counteract the forces of uneven terrain and create a stable, neutral platform underfoot
Low, 4mm drop (heel-forefoot offset) means that there's just a 4mm difference between the measured height of your heel and the measured height of your forefoot
This low drop creates a natural foot position inside the shoe, encourages proper biomechanical flex, and allows you to more easily utilize a mid or forefoot striking style
Rigid forefoot insert protects the ball of your foot and toes from impact with roots, rocks, and other hazards on the trail
Sticky, aggressive FriXion XF rubber outsole provides sure footing on slick, uneven terrain
Impact Brake System V-Groove absorbs shock to reduce body strain, and its opposing slanted lugs grip into steep terrain uphill and downhill
Well made-period.
Familiarity:

I've put it through the wringer

Fit:

Runs small
Ive owned these shoes since mid january/2015 and use them as a everyday shoe and they still show little signs of wear.

By far the best all around shoe I have ever owned.

Walk dog daily in cane fields which can be nasty.

Hike in them

Run in them

Concrete/tarmac use.

They have proven to be incredibly durable.

Love em

Comfy to me-not a cush shoe but perfect for what I do.
Testing the Anakondas out in Escalante National Monument.
Light and fast, with tenacious grip
Familiarity:

I've put it through the wringer

Fit:

True to size
Great all-around hiking and trail running shoe that's well-suited for steep, mountainous terrain. However, note that its 4mm drop is rather minimalist (without being a true barefoot-like feel), so it'll take some time to accommodate your feet to - if you're used to thickly padded hikers or trail runners.

Super aggro lugs are relatively sticky (slightly less so than a true approach shoe), making it a perfect candidate for rugged terrain, such as Northern Utah's Wasatch and Southern Utah's Slickrock and Canyon Country. Breathability is great as well, with the Air Mesh upper, which also does a good job of keeping larger stones/trail debris from sneaking in. Last thing I'd like to note is the nifty heel stabilizer. This solid TPU stabilizer keeps the shoe from taco'ing when you're descending steep trails. The shoe also features a sticky, silicone-like lining inside the heel to keep you firmly locked-in during fast ascents and steep/gnarly descents.
My Anakonda don't want none.....
Familiarity:

I've put it through the wringer

Fit:

True to size
Sweet light weight shoes.
The tread really stands out with these over my other trail running shoes. Lightweight and minimally supportive.
Pros. The tread, its bomber! sticks to slabs, loose gravel and roots.
The upper is stretchy which I can see how someone might not like but it fits the way I run. Easy to get a nice snug fit.
The firm plastic heel I feel adds major support for a lightweight shoe with minimal cushioning.
Cons, the upper is breathable mesh that lets fine dust in, which over long miles gets muddy between toes.
I've found myself retightening the shoe after about an hour of use, I think thats most runners though...
And as others have pointed out, it doesn't offer much protection along the toe region. Which if you have multiply shoes and get used to kicking rocks off trails, can be painful.
The stiff heel doesn't let you fold the shoe to pack it down.

All in all I really like the Anakonda. its burly where I want it, light everywear else. Very comfortable.
Sizing, I wear La sportiva in 43.5, they fit like the Quantum, Electron, wildcat. Only in Mtn boots do I size up to 44.
enjoy!
Good trail running shoes.
Gender:

Male

Familiarity:

I've put it through the wringer

Fit:

Runs small
My size is 8.5 US Wide. This shoes runs small I have to buy a 9.5US for a good fit.

These are good trail running shoes. Perhaps the best trail running shoes I have now. I decided to buy a new second pair from them again. I still use the old pair for a day hike or dirt run.

The sole have a good traction grip, low profile and thin. This is good for a ground feeling when running at dusk or on the trail.

- Overall -
The shoes are durable, but the traction soles are not holding so well. Just don't be dragging your feet and kicking up gravel.
But I would not recommend for a soft feet runner. Because of the sole is low profile and thin.
Lightweight but could use some beef
Gender:

Male

Familiarity:

I've put it through the wringer

Fit:

True to size
Pros: light, neutral fit, low drop, aggressive tread.



Cons: Lacking a toe-guard, non-durable upper, floppy upper.



This shoe is an almost for me. I was excited about their light weight and aggressive tread, but I found that the lack of weight came not from precise build/engineering, but from an inferior upper.



For me, a trail shoe needs to have some kind of protection at the toe. If you're running on flat ground, ok, leave it out, but with the tread on this one, its off-road pedigree deserves a bit more foot protection.



Also, the upper is too flexible. Without structure, it allows my foot to pronate off of the foot bed, which is not a problem that I've had with other shoes. Additionally, the shoe buckles with each foot strike, bending near the ball of the ankle and making a perfect little basket-ball hoop to collect rocks and dirt along the way.



I've switched to using the S-Lab Ultra SG for my traction-y shoe, and I couldn't be happier, as it has all of what I want in a shoe like this, and nothing more, and it achieves its weight with thoughtful use of material, not by leaving out necessary features.
Alright
Gender:

Male

Familiarity:

I've put it through the wringer

Fit:

Runs small
Some great points: The Tread! For winter (snow) and rainy (mud!) conditions, this was a great shoe to use - the tread pattern is shared with other La Sportiva models, and it's nice to have a predictable behavior in the tread. The only thing I wouldn't use shoes with this tread is when I'm scrambling up the Flatiron Slabs in Boulder - there's just better choices out there, when I need that type of friction and stickiness in the bottom of my shoe.

The shoes, for me, fell down hard in two places: First, the midsole. The drop is minimal, which is great, but the material in the midsole seems to give the shoe a harsh feeling, especially when I'm used to the much springier Helios.

The other place this shoe fell, and fell HARD is the weird plastic wraparound cup. On long runs, it proved very uncomfortable.

I also experienced some wears and holes near my pinky toes. Overall the upper is pretty OK, with a plasticy feel, which also worked well, as there was nothing to absorb water and stay soaking wet (a big plus, in those bad conditions)

Overall, I wouldn't choose these shoes again, but would choose other models from La Sportiva. I wear a half size to a size up from other brands.

Also, these are probably shoes you don't want to run on the road for all that many miles. The tread is pretty aggressive, and those lugs would just wear down a bit fast.
The tread you've been waiting for...
Familiarity:

I've put it through the wringer

Fit:

True to size
Super agressive tread is great on hard pack dirt, looser dirt rock mix that is normally terrible and also great on packed snow even without additional traction aids. Moderate venting does good enough to keep your feet cool on warmer days, but not so much that you can't use them for winter running on snow packed trails. Deeper snow will leave you with wet toes like most shoes. Grippy rubber does great on most rock, but running downhill on embedded sharper rock can be hard on the lugs. At 100 miles of pretty heavy use I am down 1 lug. These shoes make most trail feel tacky like it just rained. Great rock protection with little padding makes the sweet spot for the shoes about 10-15 miles on mountain trail.
How do these compare to the Helios both performance and sizing? , im currently wearing a 46 in the Helios, anyone know if I should size up or down ? or same.
Best Answer
Hey Robb,

I have both the Helios and Anaconda. I wear a half size larger in the Helios than any other LaSportiva shoe. In Anaconda and Raptor - I'm a 45 and in Helios a 45.5. Helios seems to run 1/2 size small, in my experience so I'd go with 45.5 in Anaconda for you. For what its worth, the Anaconda is my least favorite LaSportiva shoe. Not that its bad, it just pretty specialized for wet muddy stuff. The aggressive tread is more of an annoyance for me in most conditions and the hard plastic around the heel is not my favorite - but you will be locked in! LaSportiva describes the Anaconda as "minimal" but I don't agree with that - it has plenty of support and nothing minimal about the tread or heal pocket for sure. I prefer the Helios for general all around running and the Raptor for more technical stuff. Just my experience but hope it helps. Pat
Wide and low
Familiarity:

I've used it several times

Fit:

True to size
Was surprised to see how wide the shoe is, but this turned out for the better as there was good room to accommodate an after market innersole. You may need this on harder ground as the shoe has a barefoot running feel about it and most of the cushioning comes from the big lugs. Traction is first class!



Probably better for earth. mud snow etc than the mixed terrain I have, but I feel once I get used to the feel they will be awesome. Feel very low to the ground, but therefore very laterally stable.



Still fit true for size, 42.5 fits me in most LS shoes/boots.
Lugs for Days
Familiarity:

I've put it through the wringer

Fit:

True to size
I used these for awhile trail running and hiking in Colorado and Utah and I appreciated the grip. But where they really shined was mountain running in coastal Alaska. It had been raining for a week and everything was soaked. The running was all about wet rock, wet scree, soaking grass, marsh areas, mud, huge puddles.



These shoes were born for this terrain. There's basically no cushioning in the upper so it doesn't absorb almost any water, keeping the weight down when it's pouring rain. They fit tight and securely, low to the ground, for very nimble footing. But they still have some rock protection and I haven't had a problem with big rocky descents in Colorado. The toe has a small rubber bumper and the heel is protected by a tough plastic cup.



And THE LUGS. THE LUGS! Super grippy, deep lugs that dig into loose terrain. Basically mud tires on your feet. My only regret in Alaska was that I didn't bring a fresh pair of these and mine were somewhat worn down.



What these shoes are for:

-Truly challenging conditions on mixed terrain in terrible weather.

-Short-mid length runs or mountain races



What these shoes are not for:

-Long runs/races. These are not really all day/night ultra running shoes. Mercy on your soul if you find yourself racing ultras in the type of conditions where you want this shoe.

-Runs on easy terrain/trails. You'll just wear down the lugs unnecessarily. Besides, the lugs give an unnatural ground-feel on gentle trails.



What I didn't like:

-The lugs wear down quickly. They wore out a lot faster than the shoe did overall. By the end of my first pair, the lugs on the forefoot were gone, and the outside of the upper was just starting to rip.

-You have to dial in the lacing carefully - tight enough to be stable, loose enough to allow circulation. There isn't much cushioning to protect your foot from the tight laces.



Sizing: These are more true to size than all the other La Sportivas I have worn.
Great trail runner
Familiarity:

I've used it several times

Fit:

True to size
Got a half size larger, but so far done a few trails with them. Grip is great and the tread is durable and hoping it last a while. The cushioning is minimal but I like that so no complaints here. Other than that feels like a durable well made trail runner
Great shoe for the trails
Familiarity:

I've put it through the wringer
The Anakonda is the ideal shoe for me, my feet and what I run. I'm 5'10" and weigh 150#. I have a narrow foot, men's B, and often buy women's 11. I replaced the La Sportiva insole with a Spenco RX full arch cushion insole, as I do in all my running and hiking shoes. I trail run 1-2x/wk. It's a 6-8 mile route on a hiking trail along an undulating basalt ridge: dirt with loose, angular rocks, smooth rocks and roots.

The Anakonda has the best fit I've found: snug heel and mid-foot, a little room in the forefoot. The XF out sole has great traction - dry, wet or snow - but won't wear as well as most. The out sole doesn't extend beyond shoe, permitting precise foot placement when necessary. The shoe has some cushion but still good trail feel. The wrap upper keeps out debris. I'll retire my first pair soon, have my second pair and plan to order a third.
The break in period was well worth it
Familiarity:

I've put it through the wringer

Fit:

True to size
Initially I was disappointed by how uncomfortable this shoe was. However after wearing them several times the shoe finally molded to my feet. Now they are my go to trail running shoe in the Wasatch. Summers in Utah are hot and dry, making this the ideal choice for nontechnical hiking. The shoe grips well and makes descents much easier on your feet. In addition, I feel the all round design of the shoe is much tougher than the Ultra Raptor or the Wildcat. Aside from the break in period, this Shoe is awesome!
I was wondering if anyone knows how the...
I was wondering if anyone knows how the sizing of the anakonda compares to the fit of the la sportiva C-Lite? My current pair of C-Lites are a 44.5. I am thinking about a 45 in the anakonda but not sure. Any suggestions would be great. Thanks
I have had the X-Country, the Vertical K, and the Wildcat. I have tried these on and they fit about the same as the X-Country and the Wildcat. I wear a US 9 and have 42s in those. The Vertical Ks were like .5 size too small. So if I were you I'd only size up .5 if you need a little room to splay or those C-lites were a touch too snug.
Specialty shoe?
Familiarity:

I've put it through the wringer

Fit:

True to size
This shoe has a good fit, true to size ( same as I wear in Raptor). I waited a while to post this review as I had mixed feeling when first running in it. One thing I noticed right off was that, for me, it felt like it had a kind of uneven pressure distribution on the forefront that causes a little soreness after long runs. Since I noticed this more on one foot than the other, other people may not have this experience at all.. The shoe has a very aggressive lug pattern on the sole which makes it really great for slippery or loose downhill running and trails that are wet and muddy. Superior in those cases to almost any shoe. But for most situations I find that overkill. One unique (different?, odd?) feature is that it has a crazy stiff clear plastic heel (see picture) that I first found uncomfortable, but soon did not pay it any attention. It has a lot of vinyl side support. These two things help to make it stable on those slippery downhills and side slopes. Given these features it is just not something I feel like putting on and wearing unless the conditions call for it. But in the right conditions it is great. Just ran a 10K cross county race in snow and mud and it was very stable on the wet side slopes and muddy turns. Overall it is a pretty cool shoe when the conditions warrant, but certainly not my everyday go-to shoe. La Sportiva calls this a "minimalist" shoe. Not sure exactly what that means but does not feel minimal to me. I feel like there is A LOT under my foot. But being low to ground and low drop is nice - if that is what they mean.