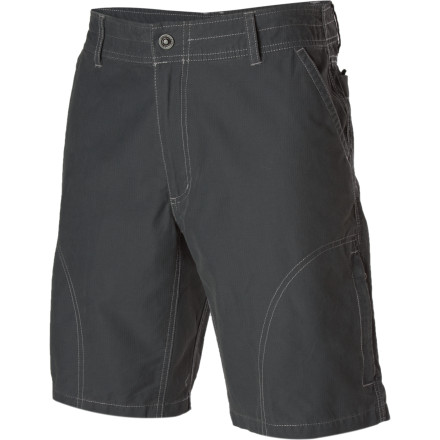 Detail Images
KUHL lined the pockets of the Men's Trek Short with its mesh ventilating system to help you stay cool as you hike through the heat of summer. The Component Waistband provides a near-custom fit, and a gusseted crotch adds extra mobility to your mountain adventures. The KUHL Trek shorts feature a ten-inch inseam to keep you covered a little lower than other hiking shorts and a bellowed cell phone pocket that prevents your phone or camera from digging into you.
Discovered Kuhl about a year ago and really like the fit and style of their products, especially the pants and shorts. Wear my Trek shorts all the time and agree with just about everything others have said.

My only complaint is while the material is comfortable and functional, the durability of the dye process is a bit suspect. I find that the fabric marks and fades very easily. Not a big deal, but I have not had similar challenges with other brands.
These are some of the best shorts I own. They have mesh pockets, soft and tough materials, well made, and very functional. I wished they have the 7" inseam, I have earlier, so they wouldn't drag on my knees every time I kneel down.
Very durable, very comfortable, dry quickly, and decent pocket arrangement for carrying gear. A great short for hiking, traveling, and are decent enough to wear out out on the town.
Steep price, sweet shorts!
I agree that these shorts run a little big, so if you are on the fence go one size down. In my mind that is the only weakness. These things are amazing! Comfortable, well made and dry fast. Despite the price these are all attributes that I look for in summer shorts. They also work well for climbing and I did some hiking this weekend in them also. Go for it, they are worth the money!
Recently ordered these shorts, looking for something similiar to a pair of Horny Toad shorts I have had for 3 years.
These are close.

Pros
The material is comfortable, lightweight and quick drying.
The length is good and the gusseted crotch is definitely a plus.

Cons
I am a true 36 and these are more like a 37's. They have belt loops and when I tighten my belt they bunch up in the front.
They also have a button inside like dress pants that when fastened makes a chore out of using the restroom.
I would still recommend them but I much prefer the Horny Toad shorts.
Favorite shorts of all time. Great fit- not too long or baggy Very quick drying, Not dressy, but for shorts, they look nicer than most. Great fabric. I love Kuhl!
I have other Kuhl shorts and they are all excellent, these in particular. Comfortable inside and tough outside in wide range temps and activities(wore them 60% of time on recent trip to Israel & Jordan). Only complaint would be the lower leg pocket placement, falls a little awkwardly on the knee, depending on what is in pocket. But beside that minor issue, fantastic shorts for travel, hiking, play, even activites around water. Highly recommend any Kuhl stuff.
Seriously, best shorts ever made.
I have three pairs of these shorts. They are, by far, the most comfortable, most "wearable" things I own. The waist band configuration is very comfy, the length is good, construction is flawless. Crazy thing is how cool they are to wear, and how fast they dry after chasing a frisbee into a creek or getting a garden hose aimed at you by a five year old. I've dripped oil on them, and it came out after spraying it with prewash stuff. The material is thin enough to be cool, but bomb-proof. Gusseting in the crotchal area makes them good for biking too.

They are just the best shorts ever made. (Oh, and they look pretty good too.)

Trust me, get some.
The shorts are wonderful and shipping was fast.
So far are new favorites of all shorts I own. Great fabric, good fit, good length. Bought one each of both colors. May also get a pair of Kuhl Eiger based on satisfy with these. Note: tried 36 and 34 as am usually 36 but 34 fit best.