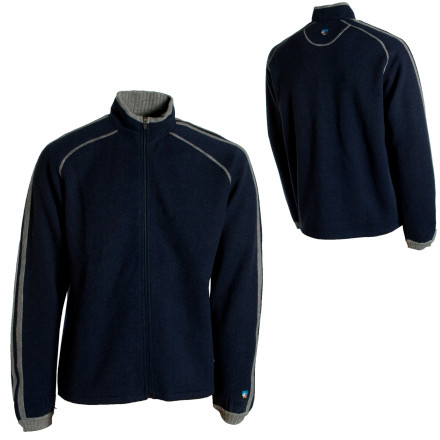 Detail Images
KUHL designed the Stuttgart Jacket to keep you warm in gold climates when performance is key. Double-plated merino wool wraps you in warmth and pulls moisture away from the skin. Thumb holes stop your sleeves from getting bunched up if you slide this on under a shell, and the high neck prevents heat from escaping. Just don't spill any wiener schnitzel on yourself; this sweater is all wool, and needs to be laundered very, very carefully.
Great product - I own a few!
Gender:

Male

Familiarity:

I've put it through the wringer
I actually own three (3) of these bought at different times so obviously I must like it since they aren't cheap. GREAT sweater/layering piece all around. Since I don't own an insulated winter jacket (never have) I bought the first one in size L for skiing to wear under a North Face shell. Works great for that and still use it 5 seasons later. I'm short and wide-ish and the L fit more body hugging which was great under the shell. The next 2 of this I bought in XL for more casual wear to work/home etc. Fits a little looser (not huge or sloppy by any means but wouldn't be as great for layering for skiing how I use it). Looks great with jeans/dockers etc. Very comfortable, warm but not sweaty and just comfy all around - I can wear a polo shirt to my office with one of these and dockers in the winter and then ditch the sweater if someone decides to crank the heat up too much.

Washing/cleaning - I've had them both dry cleaned and I've hand-washed them and hung them to dry. I've never had a big problem with shrinkage (sweater) but as expected they fit a bit tighter after washing but they stretch back to pre-wash shape in no time.

I would probably live in these in the house in the winter but my wife is allergic to wool and so I have to change into something else for watching TV and cuddling.

Overall GREAT product - highly recommend! DJG
This is really a beautiful jacket/sweater. I gave this same sweater to 3 men in my family & they all loved it & look great in it. It does run a little big, so you might want to order a size smaller than your norm!
What does this weigh and is it as bulky...
What does this weigh and is it as bulky as you would expect from wool
While its wool, it does not feel at all bulky, itchy or uncomfortable. Quite the opposite, its incredibly form fitting and sits really well. I was shocked by the price, but once I had it on, I could not take it off. LOVE it.
Also, I usually wear a large, sometimes medium. The medium fit perfect.
great sweater, BUT is shrinks in length
Great sweater...really and reasonablly priced at 120, but the big rip is that when it is washed--according to their own directions...the length shrinks about two inches or more...sadly.
I bought this jacket 'cuz Mikey left his in a heap in the laundry room with his dirty commercial fishing clothes so I washed everything twice. We call Mikey "Gorilla Mike" but once I pulled this jacket out of the dryer it barely fit me. From an extra large Men's to a extra small me. Whoops. Quick find another one. So now he has a new one and I am wearing the old boiled wool one and everyone is happy.They are both warm and I'll give you four stars for getting it to Alaska in time for Christmas morning! Don't wash and dry them!
great jacket, but big problem
I absolutely love this jacket. It is my go to jacket for most any weather. It is pretty windproof unless it's really howling and even then it lets in just enough to keep me from overheating.
Unfortunately, I had a major problem with it this week. I needed to wash it and seeing as it is wool, I didn't want to ruin it so I followed the instructions to the letter. I washed in cold water, on the delicates cycle, with Woolite, and laid flat to dry. I tried it on again 20 minutes ago and it has shrunk about two sizes. I've contacted KUHL, so we'll see what they have to say, as I'm not thrilled about having to spend more money on a perfectly good jacket.
Extremely warm, functional, stylish. This sweater is great, it's actually surprisingly wind proof as well.
I Am a 37" chest ,5'8" slim...does this...
I Am a 37" chest ,5'8" slim...does this indicate an "S"?(i take "S" in Icebreaker stuff)Thanks, Adrian
Best Answer
For sure Adrian. You'd be in a small with this jacket. You'll love it!
Careful with the Washing!
A little more experience. I actually returned the first sweater and I'm not sure if this is a normal thing but it was strange to me. I washed it literally twice. Both times were on the hand wash cycle in cold and laying flat to dry just like the instructions recommend. After the 1st washing it shrunk a little but not much. After the second it shrunk about 3 or 4 inches and went crooked. I returned it for a new one and again Backcountry.com replaced without any questions. So far this one hasn't had that problem and I've washed it more than twice so it seems that we're good to go.
This sweater is really amazing. For wool it's crazy soft, dries very fast and obviously insulates no matter what. It's great for just kicking around or layering or whatever. My wife calls it my "Mr. Rogers" sweater and I'm happy just the same to wear it whenever, wherever. I love this thing!
I bought this sweater and another merino one for my son to choose from to wear on a paddling trip. He chose the other one because he thought the boiled wool was not as soft, but I really liked this sweater and was sad to send it back. It was very thick and warm!