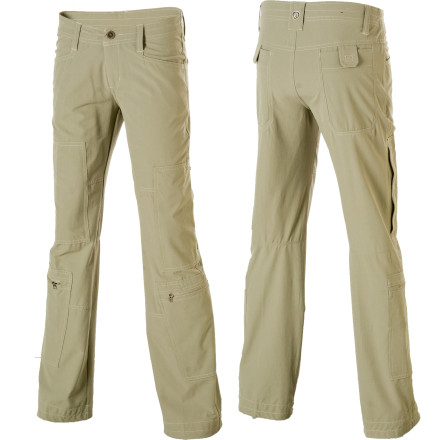 Detail Images

Community Images
Whether you are braving the Sierra Nevadas or a day of shopping, the KUHL Women's Sierra Cargo Pants will help you be ready for anything. Plenty of pockets (nine total) give you a place to keep all of your essential items and probably leave room for some non-essentials too. The 4-way stretch fabric makes movement easy so you can leap over a stream, get your foot onto a ledge, or just deftly maneuver through a crowded grocery store.
The length was too short. I am 5'9" and normally wear a size 6. I went up in a size 8 and they still did not feel like. The pants are really nice though


Not the colour featured
Gender:

Female

Familiarity:

I returned this product before using it
I had to return these pants as they were not the colour advertised. Otherwise they fit fine and seemed like good quality. It's very unfortunate that the colour that arrived at my house was far more green than the tan in the picture.
Can someone give me the actual inseam...
Can someone give me the actual inseam measurement for a size 8? I'm 5'7" with long legs and I usually wear a "long" or 33"-34" inseam. I'm worried that these pants will be too short for me.
The size table for this pants say their inseam is 30.5", but maybe you should see this table, because for your height that could be the size. The size table is below the price and the square were you select the size and color.
Hi, Andrea. My pants are all a size 6 and I am 5'8" tall. I mentioned in my review that the inseam for these pants is 32" (yes, I measured them and all 3 of mine are the same). I initially thought it would be an issue ( I wear a 33" inseam for casual pants), however I find 32" is the perfect length for wearing with hiking boots (which is the only thing I wear with them). UPDATE - Andrea, I just ordered my first size 8 (my hip width grew - hip bone area) and the size 8 is almost 33" long.
How much do they weigh? And, do they dry...
How much do they weigh? And, do they dry quickly?
I have not weighed the pants, but they do dry very quickly.
They have a number of zippers, so they are not as lightweight as some, if that is what you are looking for. (I am now ordering my 4th pair)
Is the khaki as light as it appears in the...
Is the khaki as light as it appears in the picture? I was trekking in Nepal with quite light khaki pants (which I am trying to replace) and after so many days they looked disgusting. I want something that is not chocolate colored but not light colored, either...
The khaki is like a very light greenish khaki color - not the pale tan in the picture here.
Can you identify the width of the belt...
Can you identify the width of the belt loops? I have to wear a belt which is 1 1/2" wide, and want to ensure it will fit through the loops.

Thanx, Kathy
My wife has these, you are good.. Incidentally, her favorite pants right now.
Fit perfectly. I got them in a size 4, and I'm 120#, 5'5". The material does stretch and move with you, and the pockets are everywhere on these pants. They are a keeper. The Kuhl splash pants are going back. Same size 4, but a different cut, even though they are both listed as Ryder fit. Good thing Backcountry rocks when it comes to returns.
I just got my pants and i aboslutely love them. They feel like a second skin. I have read reviews and have been told i should buy them a size larger then ususal and then to buy them a size smaller. i bought the size i wear in pants usually and they fit just fine. I would say go by the size you wear generally in jeans when you buy them.
I love the fact that you could wear these pants hiking or out to run errands & meet up with friends. Unfortunately they will not work for me, I am 5'8" and weight 122lb, they are just a hair to short when I ordered the size 6 and the size 8 was just too big. I am extremely bummed, but if you can get them to fit your body they are fabulous, just wish they came in long.
I'm 5'8", 125lb and need a 33" inseam. I got these in a size 6 and they are perfect in length. Not too short but do not drag past my shoe. They are stretchy and light. The fabric seems like it will be durable. The color is really nice and they are a flattering fit. I barely have hips/butt, so I can't say how they would fit a curvy girl. The stitching contrast is okay. I can't wait to wear them backpacking.
I have two pair of these pants (khaki & brown) - called Softshell Cargo Pants back in Oct 2010. They ended up being a little bigger and longer than the size chart (size 6 fits my 38/39" hips and are 32" long). They are perfectly stretchy and are somewhat water retardant (hiked 4 hrs in rain and fellow hikers were asking me if they were waterproof, as I was not all soaked and the water beaded up everywhere there was nothing rubbing against the pants). They dried fast and I have received a number of unsolicited compliments on them, while on the trails.Only caveat and why 4 starts instead of 5 are the zippers at the knees. All the pockets look cool, but I do not think I will ever use them, and the zippers that are right below the knee will not work for anyone who is rock scrambling. The zippers hit right where you kneel and even gashed me when I slipped on a muddy trail an went slightly down on one knee.Still love them and am going to buy a 3rd pair!