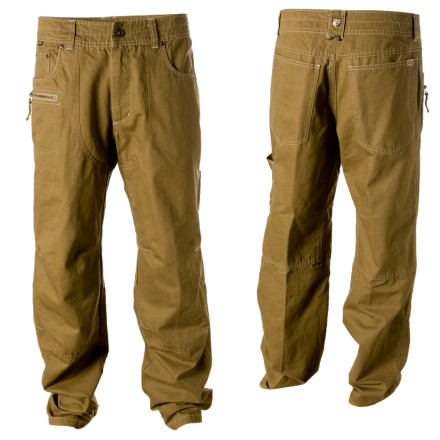 Detail Images
The Kuhl Men's Crag Runner Pants offer casual comfort and mountain style. Articulated knees enhance your mobility while climbing or hiking. Combed cotton canvas fabric feels soft to the touch but stands up to harsh rock faces. Kuhl gave the standard-fit Crag Runner Pants a zippered front pocket that keeps your wallet from finding its way out. The exclusive patina finish adds a rugged, worn-in look.
does anyone else think that the way they get crease lines all over them after one washing is a bit weird? I think I like them and it doesnt look unnatural, as canvas does tend to get those lines, but they just seem very pronounced. Anyway, like the fit and the rugged fabric. I wear them a lot
Really happy with these. No problem with the button at all. I am 6'2" and they are plenty long, no worries.
I bought 2 different pairs of the Kuhl pants: Crag Kanvas and Crag runner. I like the fit, feel, and look of both pants. I would give them 5 stars. Unfortunately, the snaps suck. A button in the front would be much better. I am about 6'2" and weigh 180lbs. I don't have a belly. The waist is not tight (if anything a little loose after wearing a couple of times). Anytime I squat down (imagine working a campfire, setting up a tent, etc) the snap pops open. Really annoying.
I love these pants. I wear them non-stop. The seaming is doubled. The material is tough yet very comfortable. The pattern of the cut has a nice form and looks good.
Ive climbed, fallen, rode down the rock slide, bouldered, biked, hiked & lived in these pants & and I am hooked. I have tried Prana, Northface, MH, Arcteryx & even the BD crag pants. These bad boys are a tier above.
I bought two pair of these 6 months ago and worn the hoot out of them!! I love the fit, the look and the toughness of the material. Give 'em a try, you won't be sorry.
Iv had these pants for over a year now and they can take anything. I was working on a photography assignment for a rock climbing company and fell 15ft. i had a few scratches and my shirt was torn but my kuhl's NO WAY not even a scratch just a blemish on the back pocket.
good pants that do not last
These pants are great, for about two months. After two months, or less, they get holes in the crotch. They are usable after the holes form but the holes get bigger and it's just not a good place for a hole. I've owned two pairs of these pants and they both form holes in the same place after about the same amount of time. I do move in pants, not much sitting is done, so maybe that's the problem.
I love everything about these pants, especially the sale price!! Great roomy casual fit without being overly baggy. True to length and waist size. Great fabric and feel. Can't wait to break them in. Just a great look to get away from the same old khaki most people are making. Only drawback is they are no longer available, had to go to a rival store and pay a few more bucks to get another pair in a second color.
I love these pants. I don't have big thighs---so what, these pants look cool on me. And, I carry a fat money clip that fits perfect in the front zipper pocket. Great freedom to move with these. Super tuff feeling and at the same time soft to touch. Nice to have baggy-ish pants in this day and age of "skinny" jeans.Bravo!
Bought 2 pairs of these from backcountry. I tried these on at a local store before I bought them to make sure they are the fit I wanted. They wear amazing and are sooooo durable. They are so soft they feel like velvit. I can move in any direction in these pants with out any tight spots or them trying to jack my draws up my rear end. These will last for years. Try them on locally and buy them from here---no taxes and light speed shipping no matter which ship method you pick!
I really like the cut and fit of these Kuhl pants. They are for guys who actually have some muscle in their thighs and want pants they can comfortably to a "lunge" in and not squash their privates. Zippered front pocket is reminiscent of more... female design accents... and cannot hold any mountain man's wallet. The stiff/starchy fabric panels are stitched in a way which makes you look like you are actually wearing leather chaps!!! Kuhl makes other pants in similar cut but not so... funny looking: "Hi-Low Cord" I acquired a pair of those and really ... really ... really like them.