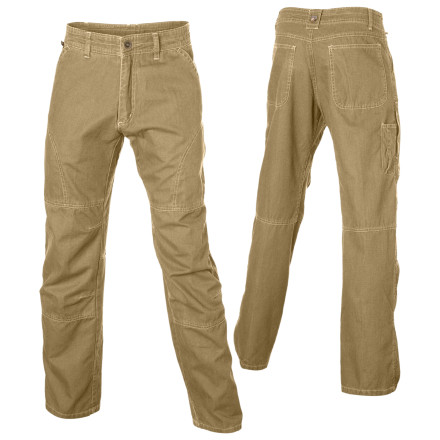 Detail Images

Community Images
When you need a pant that's tough enough for afternoons at the boulders or long days of work, yet comfortable enough for lounging at the house, slide on the Kuhl Men's Crag Kanvas Pant. This rugged cotton canvas pant features a relaxed fit and articulated knees for easy movement. A brushed outer make for a soft feel while double-needle bar tacks at critical seams provide the durability you need.
I have an older pair of these and the waist stud does pop sometimes. These are much better. The fit is good and I love the style. Great pants for everything.
I've had two pair of 32x32 and love them. However, the size is different between both pair, and one pair has a button and snap which works well, and the other has a snap that pops open with squatting or sitting. The snap is annoying without the button which was an added feature on the newer pair of pants. I hope this is a design improvement. Despite the shortcomings, these are my favorite pants.
I purchased these pants for a climb, and now I wear them everywhere. They are very light and comfortable!
just picked these things up, and got an amazing deal on them, so l said, why not? these are pretty good pants! good range of motion which l like for when its friggen too cold for shorts while climbing, and they have a little bit of weight to them which l also like. the one thing l'm not a huge fan of is the button snap thing on the front, but whatever, its a small thing I can oversee!
The Kuhl Kanvas pants are great. They fit well and the length is correct. I enjoy them and they look great.
Love these. Like @ols3441909, I wear mine all the time, and keep them on until they're so dirty that I start to feel embarrassed about it.

Fit is perfect. Not tight, not too baggy. Length is perfect. Sizing is right on the money. Fabric looks great, feels great. Not too light, not too heavy.

And I really like the zippered thigh pockets. I can put a wallet and phone in them without encumbrance. If you put a phone in a front pocket it gets in the way. If you put it in the back pocket, it can crack when you sit down. But I don't really like the look of cargo pant thigh pockets. These pants have zippered thigh pockets, but they're pretty much invisible.

All in all, AWESOME. I've just bought a second pair. Kuhl pants rock!
I bought 2 different pairs of the Kuhl pants: Crag Kanvas and Crag runner. I like the fit, feel, and look of both pants. I would give them 5 stars. Unfortunately, the snaps suck. A button in the front would be much better. I am about 6'2" and weigh 180lbs. I don't have a belly. The waist is not tight (if anything a little loose after wearing a couple of times). Anytime I squat down (imagine working a campfire, setting up a tent, etc) the snap pops open. Really annoying.
Bought a pair of these incredIble pants,...
Bought a pair of these incredIble pants, but after the first wash (standard way as the directions say) they seem to have distressed marks all over. Is that normal?
KUHL makes a lot of nice stuff, but their pants are consistently shit. I work at a major outdoor gear shop, and see them come back all the time. Send them back!
Yes that is supposed to happen. They are double dyed so that they end up with a distressed look. They seem to recommend that they be washed inside out, but either way you'll get that look because they did that on purpose.
Wish I'd bought 2 more pair...
Best pants I own. I basically wear them every day until they're dirty or until I'm embarrassed that I'm wearing the same pants every single day. They feel like denim but are amazingly comfortable. The fit is perfect for me (subjective -- may not be for everyone). They're a relaxed fit without being baggy. A genius designed these things. Plus they have small un-obvious zippered cargo pocket on each leg. awesome. My cell phone goes in one, wallet in the othe and my butt pockets are now free of anything. These are the BEST pants I've ever owned. Please stock more!!!
i bought 1 pair of crag kanvas pants and...
i bought 1 pair of crag kanvas pants and wish I would of bought 2 pair. Now I can't find my size. Are they going to make any more of this style
Best Answer
Yeah for sure! The best thing to do is jump on "live chat" and ask those folks. They'll be able to look up if they've got any on order and if so they can give you a rough idea of when they'll be in stock.
These pants are kind of crazy.....in a good way. They say canvas which is nearly true. The material does feel like canvas but they're amazingly comfortable, unlike canvas. They feel very thick when you touch them on the outside but when you wear them, especially after a few wearings, they're amazing. They really are great lounge pants. They have some really cool little extras like with logo placement, belt loops etc. They definitely don't just look like your standard pantalones. I love all my pants from Kuhl! I'll keep buying them if these ever wear out.