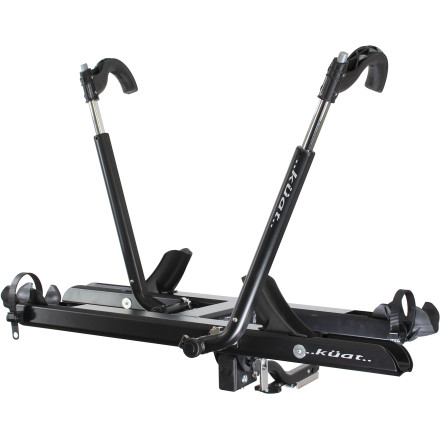 Colors

Detail Images
Description
On and off is a breeze.
If your bike rack doesn't stay on your car 24/7, it's nice to have a lightweight rack light the Kuat Sherpa 2 to make the transition a little easier. At a feathery 27 pounds, the Sherpa 2 includes very nearly all the features you'd expect from much heavier racks. If you don't ride a DH or freeride bike, the Sherpa 2's 44.5-inch wheelbase and 80lb weight capacity won't be a problem, and it'll even handle 20-inch BMX bikes with ease.
Fits 1.25 and 2-inch receivers
13 inches of space between bikes
Aluminum chassis
Wheel ratchets and support arm for sway-free transport
Hitch lock and integrated cable lock
Weighs only 27 pounds
Love this rack!
Familiarity:

I've put it through the wringer
This is the first hitch bike rack I have owned (that leaves the bike complete) and I love it! Super light for me to take on and off as need be and really simple to use. Assembling the rack was also really easy. Took me about 20 minutes. I transport my mtn and road bike with this rack and have zero problems so far. Anywhere from city driving to highway (4 hr Interstate drive, max speed 80 mph), the rack is secure and so are the bikes. I have no tested the rack while driving off road, but I would imagine that as long as you aren't driving like you are in a rally race, the rack and your bikes should be just fine. Definitely expensive, I have no doubt it will last for years though.
Not impressed...Poor quality!
Familiarity:

I've used it several times
It looks cool when you see it on other cars...it is more expensive than the comparable competition. So it must be better...right?....Wrong.... Alas after getting it out of the box and installing it I quickly realized this is just another piece of metal and plastic Chinese junk. Lots of plastic parts where there should be metal, the swing arms don't lock down, The cradles that hold the tires are held on with a self tapping screw into a plastic hole, drilled holes not aligned, low quality connectors...I had to file the hole where the pin fits in as the aluminum piece they installed was not mitered correctly....You get the picture. I have owned Yakima and Thule and I think they are simply better quality products. But now I own it and am stuck with it....I would be very surprised if this lasts the year.
Great rack
Familiarity:

I've put it through the wringer
I love the lightweight rack. I was tired of nearly throwing my back out every time I loaded my Yakima Holdup and Thule T2 racks on and off my car. This is a great rack.

I wish it had integrated locks like the T2 and the Yakima. Instead, it comes with a generic cable that you can make work, but it's not as sleek as the other designs.

Is Kuat better built than Thule and Yakima? I'm not sure. A lot of people love their Kuats, and I love mine. I'd say the build quality is 10% better than Thule and Yakima.
This rack made my lady love me
Familiarity:

I've put it through the wringer
I love this 2-bike rack; So much that I bought one for my girlfriend. She went from taking the wheel off her bike, concerned about scratching her new car with trunk racks and other weirdness, this was the best possible option for tray style racks, without getting over $500. She has a new Toyota Rav4 in this amazing orange color, so I opted to get her the orange & gun metal gray version. The colors match really well. You can't beat the secure feel of the wedge system on the Kuat racks, yes, the Sherpa has it. Basically, it prevents the rack from wobbling at all and moves 100% with the car. The absolutely best part of this is that it takes her 3 seconds to have her dirty bike ready to transport on the Sherpa. Now she can carry both her trail bike and her road bike safely on this rack. Mostly though, we travel with both our trail bikes. We're very pleased with it. I would add, the cable that comes with this rack does need a lock to secure your bikes. The rack comes with a handy locking pin for your receiver hitch. Stoked.
Best Rack I have owned!
Familiarity:

I've used it several times
I can put the bike on the rack as-is, dirty, wet, etc. No more putting it into the car. It is not on the roof - so I am not driving into the garage with a bike on the top. It is easy to put on the car, and easy to take off.
The rack does obscure the license plate but, I do not leave it on the car when I am not using it.
I am very happy with this product, it is solid, and so far, I have no complaints.
I've used other style of racks in the past but wanted to get something that was easy to use, light and didn't touch my frame. This is the best rack ever!!! It's so light I can take it on and off my car no prob, no need to keep it on the car because in 1 min it's off and stowed away or thrown on my other vehicle. I was torn between the NV and the Thule T2 but so glad I went the route of the Sherpa. I personally wouldn't trust the locking devices of any racks so that wasn't even a deciding factor, but the functionality of this thing is amazing. It's solid, light and looks fantastic. I took it on a long road trip hauling 2 bikes and I couldn't even tell they were back there. I never worried about the bikes rubbing and they were held in place like glue. I would totally recommend this to anybody. I had a friend get the T2 and I picked it up, it was so heavy and all that weight would make it hard to swap between two cars. I love it when I'm so stoked about a purchase.
Worth the price!
Familiarity:

I've used it once or twice and have initial impressions
This rack looks awesome, was easy to assemble, and is rock solid. I initially had concerns that since it is lighter than some other platform racks that it wouldn't be as durable, and the 1.25" hitch for my 2" receiver left me a bit skeptical. After receiving the rack these were no longer concerns of mine whatsoever. So if you're worried that this rack is inferior to the NV, don't fret.

This rack is absolutely worth the extra money over the Saris, Thule, and Yakima options.
Spendy but worth it!
Familiarity:

I've put it through the wringer
When our old thule racks no longer worked with our new Subaru (with integrated roof racks) - we decided to switch to a hitch mount rack - this also helped with the fact that my short stature precluded me from loading bikes on my own. We have been very happy with the transition to hitch mount rack and more specifically the Kuat Sherpa - this rack is so easy to use - no more taking off wheels and having to make room for a dirty tire in your trunk. If you have a mountain bike with a thru axle (like my husband) this rack is also ideal because you don't have to deal with needing an adapter for a fork mount roof rack (which is what we had before).

And, no more having to wait for someone taller to help load my bike.

Also, Gun Metal Grey looks sweet with the orange accents!

Couple of things to keep in mind - First, if you have somewhat recessed hitch it is not ideal because you can't insert the hitch fully.

Second, if you park in a garage keep in mind that you will need about a foot of additional length to fit the car with the rack on (when folded)


Serviceable, but not the best out there
Familiarity:

I've put it through the wringer
Pros:

The tray rack is a big step up from older bike rack options. In it's price point, I'd say it's middle of the pack.

It makes loading/unloading bikes super convenient.

It matches my orange element.



Cons:

The plastic along the arm that rests on the front tire has gotten chewed up already (in one season of use). It's broken off and looks mangled. How there could be so much impact on that piece while the bikes are loaded, I have no idea.

I have to tighten down the bolts on the joints regularly, otherwise things get very bouncy when I'm driving on uneven surfaces. This is a pain the ass to do on the reg.

The lock is a joke. If you are going to leave your bike on a rack unattended, spring for one of the racks that has the arms lock in place.



Overall, I'm satisfied with my purchase. If I wanted to spend more money I'd have gotten a better rack, but this is good enough for my budget.
Great Rack!
Familiarity:

I've put it through the wringer
I've owned 2 Kuat Sherpa 2 racks and both were absolutely perfect! The first rack was literally ripped off the back of my car in a car accident and a buddy of mine was able to repair and use it on his car. I purchased a new one over a year ago and is top notch like the first. The rack doesn't wobble and securely carries 2 bikes with confidence.
Just buy a Thule T2.
Familiarity:

I've put it through the wringer
Bought this on a friends recommendation because I needed a 1 1/4" rack for my new urban whip. I already had a 2" Thule T2 for my truck but I didn't want to mess with an adapter. Wish I had just bought a second T2 in 1 1/4".



The Sherpa has been nothing but trouble from the start. Had to redrill on of the bolt holes to put it together since one of the holes did not line up. Once I got it on the problems continued. The threads in the tongue stripped out on my first road trip with it. The Kuat design is far inferior to the Thule. Kuat replaced my tongue under warranty and I added a bolt to the inside of the tongue so that it doesn't strip out again. I've had my T2 for four years without problem.



Even when the tongue bolt is cranked tight it wobbles horribly compared to my T2. I realize that this is partially because of the smaller receiver size but I doubt a 1 1/4" T2 would be this bad. Every time I hit a dip in the road or corner hard I can hear it creaking inside my whip. Every time this happens I look in the rearview to make sure it's still there and think to myself "I wish I had just bought the Thule.".
Great rack - fit issues with some cars
Familiarity:

I've used it several times
This is a great bike rack for people who are looking to carry two bikes using a hitch. I had an older bike rack from a relative but my MTB had fallen off of it once already, and I bought the Kuat as a replacement after doing some research. I usually carry my road bike or my 26" MTB on it - haven't tried a 650B or 29" bike but I do not foresee any problems making them fit on the rack. The loading process is quite easy, and the bikes are securely held using no frame contact at all.



The rack is quite light due to the aluminium construction, but sturdy at the same time. The adjustable anti-sway cam system in the hitch mount is great, and reduces the swaying that bike racks are subjected to - but does not completely remove it. However, I'm quite confident in the stability of the rack for long-distance driving or on rough roads. I have to drive on a few kilometers of rough fire roads before I can get to the local biking area, and the rack has not caused me to worry about my bike falling off the back - unlike my old rack!



Issues with the rack - the rack could not tilt for storage properly on my Subaru Forester (2010) due to the hitch receiver being recessed underneath the rear bumper. I see this as an issue that could occur on vehicles with a "hidden hitch" design, such as smaller sedans or SUVs. What happened was that the closer front wheel carrier would bump into the bumper, preventing the rack from folding properly. 30 seconds with a sawzall solved the issue - I trimmed the plastic front wheel tray 2 inches to allow for clearance, and now the rack works properly. The QR for the folding/tilting mechanism does squeak quite badly, but I think this will be resolved with time/a bit of lubrication. The locking system is a bit less desirable than the NV's built-in lock, but the included cable lock is at least thicker gauge. The lack of ability to add a 2-bike extension is also quite unfortunate, but understandable.



A great rack overall!
Pricey, but probably worth it
Familiarity:

I've used it several times
When the Sherpa arrived, the first thing I tried to do was remove the 2-inch adapter from the 1.25-inch tongue, and promptly stripped one of the hex bolts. Kuat sent me the whole assembly, free.



Assembly proved to be pretty easy. Make sure you watch their video on Youtube. That will save time and clarify some things.



The unit is really light, which makes it easy to put on and take off. I appreciate that. The welds look clean and the whole thing seems well built. Even though the ball inside the tongue tightens down to make the connection very tight, the metal itself flexes. So when a bike or two is loaded, you see the front and rear tires go up and down as the unit flexes. It's a bit disconcerting.



The best part is how easy it is to load and unload bikes. It's remarkable. The process takes something like 20 seconds per bike. Just lift it on. Secure the strap around the rear wheel, and then pull the arm over the front tire and press down. I love the rack when I put the bikes on it and take them off.
How would this rack accommodate a road...
How would this rack accommodate a road bike? Seems pretty geared for mountain bikes.
Best Answer
Hey Mandy,



This bike will indeed accommodate your road bikes.



Check out this great online manual for further information!



http://kuatracks.com/workspace/media/uploads/product-guides/user-guides/sherpa-user-guide.pdf
do you ship to Toronto, canada
do you ship to Toronto, canada


Hey Jeff, thanks for your question. Yes, we do ship to Canada and this brand doesn't have any shipping restrictions. Here is how you can calculate your shipping costs; First, add the item or items to your cart. Then proceed to checkout (don?t worry?proceeding to checkout doesn?t make you obligated to purchase anything). Enter your address in the billing and shipping fields. Once you change the country, the page will show you the shipping charges. Hope this helps!


I just used this for the first time on a trip to Colorado. It performed very well and received many good comments from others. I noticed the bikes are offset just a bit so they don't interfere with each other. My friend had a diff rack and when using it we had to drop the seats. Not a big deal but shows Kuat attn to detail. The Sherpa is great for your typical MTB's, the NV seems overkill and more suited for DH bikes.
How to operate your new Sherpa Rack!
Shows the easy assembly of the Sherpa rack