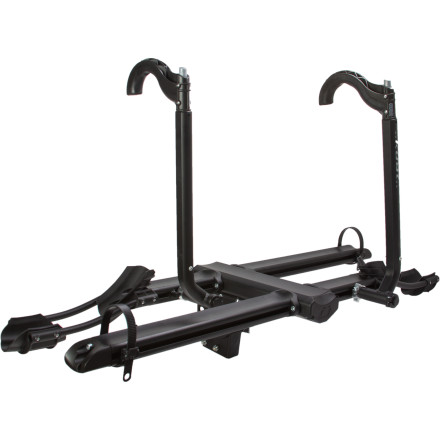 Tossing your bicycle into the trunk/backseat/hatch takes up precious cargo space(especially if Fido likes to tag along). Hook up your ride with the stylish Kuat NV Core-2 Bike Hitch Mount Rack and you'll have a simple, effective, and easy way to transport your bicycles.
Great but no 4 bike option with core
Familiarity:

I've used it several times
I really like this rack just bummed that I can't add another 2 bikes. Lame they only sell one for the NV.
Great design. Great rack
Familiarity:

I've used it several times
Simplicity. That's the beauty of this guy. Now if they only designed a threaded LOCKING hitch pin , it would then be perfect. Get one.
Can't Imagine Using Anything Else
Familiarity:

I've put it through the wringer
I've had my Kuat NV Core rack for a little over a year now and have been super pleased with how much easier it has made transporting my bike not only the trailhead, but everywhere else in between. The design is tried and true, super fast, and will work with whatever wheel size religion you belong to.



The NV Core, much like it's bigger brother the NV, boosts wide, long trays to fit kids bikes all the way to DH bikes with a long wheelbase. They look very similar, but there are some distinct differences between them. The Core is a lighter weight design based on the spacing between the trays and the lack of repair stand. I haven't weighed mine specifically, but I would say it is near 40 lbs and noticeable lighter than the NV (WAY lighter than a Thule T2). More on the spacing, it is 10.5" compared to 13" on the NV, I seldom run into handlebars hitting saddles on mountain bikes, but it can happen. I'm the type of person to remove the rack if I'm not going to be using it each day so I would rather have lighter weight that have to adjust a saddle height once in a great while. Next, the NV Core come equipped to work with either 1.25" or 2" receivers which is really nice in case you sometimes use different vehicles (or in my case, sell your SUV). Removing slop in the receiver is done via a threaded pin whereas the NV utilizes a tool-free adjustable cam. This rack offers extremely quick on/off's for the bikes which makes it super easy to get to the trailhead in a jif and home for dinner in time. I would highly recommend this rack to anyone looking for simple, no frills bike rack that is made to last for years to come.



Side note: I did add locks to mine for additional security. They can be purchased through Kuat directly for $39 (Pin & Cables). They slide into the rack so they are always there when you need them and make it simple if you have to stop for groceries on the way home from a ride and want some extra piece of mind.
Awesome rack ... but wrong info.
Gender:

Male

Familiarity:

I've used it several times
First things first ... the rack does NOT include the integrated cable lock as described here! That is a NV Core locking kit which can be purchased separately for $39 ($35 on some sites) ... however BC doesn't have it. I was a bit disapointed to find that out when I ordered it since I was counting on having that. All that was offered was the option to return the rack. Would have been nice to get a slight discount to cover part of the NV Core locking kit which I've now purchased separately on a diff site.



Now onto the rack itself. I've owned several hitch type racks, most recently the Thule T2 which was my fave upto now. The Kuat is hands down the best rack I've used. The quick release cam for tilting the rack up/down and out of the way for the hitch to open is amazing. Much better and easier to use then the T2 which requires a pin be removed if you want access to your trunk with bikes on (it does have a quick release latch to flipping it up/down without bikes though).



The weight diff (~20lbs) is significant, esp on a type 1 hitch like mine. The weight and it's distribution also seems to make moving the rack up/down much simpler and smoother.



When folded up the rack comes right up against the car about 1" away in my case (Golf TDi) which is perfect. With the T2 I had to cut a bit of the front wheel tray to get it to fit.



The price diff between this and the Thule T2 with locks etc is about $40 ... and it's more than worth it in my opinion! Other than the order screw-up this is a fantastic rack! All the tools come included (and even with a beer bottle opener).



Note: listing has been change to reflect the fact that the cable lock was not included.
Questions about how the NV Core fits after installation? See the Fit guide link below:

http://kuatracks.com/workspace/media/uploads/fit-guides/downloads/nv-core-fit-guide.pdf
Got this rack after using a friend's NV model (slight upgrade from the NV Core). Very solid rack and is surprisingly light.

I would have gone for the NV if I was looking to get the extension to make it a 4-bike rack, but the NV core is perfect if just looking for the 2-bike rack.

Definitely advise getting the locking cables, which were really easy to install.
NV Core intallation and use
Just like its big brother the NV, but without the repair stand. Can't miss aluminum based hitch rack!