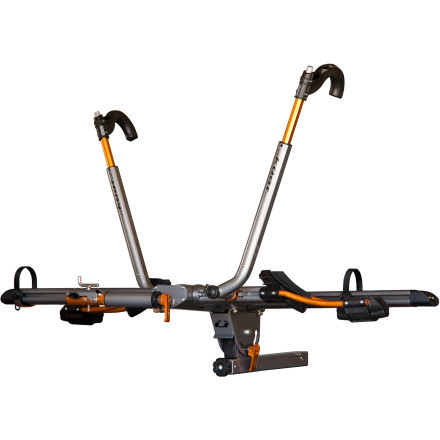 Colors

Community Images
Description
A rack for every bike.
If you're ferrying around different bikes all the time, the Kuat NV 2 Bike Rack is just the ticket. This tray-style rack accommodates everything short of a full-on fatbike, and doesn't require straight top tubes. On top of that, with 13 inches between the two trays, those brake lever-to-saddle gouges are a thing of the past.
Two versions: one to fit two-inch hitch receivers, and one to fit 1.25-inch receivers
Folds up to reduce profile when not in use
Built-in repair stand
Integrated cable lock
Extensions to add two more bikes are available separately
Don't buy the black version!
Familiarity:

I've put it through the wringer
First off, the orange and grey version is 5 STAR. The reason why the black is not is because kuat made it cheaper. Unfortunately, the chrome parts start to bubble and peel from being outside exposed to the elements after only a very short amount of time. 2-3 months in, living in southern California, started to show the finishing flaws of the black model. Certain areas or pieces start to rust, the chrome areas look like crap, and the rubber arch is now ground down the to the metal from pressing the ultegra rim brake on my road bike after numerous road trips north and west. A friend has had the gray and orange model 2 years longer than I have had the black version and his is still in superior cosmetic condition. Still the rack works well and I would rather have it over other brands.
Amazing Bike Rack
Familiarity:

I've put it through the wringer
Once you put the rack together, it is so simple and intuitive to use. It also makes it easy for my kids to get their bikes on versus waiting for me to put a bike on the roof. At first, I bristled a bit at the price, but it is worth every penny.
Superb bike rack
Familiarity:

I've put it through the wringer
Two bikes: Check. Super easy to use: Check. Durable: Check. Truly the best option for a back of the car two bike rack.

Just one word of warning: If you're going to install, but not use, the plastic coated wire cable lock, don't let it hang down in front of the exhaust pipe(s) when not in use; you'll end up with melted coating on the cable. Not a big deal since replacements are available but you'll be upset you screwed up.
Perfect Rack
Familiarity:

I've put it through the wringer
We bought this to replace a rack and couldn't be happier. The construction is amazing, a bit of a pain to assemble, but what rack isn't? One of the biggest 'Wins' was that we can open the tailgate on our Tacoma truck when the rack is empty and folded down AND open the tailgate with 2 bikes when you lower it all the way, we couldn't do that with the prior Yakima rack. The integrated lock is okay, not enough to go through the wheels and the frames. This rack has seen over 4,000 miles on the back of our truck in the last month and will see many more miles in the coming years. Spend the extra $$ and invest in this rack.
So that's why everyone is buying this!
Familiarity:

I've used it several times
This is hands down the sturdiest bike rack I've used. After many years hoisting my rides up on top of the car, I "splurged" on this rear hitch rack. My back is sad I waited this long. Super easy install, secures nicely to the hitch receiver and stays put. Bikes are a synch to rack up or take down. Only negative, and it's minor, is that I use my trunk frequently and have to lower the rack to access the hatch. But any rear hitch rack would have the same thing going on. This one collapses up against the trunk when not in use, and can be supplemented with an additional 2 rack extension for hauling around your friends! if you have a few bucks to invest in a good rack, pick this one!!
The best tray style rack.
Familiarity:

I've put it through the wringer
I recently mounted this rack on my 1985 Toyota pickup after years of transporting my bike "motorcycle style" with cam straps. I have a few years of experience with this rack on some of my friends vehicles, so when I was ready to buy a rack, choosing Kuat was an easy decision.

The rack holds two bikes of any flavor (except for ultra fat tire fat bikes) very securely and without any unnecessary movement, rattling or wiggling. There are times when it might be necessary to rotate a brake lever to clear a saddle, but usually two bikes will mount up readily, with no adjustment of components.

I'm very happy with the rack overall, but I do have 2 complaints.
The locking cables could be about one foot longer overall and made of a larger gauge cable.
On it's maiden voyage, the cable guides on my friend's Fox forks cut in to the front wheel cradle rubberized material. I'll probably wrap them with an innertube (all hail ghetto innertube fixes!).




Expensive, but worth it
Familiarity:

I've used it several times
The rack is not cheap and not light but best quality I have found out there. Extremely easy to use and well designed. Bikes come on and off easy and even a child could do it. Folds up while on car and looks good. Quality and design are tops. May be hard to pull the trigger but well worth the price if you need to use a rack.
Solid
Familiarity:

I've put it through the wringer
Very well-built bike rack. Heavy/sturdy but easy to put together and take on and off. Holds all types of bikes and very easy to load. The bike stand is a great addition but the extension pole for the stand is not as sturdy as the rest of the rack. The lock is also a bit short and I find it impossible to lock it around both front triangles (instead do one front and one rear triangle). Not optimal but it works.
Best Bike Rack
Familiarity:

I've put it through the wringer
The Kuat NV bike rack with the extension is the best bike rack available. I accidentally hit a speed bump going 40 due to sunset blindness in Aspen last week and it kept all the bikes safely attached. Our bikes are big: XXL 29ers and 60+cm road bikes and this rack fits them well. Love it!
Everyone needs this!
Familiarity:

I've used it several times
I love love love the Kuat NV 2 bike rack. I've put off buying a bike rack for years because I just couldn't bring myself to get an annoying roof rack. A friend recommended this rack, fully equiped with a locking system and even a stand to place your bike on while you work on it. It really doesn't get much better.

My boyfriend was able to install a hitch onto my Honda (yes, it works on a Honda Civic) and install the rack easily because of the video tutorials available online. Although a bit wobbly at times, the rack is sturdy on my little Honda and makes it look good. I totally recommend this rack. I know it is a bit expensive, but you won't ever have to buy another one... and you won't regret it.
Easy to use, bomb proof
Familiarity:

I've put it through the wringer
What a great rack. I used it for a recent road trip to California and it performed very well. It was super easy to get the bikes on and off, and it is built like a tank.

My one complaint is that it is heavy when taking it on / off the car, but that's also what makes it so sturdy, so I call it a fair trade. No wonder everyone in Park City has one ....
Bombproof rack. Amazing quality.
Familiarity:

I've put it through the wringer
The NV 2 has exceeded all of my expectations in terms of durability and bike security. Though the rack isn't the lightest in its category for hitch mount bike racks, it more than makes up for that in build quality and longevity. *The built-in cable locks are a nice feature, however they are not for long term storage security. They are mainly there for quick runs into the store and side stops to grab a bite. I recommend always removing your bike and storing it safely indoors or even in the vehicle if you are away from it more than a couple hours. Installation of the rack is simple and Kuat has done a great job to ensure that the rack isn't rattling around in the hitch when you are driving. The attention to detail with anodized aluminum and a powder coat paint job make it the best functioning and best looking rack on the market.
Super Sturdy
Familiarity:

I've used it several times
This is a great rack. Super sturdy without shaking or bumping in the hitch. Primarily metal parts makes me feel comfortable and definitely seems worth the incremental dollars vs Yakima or Thule. The repair rack is a sweet bonus.

Very stable rack
Familiarity:

I've used it several times
We bought this rack with some reluctance because it is a little bit more expensive than some others, but we've been very happy with it! It is super stable, with no rocking while you drive. Once the bikes are on they are rock solid. It is also low enough that it is easy to get your bikes on and off without trouble.
Nice Rack
Familiarity:

I've put it through the wringer
everything on this rack was made to last a lifetime sturdy mount to the hitch and has all the locks necessary to keep the bikes safe, only complaint is they seemed to use a plastic washer on a joint and that has since broke, the rack works fine still. just somewhat odd that they decided to run a plastic washer where it gets so much wear and tear.
Great rack!
Familiarity:

I've used it several times
Bombproof. Awesome rack - makes throwing the bikes on and off super easy and quick. No more taking your tires off and putting the bikes on the top of the car. A convenient feature is the little bike maintenance stand that is part of the rack system. If you find yourself in the middle of the desert needing to apply some chain lube and get the sand out of your derailer, this is the rack for you. Comes with a cable lock as part of the system but keep in mind that the cable lock is on the shorter side and will not go through your wheels (the one drawback thus far on this thing).



As far as the hitch, I went with the 2" which is the way to go if you can. I had the 2" hitch installed on a Subaru and it supports somewhere around 350 lbs (so you can stand on it without any worries). The 1.5" supports less weight and cost was the same as the 2".
Almost Perfect
Familiarity:

I've put it through the wringer
My boyfriend and I each have a really nice bike, and we figured that with 8K in bikes we should probably invest in a nice rack. After much research, this one definitely took the top spot.
It was a little bit interesting to setup- but once we figured it out it was a breeze. I love how easy it is to use! I'm pretty small, and swinging my bike around isn't the easiest of things. The rack is very easy to fold up/down, and to secure the bike. Been using it for both the mountain bikes and road bikes around town, no trouble!
One thing to keep in mind is how easy it is to lose the Trail Doc- lost it within the first week. It was carelessness on our part in not making sure that the rack was up and secure, but still! Thankfully Kuat is awesome and has all of the replacement parts available for separate purchase.
The biggest thing I wish I could change is the lock system. It's pretty tough to run through two bikes- we can do it so the cable goes through one part of the rear frame on each bike, but it's still not secure enough in my opinion to leave in some places. I understand that there's only so much space within the rack to store those cables, but I can still wish. Just need to use it with a separate lock if you plan on parking somewhere and leaving it for a while.
We use it with a Jeep Wrangler so we do have a hitch extender and it STILL is very solid. Just took it on a road trip with a bunch of off roading and it felt great knowing that our bikes were solid in the back! The one odd thing is with all of the friction bouncing around when driving on dirt roads is that the piece that sits in front of your fork can actually rub and cause indentations within the rubber on that piece.
All in all, it's not perfect- but it's pretty close. And it's great knowing that you can easily replace any one of the parts on the rack. Yeah, it may be a $550 rack but I promise it's worth it for both the function and steezy looks.
Can this rack fit bikes that have 3-4 inch tires?
Best Answer
Great question, the NV can fit up to a 4" tire (Rear tire strap extender is required and sold separately- KUA000D)



Please let us know if you have any other questions and thank you for your business.


Would this rack work for my Borealis Yampa fat bike with Dillinger 5.0 tires? What adaptors would I need to buy?


Just do it!
Familiarity:

I've put it through the wringer
If you think $550 is a ridiculous amount of money to spend on a bike rack, add up the cost of the bikes you'd be putting on it and they're probably worth way more than this rack. To me, it would be foolish to throw down $5,000 on a bike and then trust that any old rack would transport it safely and securely. This rack is so well-built (heavy!), well thought-out (no contact with the bike frames) and straight-up pretty (easily the best looking rack on the road) that the buyers remorse you may feel will be fleeting. My husband and I own 2 of these- 1 has the 2 bike extension on it for long trips- and between them they are used 2-3x/week. We've put them through the ringer and both still look and perform as new (though they are on cars that are garage-kept so that helps a lot). The only issue we've ever had was with one of the cores on the cable lock breaking, but Kuat customer service was amazing and sent us a new cable no questions asked, no money exchanged.
Outstanding
Familiarity:

I've put it through the wringer
This rack is very easy to install onto my vehicle, also incredibly simple to mount bikes to or remove from.

I was hit by a Mercedes with the rack on. It was at lower speeds, but her vehicle impacted the rack and didn't even come close to my new truck. Her Mercedes barely scuffed the rack but tore her front end up pretty bad. The rack is sold and simple, also protects you from texting motorists that rear end you at red lights.