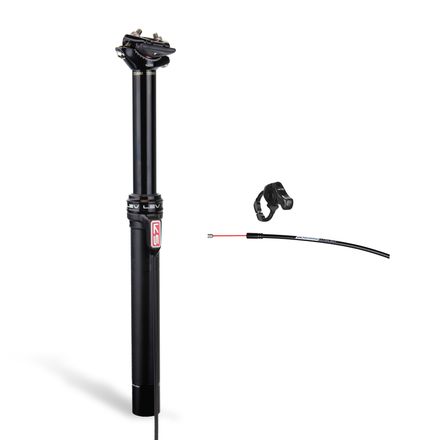 Modern Droppers Seatposts are as significant to mountain biking as the larger-wheel movement, but their development hasn't been a buffed-out trail. Leaky air and oil systems have left riders with sore knees after riding out with a saddle that's too low, and poorly routed actuation cables have been the victim of tire rub and snagged branches. With its LEV Dropper Seatpost, KS's approach reflects a well thought out system that uses cable-operated hydraulic action and an air spring to control its 125mm of smooth travel.
What keeps this design from spilling its vitals mid-ride is a main seal that uses a dry lube system. Essentially, this keeps the bushing smoothly operating, while also preventing the build up that scores stanchions and kills wet seals, like what's found on forks. This is followed by separately sealed air and oil systems in order to ensure reliability.
The LEV's air pressure can be adjusted via a Schrader valve located at the top of the post. More precisely, the adjustment point is at the zero offset, two bolt clamp. This is a set it and forget it adjustment. The posts height, however, is infinitely adjustable within its 125mm of travel. And controlling that is a cable operated handlebar remote.
KS chose cable over hydraulics because replacements are readily available in the event of damage occurring during a crash. In fact, the cable's routing is one of the LEVs defining features, because it has fixed routing to the posts lower. This means that there isn't any of the cable growth that causes snagging and rubbing.
The cable anchor collar is capable of being rotated 360 degrees for clean cable routing, no matter what bike you're putting it on. It's also easy to disconnect from the anchor in order to remove the LEV, whether you're preventing theft or need to pack the bike for traveling. At the handlebar end of things, a smartly designed remote is compatible with ODI lock-on grips.
This means that you're able to just clamp the remote to the bars or, and if you have ODI lock-ons, you're able to use the remote in order to replace one of the grip's clamps. Basically, this design is taking advantage of typically wasted space. The remote is ambidextrous and it has a low-profile design that prevents damage.
The KS LEV Dropper Seatpost is available in either 30.9 or 31.6mm diameters with both measuring in at 385mm in length. Please note that the post features a drop range of 125mm of travel.
Great product with NO CUSTOMER SUPPORT
Familiarity:

I've put it through the wringer
I have had the KS lev 30.9 with 125mm travel for just over one year now. Previously, I owned command post, Gravity dropper and rockshox reverb and kronolog. I will start by saying LEV does have a very smooth feel when it works and probably is the lightest of the hydrolic group. The remote lever was easy to set up and was easy to activate and rock solid. I did however end up sending the unit back to KS for warranty work after two months of use. Now, the post will raise when pulled on the seat. Another major issue is then seat clamp. The spherical bolts and nuts that hold the seat clamp will come loose even when torqued above specs resulting in lost bolts. They have no resolution on this and bolts are backordered with no eta. KS has horrible customer service. They have no representatives to even answer phones. Only voicemail and no one will respond. Parts are almost impossible to find and after calling two LBS I came to learn they are the hardest to deal with. I understand almost all droppers have some issue but best to Stick with a reputable company like rockshox or gravity dropper or Crank Brothers.
Great buy !
Familiarity:

I've put it through the wringer
This KS LEV really is a well designed product and works flawlessly. It`s really easy to adjust height while riding or descending. My local trails normally have a lot of climbs and having the ability to adjust seat height makes riding these trails a breeze. The remote can be mounted anywhere on the handlebars and does not take much to activate it, push a button is all that you need to be able to do!



Have been riding this for a few months and have no quirks!
Best investment!
Familiarity:

I've used it several times
The hydraulic seatpost is a game-changer in mt biking and the Ks lev is so well designed. It took me awhile to justify spending the amount of money it costs but I would do it again in a second! Very smooth (even in mud), durable, and easy to install and make adjustments. Mount the remote on either side. The cable junction box is fixed unlike some others where the cable is attached to the seat and can lead to cable slackening if the seat's down which could get hung up on stuff. It's just a great, well-thought out post.
Beautiful and cool looking seatpost
I have the glossy/black version and I have to say it looks really really cool. It's real easy to adjust while riding and the seat didn't move once set. I have the 435mm/150mm. 435 b/c sometimes my son is using my bike and he's much taller than me (I left some slack in the cable in case he needs to raise the seat). 150mm is nice b/c I can automatically adjust my seat within this range when riding (about 7 inches range). I love it. On the side note, I have to get an exchange at first and Backcountry's customer service was excellent.
Smooth and Reliable - Best There Is
Familiarity:

I've used it several times
As of 4/2014 I consider this the best dropper on the market. Here are the top 3 reasons why:



1) Fixed/external cable doesn't move when seat goes up/down. For those that don't have internal routing as an option (all DW Link bikes) this is so much nicer than a cable moving around and sticking out in weird directions.

2) Smoothness of button and post modulation. Having had both the Rockshox Reverb and Specialized Command post, the KS Lev gives me the smoothness/control of the Reverb's hydraulic button with the low maintenance of a cable pull. The seat does what you tell it to at the speed you tell it to do it, and the button shape is easy to fit on almost any handlebar configuration, on either side.

3) Reliability. It's sort of an industry joke that some of the other posts, despite their $300-400+ price tags are disposable products. Granted servicing is available but the cost is inordinate given the initial cost, often 25-30%+ that of a new post. The KS seems to last longer and perform more reliably than the other options on the market.
When will this be back in stock?
When will this be back in stock?
It looks like the order we have in should be arriving around the end of April or start of May. I would recommend checking back around the end of April.
When will this seat post be back in...
When will this seat post be back in stock
I've taken a look at our back orders, and it looks like that KS LEV Dropper Seatpost will be back in stock in 5 to 7 business days. Feel free to contact me to back order that item for you. dmyers@ backcounrty.com
you don't know what you're missing
the idea of a dropper post is great. it absolutely takes your riding to another level if you typically shun shuttles but still like descents with some gnar. getting one that works correctly is apparently harder. but the ks lev works nearly flawlessly. only trick is you can't be forward on your saddle while trying to drop it. but you figure it out quickly and then it's great. i have NEVER had the post move on me. i have also bashed up the trigger and it barely shows it and works just as well as day one.
Has most of the appeal on a "stealth" routed dropper post without the hassle. The remote mounts cleanly and out of the way on your bars, and the action is very easy and smooth. Not having a huge loop of cable is a big plus, but this is also a really nice dropper simply in terms of build quality and durability.
Reliability, durability, and function.
Familiarity:

I've put it through the wringer
This is, in my opinion, the best dropper post on the market. Having ridden demos with Reverbs, DOSS, a Specialized, and both the Joplin and Kronolog, the KS takes the cake. Perks include clean cable routing, small, easy to operate remote, ODI lock on compatibility, clean cable routing, and infinite adjust, no hard stops. I owned a KS Supernatural before my LEV and will be putting a LEV Integra on my next bike (hopefully).



It is also the most intuitive to use, the lever is small and out of the way. The only issue is slight play developing on the head, but that comes from the saddle loosening up, not the post itself.
Great dropper
Familiarity:

I've put it through the wringer
I've ridden a Reverb, a Doss, and a Specialized Commandpost. This KS post is by far the best one I've ridden. The cable routing is much nicer, with the cable attaching at the seat collar as opposed to under the saddle. Less cable clutter, and cleaner appearance.



It's a SUPER smooth actuation, and it is an infinite adjust height, like the reverb, but it uses cable and not fluid, which is lower maintenance IMO. Super easy setup (took me 20 minutes) but I would reccomend using your own shift housing, as the housing supplied with the post is pretty junky. Overall, I'm super happy with it.
LEV dropper rocks!
Familiarity:

I've put it through the wringer
Been using this for about 4 months now and I can't be happier it works great very smooth operation. Simply to install and really steady no movement. Just drop before a jump or head downhill and when you need to start cranking down on those pedals and you need to support Pop! It's back up to the top or anywhere in between. Highly recommend.
Are you going to carry this anymore.
Are you going to carry this anymore.
Hey Todp, thanks for the question.

We don't actually have any on order at this time, but that could change. As of today July 18th, we don't have an order in with LEV.