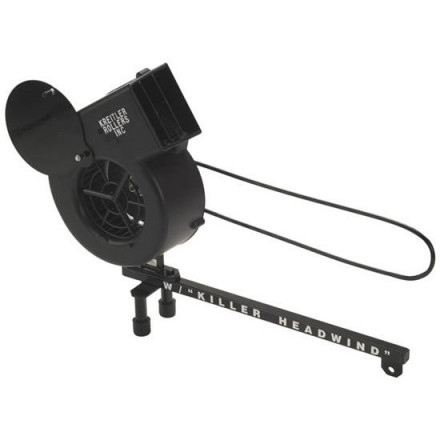 The Kreitler Killer Headwind Fan mimics what you get on the road: wind drag, not magnetic or fluid resistance. The adjustable inlet allows you to simulate anywhere from a 2mph tailwind to a 10mph headwind. Ideal for making a hard roller workout even harder. Compatible with Dyno-Lyte and Dyno-Myte rollers, but not the Poly-Lyte.
What do you think about this product?
Have questions about this product?
ass kicking and I love it
Familiarity:

I've put it through the wringer
I've had dynomytes (2.25's in a different color) for many many years (over 15). I was torn, but eventually added the head wind unit. I had gotten some advice that it would be "too much" but I must disagree.

I am hardly a world class athlete and am much more a weekend wannabe, but I really like this set up. I can spin the lower gears and really open up my cadence, but I can also grind at 40's rpms in the lowest gears. The fan, while not really intended for this, does provide a little air flow. It is nice to be able to adjust the opening to really crank up the resistance, but with the 2.25 in rollers, I basically never go beyond the first couple of openings. In my lowest gear at the second fan setting, that is plenty hard enough for me most of the season.

I have the fork stand for standing workouts, one-legged workouts, and general movie-watching-space-out sessions, but I rarely use it, as I really am sort of addicted to true roller workouts.

I think I would have a more versatile setup with 3 in rollers, but I'm sticking with this.

It's only downside: the rollers don't fold up well with the fan on, and it is a beeotch to move these around but I don't carry the rollers far so that's not a huge deal for me.

I think--and it seems to be the general consensus--that Kreitler is the gold standard. My drums are perfect after over a decade of use, and literally the only maintenance I've done is 1) tighten bolts 2) replace belt (very rarely) 3) wipe off the frame after use. Great stuff.

For roller newbies, you can also check out the e-motion rollers. These are pretty sweet albeit pricey and not super portable.