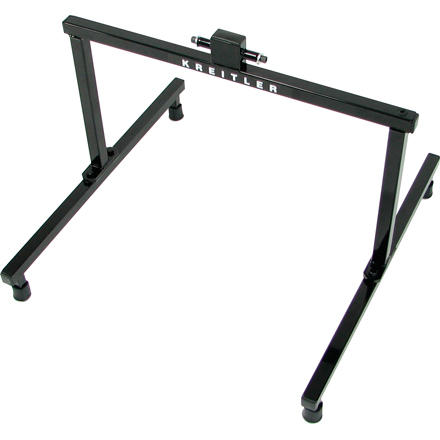 Take off your front wheel and attach your fork to the Forkstand if you want the unparalleled road-like feel of Kreitler rollers without having to focus so much on balance. Ideal for when you have nasty speedwork workouts planned for a roller ride.
Contrary to what the other reviewers found, these are great to transform your rollers to a stationary when you just don't want to focus on balance. Great for cadence and one legged work outs.



For those who find the bolts come undone; make sure to put something soft underneath your rollers and forkstand (i.e. trainer mat or carpet).
Good addition to Kreitler rollers
Familiarity:

I've used it several times
This fork stand is good to have if you can't do hard intervals and keep your balance on the rollers or if you just want to ride without full concentration. The added flexibility this provides, is better for me than a fixed rear wheel trainer. The quality is excellent, only minor issues is having to tighten the fork nuts occasionally.
Good build but poor quality. It would not even out to the floor when tightening the four bolts. The right side or the left side legs would be uneven when fully tighten so you would rock from side to side.
Unanswered Question
I have cyclops rollers. will the kreitler...
I have cyclops rollers. will the kreitler forkstand be compatable with cyclops rollers?
I'm so happy to have this stablizing fork stand for my Kreitler Rollers.
I've recently had knee surgery and the only way I could have felt comfortable to ride on the rollers was to pick up the front fork stand.
I feel totally confident; can ride hands free if need be...no worries about balance, etc.
Thanks to Realcyclists for keeping the pricing and shipping so reasonable!
I recently broke my collar bone racing at Major Taylor Velodrome. Using the new forkstand with my rollers has allowed me to get back on the bike much sooner since I was not able to use my right arm to help with balance. Once I am healed, I will still use it on some of my recovery workouts so I can watch the news on TV without worrying about balance. I would recommend the forkstand to anyone who needs to temporally convert their rollers into a "trainer".