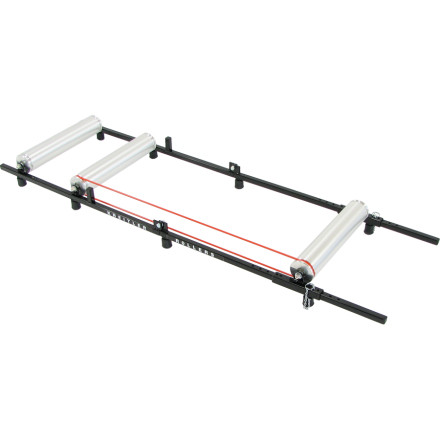 Train indoors on Kreitler's 3in Complete Roller Set when snow's on the ground and kill it come spring. Not only will you be in riding shape, but your bike control skills will have improved, so you can stay straight at any speed on road and trail alike. These three-inch rollers provide 40% more resistance than Kreitler's 4.5-inch rollers. Choose from rollers with alloy or poly end caps.
These are my first set of rollers, ever. Once you hop on these and go to town, you will quickly realize how sloppy of a bicycler you are. Love these rollers. I'm not sure I could make it through the off season without these.

If anyone was wondering, this includes rollers and frame.
By far the best set of rollers I have every sat on for hours at a time. I spend the winter putting in some solid base miles at steady state power on these babies. Rollers mimic real balanced conditions and keep your pedal stroke perfect in order to stay on them. If you have not spent time on rollers this is the pair you want. They are durable and will last for years to come. The only thing I have replaced on these is the power band and the rubber stand feet. These also fold in half allowing easy storage or the ability to pack them in the trunk so you can use them warming up for your next TT. The Machined aluminum roller drums are perfectly round and impossible to destroy. The telescopic rails allow you to switch the rollers to match your bike length, quickly and easily. Ride On.
What is the difference between the alloy...
What is the difference between the alloy and the challenger? Is there any difference in performance?
Best Answer
see this picture for your answer

http://www.mountainracingproducts.com/wp-content/uploads/step3.png
This is the single best product for trainers. It is simple, reliable, and will last for along time. Great resistance. Makes a better pedal stroke, and you have to actually try. unlike stationary trainers
I have had the new version for a year. I have had no issues. The set I had before was almost 20 years old and worked great! I love these and suggest the for warming up for any cycling event. I also train hours on them in the winter when it is just to cold out.
Will the Kreitler 3.0in complete roller...
Will the Kreitler 3.0in complete roller set work with a recumbent trike (Catrike Villager)?
Check out their website:

http://www.kreitler.com/product.php?section=product

The info you desire is listed on that page. :)
Online review from Slowtwitch
http://forum.slowtwitch.com/gforum.cgi?post=2565840;sb=post_latest_reply;so=ASC;forum_view=forum_view_collapsed;;page=unread#unread

RealCyclist is real good Can't Post
I just wanted to share an experience I had with the people at realcyclist.com. For those of you who don't know, they are the same people that run bonktown, chainlove, huchnroll and I think Backcountry.com and backcountryoutlet.

I ordered a Kreitler flywheel from them. The box broke open in transit. The UPS driver leaned the box up against the door to protect the broken seal, so clearly had noticed it. The flywheel was a little scuffed (no big deal) but the drive belt was missing. I talked to UPS who sent a driver to examine the packaging. There wasn't anything to see because all it was just an open box - the problem was that the box was open when it came to me - so they "resolved" the complaint - meaning they closed it without doing anything.

I called realcyclist, spoke with Tayler who suggested that I send the flywheel back for replacement. I suggested that it might be easier just to order a new belt - I was fully prepared to pay for it. He said he would check their inventory and get back to me. A few hours later I had a voicemail that they didn't have any extra belts but that they would order one from Kreitler for me. Two days later, it showed up at my house, direct from Kreiter.

I'm impressed. That is pretty good service. Although I buy mostly from my LBS, I will probably order from them again.