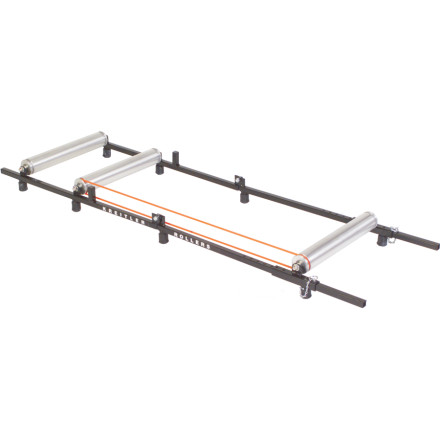 Kreitler's 2.25in Complete Roller Set delivers approximately 90% more resistance than the 4.5's, which should sufficiently kick your ass. After all, Kreitler designed the 2.25-inch rollers for the US Cycling Team. Not only does this roller set get you in excellent riding shape, but your bike control skills will improve. Choose from alloy rollers or Challenger rollers with poly end caps.
What is the difference besides the big price? Is it just the end caps vs complete alloy roller?
What is the maximum wheelbase that kreitler...
What is the maximum wheelbase that kreitler rollers will fit?


The Max Wheel base that this is compatible with is 42 inches and just in case you are wondering the Minimum is 38 inches.
Unanswered Question
Which roller is best for bmx racing.?I...
Which roller is best for bmx racing.?I race on a 24 in bmx bike
Fan not needed. "Sufficiently kick your ass" is a correct assessment
As a former competitive rider just getting back into it for fun, I am as happy as you could hope to be with rollers. I used the large diameter Kreitlers in the 80's and I recall needing the wind-load simulator fan in order to really work. NOT SO with these. The rollers alone provide an ample workout for me. I estimate these provide 75% of the normal resistance you experience outside for a given gear on a flat road with no wind. It would be interesting to know if Kreitler has a more accurate equivilency.
Ok, I'm so confused. I use 2.25" diameter...
Ok, I'm so confused. I use 2.25" diameter drums and they are definitely a workout in higher gears. But they're definitely spin-able if I use lower gears. If I add the Resistance Fan for some cooling breeze and to make it a bit harder, am I just asking for death or is anyone using this combo successfully?
Having used the fan, and as one who does hard sessions on the smaller rollers myself, (no fan) my opinion is that the blower is way overkill with the smaller roller. You would wind up riding small gears which is of course less stable on rollers. I have used the blower with the 4 inch drums and that works very well because the larger drum provides significantly less resistance on it's own. The key piece of this, and a major detail missing from the BC description, is that the blower provides variable resistance. There is a little door on the side of that turbine that regulates how much air it's able grab. Full closed = not much harder than no fan at all. Full open simulates the kind of headwind that makes you use every swear word ever heard. "Kreitler Killer" is the perfect product name. Again, just my opinion but the blower is really FOR doing HARD roller intervals where a partner is opening and closing the little door for you based on time, heart rate scream volume, time between dry heaves.... Anyway I would forget about the fan cooling you off and consider the blower if you want to do masochistic interval sessions. (I once got so trashed doing "blower intervals" that I fell off the damn rollers and broke a bone in my hand.) For cooling, there's a great home fan called a "Vornado"I can recommend.
Online review from Slowtwitch
http://forum.slowtwitch.com/gforum.cgi?post=2565840;sb=post_latest_reply;so=ASC;forum_view=forum_view_collapsed;;page=unread#unread

RealCyclist is real good Can't Post
I just wanted to share an experience I had with the people at realcyclist.com. For those of you who don't know, they are the same people that run bonktown, chainlove, huchnroll and I think Backcountry.com and backcountryoutlet.

I ordered a Kreitler flywheel from them. The box broke open in transit. The UPS driver leaned the box up against the door to protect the broken seal, so clearly had noticed it. The flywheel was a little scuffed (no big deal) but the drive belt was missing. I talked to UPS who sent a driver to examine the packaging. There wasn't anything to see because all it was just an open box - the problem was that the box was open when it came to me - so they "resolved" the complaint - meaning they closed it without doing anything.

I called realcyclist, spoke with Tayler who suggested that I send the flywheel back for replacement. I suggested that it might be easier just to order a new belt - I was fully prepared to pay for it. He said he would check their inventory and get back to me. A few hours later I had a voicemail that they didn't have any extra belts but that they would order one from Kreitler for me. Two days later, it showed up at my house, direct from Kreiter.

I'm impressed. That is pretty good service. Although I buy mostly from my LBS, I will probably order from them again.
Can you stand on these to simulate...
Can you stand on these to simulate climbing?
Best Answer
Not very easily, but with practice it is possible. It takes a tremendous amount of balance/skill to stand up on rollers. Rollers require an even amount of pressure through the pedal stroke which builds good technique. Stomping on the pedals will force the bike to wash out from underneath you. A standard trainer might be a better route if you plan on doing extended standing right away.
Do the Kreitler 2.25 Rollers have alloy...
Do the Kreitler 2.25 Rollers have alloy or polycarbonate end caps?
They're offered with your choice. Alloy look to be $444.95 and the Polycarbonate are $338.95. The alloy are more and for good reason......much, much better resilience.Hope that helps.
Kreitler is known as the top-of-the-line for a good reason, no need to harp on the many good points to that end already made. The 2.25s, in my opinion, get somewhat of the short end of the stick - they are great for any serious athelete. I'm certainly not a world-level athelete, and these rollers provide the perfect level or resistance for a huge variety of rides - spinning at 60-80 in a low gear provides the same resistance as cruising on a long ride, granted your wheel is only spinning at 13-15mph, but you're not on a road, so what difference does it make? You still push a couple hundred watts for a couple hours. And for hard workouts and tempo rides? These rollers have a much higher theoretical top-end than the larger diameter versions, I can spin out in my highest gear on the bigger ones, can't on this one. This coupled with the wind-generator gives the broadest possible range of workouts of any of the Kreitler line, in my opinion.