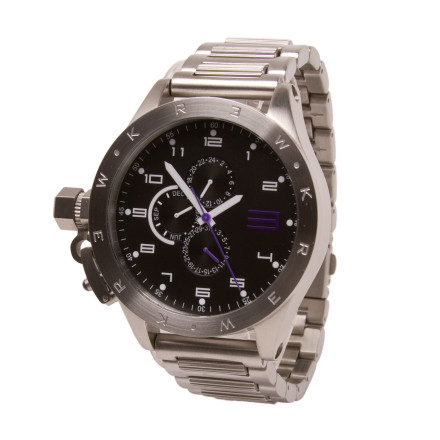 Detail Images

Community Images
Strap on the KR3W Krucible Watch so you can, you know, figure out what time it is. This stainless steel watch has a Japanese quartz movement that features a 24-hour clock, month, and date functions. An oversized canteen crown cover makes the KR3W watch stand out from the crowd, and 5-ATM water resistance means you don't have to stress about taking this watch into the shower when a podium babe invites you back to her place.
What do you think about this product?
Have questions about this product?
Krucible=the bomb!!

I love this watch :)

instant head turner.

hang it out of my window when I drive.

kinda heavy but not noticeably when it is fitted.

came with a dead battery but the replacement was cheap and easy to install.

don't go swimming with it. will probably mess it up.

fine in the shower (with babes). ;)
Cooler than a Polar Bears Toenails!! Ohh Hell Yeeaahh!!
This watch is just dope. But a fare warning the face and size (width) is pretty big. And man is it heavy. But it gets a lot of attention and you get use to the size and heaviness. The pure sick factor just reigns supreme. I couldn't imagine rocking another watch!

Setting the time is a bit tricky, you have to unscrew the large pin then depending on how far you pull out the lever inside you'll be able to end up setting everything.

Hope this info helped.

Laaate,
B