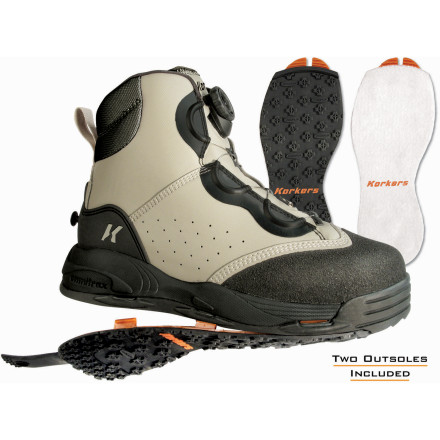 Videos
The new benchmark for technical fishing footwear, the Korkers Chrome Wading Boot with Kling-On Outsole helps you enjoy your afternoons of seeking the finest trophy catch and enhances your ability to move within an active river system. Proprietary technology such as the included Klin-On Outsole boosts your traction while you navigate slick and mossy rocks in the shallows, searching for that ideal spot. Fortunately, the Chrome Wading Boot delivers technical proficiency without compromising comfort, so you can stay on your feet longer.
OmniTrax 3.0 Interchangeable Sole System helps you keep sure footing even on slick surfaces; includes sticky rubber and rubber/felt soles
Low profile Boa speed lacing system allows quick-on, quick-off access
Synthetic upper reduces water absorption to keep weight down and to help boot dry faster
Reduced stitched seams help cut back on potential failure points for further waterproof protection
Regrind rubber toe cap keeps weight down while keeping your toes safe from rocks and debris
Integrated midsole drainage ports allow for quick release of water
Chrome
Familiarity:

I've put it through the wringer
I've fished with the Chrome model for about 3 years, an earlier version for several years. I love them! I put one kind of sole on when I use a canoe and the studded felt when I wade. The BOA system allows we to fine tune the tightness. I wear a sz 9.5 shoe but wear a sz 11 Korker boot. The rule of thumb is to go up 2 sz from your normal shoe sz.
which is the best of the korkers wading...
which is the best of the korkers wading boot with the boa system is better. also what size wading boot should you wear I wear a street shoe of 8 1/2. thank you
Best Answer
For the price, the Chrome's are going to be hard to beat if you want the BOA system. Obviously the current model Devil's Canyon will have newer materials that are claimed to last longer and dry faster, but they're also $50 more.



I have the KGB boots and love them. They don't have the BOA system, but based on some of the reviews, I wanted to keep it that way. Korker's boots are top notch and will last a long time if you take care of them.



I wear a 10.5 show and have size 12 Korker boot and it allows me to wear thick socks without feeling cramped. I would go with a size 10 if an 8.5 is a well fitting street shoe.



Tight lines!
Good boot
Familiarity:

I've put it through the wringer
Have had these boots since they came out and do love them as they allow me to change soles very easily and they hold up very well. As someone that pushes their luck in the stream to get to a perfect spot I have ran into many rocks, logs, etc and these are holding up great.

The BOA system does work great, but I have had to replace it once already which Korkers covered. Other than that I have not had a problem with them.
Korkers Chrome Wading Boot with Kling
Good overall boot. The boa system is pretty darn effective and efficient. One word of caution hasn't been a problem yet but I see the boa guides are sliding out of the sides( looks like a little black tube worm). You can push them back in but i imagine if they are completely out the boa will rip open the fabric that holds it. Overall the have worked very well but only time will tell if my concern is a real worry.
Great boots. Held up to five days of 8 hours a day of slippery southern Utah streams. Hope they last. Do Not use Klingon souls for anything but dry land. Felt worked great. Comfy fit,medium support.
First off no more wet, muddy, burr filled laces!!! The BOA is so nice, slide on boot a couple quick turns and it's off to the river. Nice to just make a quick pull on the BOA knob and off they come. They are super light weight but in no way lack durability, do not hardly absorb any water and drain quickly. For those who love to fish year round know the treacherous frozen felt ice blocks you walk on in the winter, but with these being easy to switch over to the rubber or studded rubber soles eliminates the need for another pair of boots for winter only. All around great boot, you get a two for one with the interchangeable soles. All around reliable and durable boot.