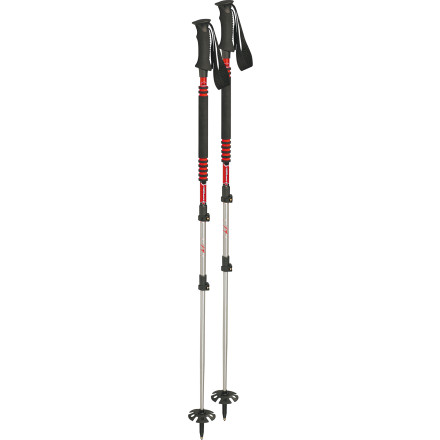 Videos
Tough, reliable mountaineering poles are hard to come by. Consider yourself privileged for fining the Komperdell T3 Thermogrip Foam III Power Lock Ski Pole. A three-section aluminum shaft design and rock-solid Power Lock II mechanism make the T3 a versatile choice for deep winter touring, both ascent and descent. A lower thermogrip zone is ideal for hiking when you need to choke up on the shaft, while the EVA upper grip features wide straps for easy adjustments during your descent. The vario winter basket and extra-long tungsten/carbide tip construction allow the poles to conform to any terrain, lending you the ultimate stability wherever you find yourself. Strong and lightweight, this collapsible pole keeps your hands comfortable and bites into the slope so you can get after your quest for elevation with sure-footed balance.
Three-section aluminum construction
EVA foam upper grip
Thermogrip lower zone
Wide strap
Power Lock II
Vario winter basket
Extra-long vario tungsten/carbide flex tip
What do you think about this product?
Have questions about this product?
Komperdell T3 Thermogrip Foam III