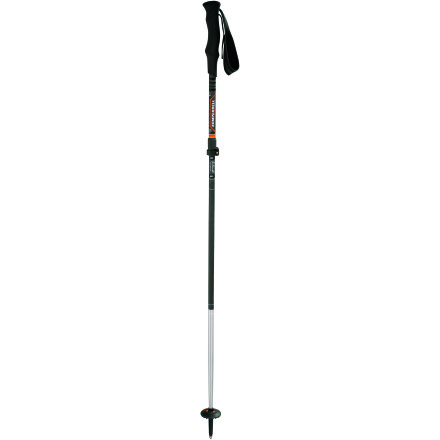 Colors

Detail Images

Videos
If you peer into the packs of leading mountaineers like Geraldine Kaltenbrunner, you just might find a pair of the Komperdell Carbon Expedition Vario 4 Trekking Poles nestled within. Valued by alpine athletes for their compact, packable size, light weight, and durability, these trekking poles are the ultimate companions for your once-in-a-lifetime adventure.
Carbon in the upper part of the shaft shaves weight, while Titanal HF rocksleeve in the lower section adds durability
Power Lock II technology features a glove-friendly clamp that allows custom adjustment
Extends from 45 to 57 inches to accommodate adventurers of all sizes as well as varying terrain
Folds in four sections down to a compact 18 inches for maximum packability
Longer Expedition grip made from EVA foam are molded to match your hands' shape and extend longer to enable you to choke up during steep uphill sections
Neoprene-padded strap wraps around your wrist and prevents costly pole drops on goat paths or river crossings
Trekking ice tip and basket work both on hard-packed glacier snow and summer trails
Practically everything you could want
Familiarity:

I've put it through the wringer
I've used these poles on hikes ranging from casual walking to strenuous climbing, and on pine straw covered, well maintained trails to loose rock scrambles, and I've been very well pleased with the performance of these Komperdells.

At 7.7 ounces per pole, these are one of the lightest poles you'll find. They feel light as a feather while hiking, and my arms never get fatigued. The straps are a nice width for nestling under the fat part of your palm below the pinkies, and I never really have to grip down hard to maintain control of the poles... I just sort of rest the handles between the V between my thumb and index finger and let the straps do all of the work.

The carbide tips grab well on everything from soft dirt to hard pan to loose rocks, and as long as the surface is hard, they hardly leave a mark on the trail.

The Power Lock clamps are easy to open/close so adjusting length of the poles is super easy even while walking. The poles are marked with lines at 5 cm increments so you can easily adjust them to matching lengths.

I have only two comments that make these poles less than perfect. One, there is no shock absorption. It's not that big a deal since the way I hold the poles causes most of the shock to be absorbed by the straps, but just saying. Two, it takes quite a few turns to unscrew the sections from each other (and BTW, these poles fold into 3 sections -- there are indeed 4 sections, but the handle end is comprised of two of the four when folded). I would have rated these 5-stars if they broke down more easily, and somehow held the sections together for easier strapping to the side of my pack.

That being said, overall, these are great poles. Highly recommended.
Is this the 2014 version? How come the item depicted in the video differs from the one in the pictures?
The set that I received from Backcountry is as shown in the detailed picture (orange trim), which as you note, is different than what is seen in the video. The orange trim poles are labeled "Generation 2.0"... not sure what release year is implied.
is this a set of two poles? Komperdell...
is this a set of two poles?

Komperdell Carbon Expedition Vario 4 Trekking Poles
The price indicates a pair, but the quoted weight of 7.7 ounces indicates a single pole. I think you'll want to hop on live chat to get clarification (and so they can fix the price/weight/description if they need to...)



My _guess_ is that the weight is wrong and the price is correct, so this would be a pair....
Komperdell Carbon Expedition Vario 4