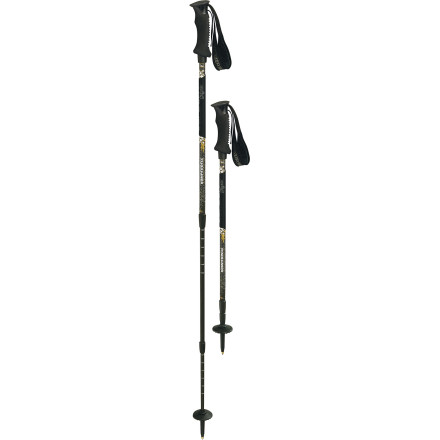 Power up you hike without weighing yourself down; just choose the ultra-lightweight Komperdell C3 Airshock Men's Trekking Pole. This all-carbon pole conserves your energy on long hikes over demanding terrain (particularly when carrying a heavy pack), improves stability and safety by doubling your points of contact with the ground, and lessens strain on your knees and other joints on descents.
Anti-shock cushioning system toggles on or off to suit the terrain
Duolock & Stop Lock length adjustment mechanism optimizes safety and stability
GReptile coating below the grip handle provides a secure spot for a temporary hold on the pole
Comfortable EVA foam grip absorbs moisture so you're not losing your hold on sweaty climbs
Share your thoughts
What do you think of the
Komperdell
C3 Airshock Trekking Poles - Men's
? Share a...
Duolock System - No Problem!
Gender:

Male

Familiarity:

I've put it through the wringer
I have no problems with the twist-lock system and they never slip after tightening. Sometimes, if you loosen them WAY too much, they don't want to tighten, but that takes 10 seconds to remedy. There are videos on the web that show how to do it.

I'm on my second pair now. The first were left at the parking lot at the base of Mt. Katahdin after hiking to Chimney Pond.
Twist Lock system - terrible
Gender:

Male

Familiarity:

I've used it once or twice and have initial impressions
I returned these sticks because the twist lock system is very bad. I did not have a failure, but instead it was very difficult to actually get the mechanism to lock into place. I would have to hyper-extend the pole, push it back a little, then see if I could twist it locked, then I would slowly try to loosen it just a bit, then slide it into the level I wanted. This trick would work sometimes, but mostly it was a P.I.T.A. - so, after my first adventure, I decided to return it. I appreciate BC's NQA policy for returns very much, and it was a pleasant and easy process to return the product. Thanks, Backcountry!
Lock system is bad
Gender:

Male

Familiarity:

I've used it once or twice and have initial impressions
The sticks are lightweight and when they worked, they worked well. But, for one of the sticks, the locking mechanism would not work at all. I had to extend it to the max to get it to lock, then hope and pray I didn't look at it wrong lest it failed again. I was very disappointed. I ended up returning them.
Multiple twist lock failures! Beware
Well picked these up today I loved how light they are and the greptile grip is awesome, here's the probs the baskets are a BITCH to remove also very fragile and the speed lock system is prone to repeat failure so bad in fact I only walked around my apartment once and had multiple collapses. I returned them for a cheaper pair of komperdell explore contours got em home went to pack them an realized the bottom section does not lock when retracted so u get 7 inches of play dangling out the bottom also the strap will not stay in adjustment and the material is cheaper than a Walmart leash. I called up their Washington state offices and told them the prob they said they are aware and will send me new bottom sections which is nice but they shouldn't have left the drawing board in that state who ever gave the green light to produce should be fired. Alot of trouble to get a decent pair of poles, my leki's never let me down ONCE.
love these poles, ive had them for about a year now and they are very strong, and sturdy, a bit heavier than the CF ones, but i would much rather have the strength than the weight savings here. my only gripe is that they do not have a quark handle which is personal preference.
Does anyone know where to order parts for...
Does anyone know where to order parts for the Komperdell C3 poles?
Not sure what parts you need, but I would contact Komperdell directly, sales@komperdell.com... or check their website for an authorized dealer near you...
I love the C3 poles.
They are so good hiking,skking and trail running.
Have had them a few years and miss using them as the lowesdt section is broken.