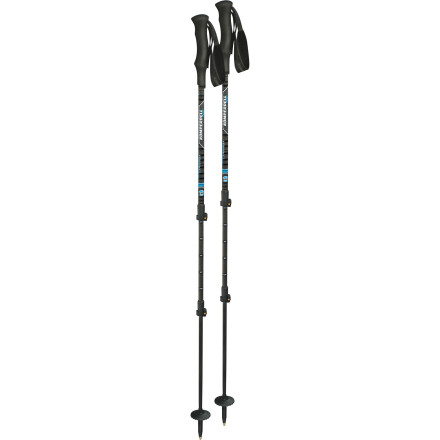 Colors
Whether you're planning a month-long trip on the AT or tackling the Annapurna Circuit, be sure to include the Komperdell C3 Carbon Power Lock Trekking Poles on your packing list. Weighing in at a mere 7.5 ounces each, these collapsible poles will not only give you more secure footing on rough trails, but they will ease the stress on your joints so you can finish the long-awaited trek.
Three-part shaft is 100% carbon with diameters of 16, 14, and 12mm
Power Lock II technology features an easy, fast, glove-friendly clamp that allows custom adjustment
Extends from 27 to 57 inches to accommodate adventurers of all sizes as well as varying terrain
Three-section design collapses into a compact size for easy packing
Comfortable EVA foam grip and neoprene-padded strap ensure comfort over long hikes
Tungsten and carbide flex tips are tough enough to take miles and miles of abuse
Satisfied with these trekking poles
I have been using the C3 Carbon for about a year. They were a warranty replacement for the Titanal HF, one of which snapped during a hike. I hike in the NH White Mountains, and subject the poles to considerable abuse. The version I have includes titanal (metal) lower section, and carbon upper two sections. They are easy to adjust, even with gloves in winter. The grip is comfortable, and the poles are lightweight. I find that the carbon fiber transmits less vibration than aluminum alloy, and spring loaded design is not needed. It is not easy to adjust the strap. You are supposed to be able to pull either the top or bottom to lengthen or shorten, but it is hard to get the strap to move. I often change gloves in the winter, so this is a little annoying. Other than this, I am very happy with them.