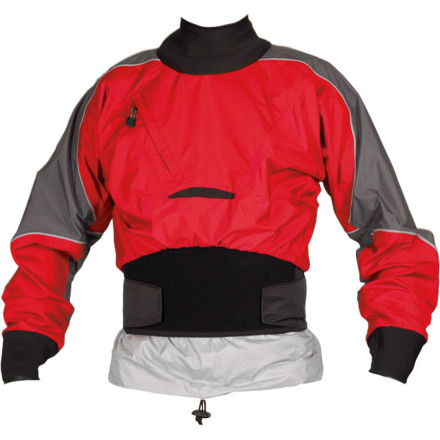 Community Images
Kokatat's proprietary waterproof, breathable fabric, TROPOS, is what gives the Men's Helix Dry Top its high level of performance and comfort in wet conditions.
Latex gaskets reinforced with super-stretch neoprene seal water out of the self-draining cuffs and collar
TROPOS inner skirt is lightweight and provides additional length to the water-tight seal
Outer skirt utilizes large hook-and-loop neoprene closures on both sides for a tight fit
Share your thoughts
What do you think of the
Kokatat
TROPOS Helix Dry Top - Men's
? Share a...
I've used this piece a few times on the river. Though I can't speak to it's durability yet, I can say that it kept me dry and warm. The gaskets are firm and foolproof, and the velcro around the waist is super solid. Care should be shown to the gaskets when taking this piece on and off, as with every dry-top. Good value and a great addition to the paddling collection.
very nice jacket, gaskets are TIGHT as you would expect with a new jacket i ordered a small thinkin it would fit, definitely not, but the team at back country was very helpful in exchanging the jacket for me.
overall, it's a good start
I bought this dry top for a summer of sea kayaking in the San Juan Islands. I have worn (borrowed) dry suits and paddle jackets before, but decided that my best value for this summer was a dry top. I chose Kokatat because I personally think they make the best immersion wear, and I chose the Tropos fabric because it was half the price of Gore-tex (I figured that when I had the funds to buy a dry suit, then I would go Gore-tex, but for now a dry top is a compromise anyway so why not save some money).

In terms of overall use, here are my thoughts. The wrist gaskets are comfortable and watertight. The neck gasket is very uncomfortable (to me) and I had to stretch it out using a nalgene 16oz food jar. The dry top has limited breathability, but is fine on cool/cold and/or windy days. I liked having a jacket to keep me dry on the water and it helped me protect my rain jacket from salt. It obviously did a better job at keeping me dry than a rain jacket would have.

Overall, this is a good place to start. I think that a paddle jacket, dry suit, and dry top all have a use sea kayaking depending on the conditions. For me, the dry top helped me in certain conditions, but by no means is this dry top the most comfortable and versatile piece to keep you dry. For moderate to casual touring go with an anorak or paddle jacket, for expeditions and cold conditions go with a dry suit. For mixed conditions and trips, a dry top could be the ticket!
Great dry top, just went kayaking in ~38 degree water with just this dry top and a 3/2mm wetsuit underneath, and stayed dry and warm the whole time, even after some rolls.

Fits well and doesn't restrict your movement at all, I'm 5'11'' 160 and the medium fits great. The chest pocket is nice and large, perfect place to stow keys, a power bar, even a camera (properly water-proofed).

The neck was very tight when I first got it, and it took about a week of stretching to get it use-able. Use something that's quite a bit bigger than your neck; 2-4 inches in diameter larger, and it'll stretch quicker.
Trusted name in keeping you dry
This is my second Kokatat drytop, and after 5 trips so far this season it's kept me bone dry. During the colder early season runs I normally wear a paddling fleece underneath my drytop. Each time the fleece and my body has come out of my boat bone dry. The neck gasket was TIGHT when I got mine, I stretched it a few nights using a paint can and trimmed two ribs off of it. Now it is snug and no longer choking the crap outta me. Remember to keep the gaskets fairly tight otherwise you will lose the watertight seals.

Fits true to size, generous cut in the shoulders allows full range of motion during paddle strokes without feeing restricted. I was also able to layer with a fleece without giving up any comfort or range of motion. I'll update my review later this year when the water runs out here in Colorado.