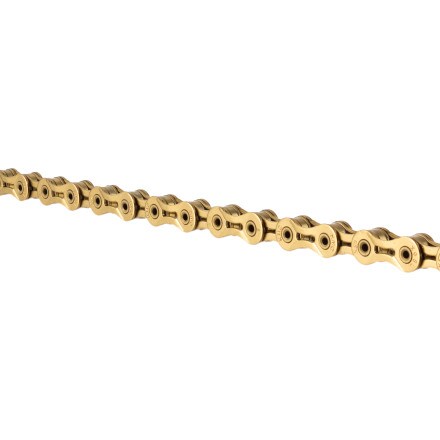 Colors
Description
Lighter, faster, smoother
If you're committed to your 9-speed setup, the KMC X9SL Chain keeps the shifting smooth mile after mile. It's lightweight construction and a Ti-nitride coating ensure you'll always have the gear you need.
KMC chains are designed with hollow link pins which help to lighten the weight of the chain. They are designed with a quick connecting link that makes replacing it easy.The outer plates of the chain have chamfered inner surfaces to ensure smooth shifting from cog to cog. This chain will save you about 40 grams over a typical XTR or SRAM 991 chain.
The KMC X9SL Gold 9-Speed Chain uses a Ti-nitride coating to give it a superior degree of toughness and durability. And the best part of Ti-nitride? The super sweet gold finish will add some serious bling to your bike. The KMC X9SL Chain is available in standard CP silver or Ti gold. It comes in one length which has 116 links.