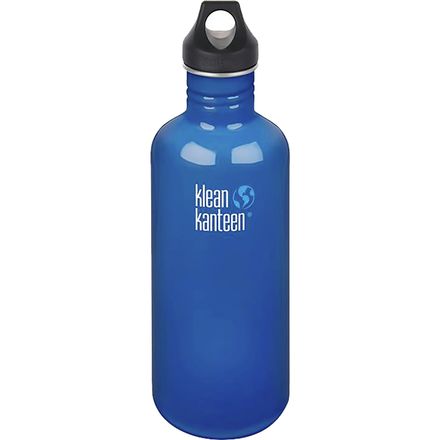 Colors
Satisfy a big thirst away from home with the help of the Klean Kanteen 40oz Classic Water Bottle. Made from food-grade stainless steel, this extra-capacity bottle offers an eco-friendly, health-conscious way to stay hydrated when you're on the trail, on the water, or at the gym.

Food-grade 18/8 stainless steel is highly durable and easy to clean
Uncoated interior and threads won't peel, leach chemicals, or impart/retain odors and tastes
1.75-inch mouth opening allows ice cubes to pass but won't slop liquids all over you if you're drinking on the go
BPA-free polypropylene Loop Cap is leakproof and enables you to clip the bottle onto your pack or messenger bag
Rounded corners are easy to clean with no hard angles where dirt, germs or bacteria can take hold
Great camping bottle
Familiarity:

I've put it through the wringer
I have had this Klean Kanteen for 8 years and have had many come and go throughout the years. You can beat this bottle up and it will just make it look better. The cap seals crazy well and you will not have to worry about it leaking. No plastic tasting water from this bottle, only the freshness.



Camping tip/trick: Right before going to bed fill up your Klean Kanteen 3/4th full and take the cap off. Set the bottle close to the fire for a little while and let the stainless steel heat up. Make sure to keep the cap off while heating up because the cap is the only part that will melt. Take the bottle away from the fire with some gloves and depending on if it is too hot let it cool down a little and put the cap back on. Then bring it over to you sleeping bag and throw it in the bottom for a little foot warmer.



Eric Watford

Expert Gearhead

801-736-6397

ewatford@backcountry.com

Instagram: @ericwatford
Indestructable
Familiarity:

I've put it through the wringer
You can't beat this solid stainless steel classic. Whatever environment you can endure this thing can endure twice that! Dents (but never cracks) only add to the stories that it is going to carry throughout its journey with you.
Clean Taste
Familiarity:

I've put it through the wringer
I've gotten hooked on the metal water bottles, as they don't have any funky taste with them. Even if you use other liquids in the bottle, super easy to clean out with no residual funk. I like the larger size with the smaller mouth- makes it a whole lot easier to drink out of while moving! The cap is super easy to get on and off, and doesn't leak- which is great as I find the bottle is usually on it's side since it doesn't fit standard cup holders.
Excellent bottle.
Familiarity:

I've put it through the wringer
No plastic taste and a much better neck design than the Sigg bottles (easier to clean both inside the bottle and the thread).
Own Two
Familiarity:

I've put it through the wringer
I bought a second because this seems to be the only bottle that doesn't leak after years of use. The paint always scratches off, but that's why I have stickers. Recommend this brand over almost any other water bottle company.
dents easily
Familiarity:

I've used it several times
I love the large size of this bottle but it arrived damaged... with a sizeable dent on the bottom. Because I needed it right away for a trip, I decided to just keep it instead of returning it and having to find a new bottle. I am assuming it was dented in transit, since I can't imagine whoever packed it would send out something so obviously damaged.
I have more water bottles than I really need, but I get a lot of use out of them. I generally always have a water bottle at my side. I usually drink out of bottles at home instead of glasses/cups. I really like the 27oz. Klean Kanteen as an all-purpose bottle so I figured I'd try the 40oz. as well. The capacity is nice, and it's the great quality stainless you know and expect from Klean Kanteen. The colors are great - vibrant and shiny. KK uses non-toxic paints, if that matters to you. Overall it's a fantastic product, the only reason I don't use it as much as the 27oz. is that it's just bulkier - doesn't fit in many cup-holders, etc. But what do you expect with 40oz.? I mostly use it as a bedside/around-the-house water bottle.
For your big water needs!
Gender:

Male

Familiarity:

I've used it several times
I drink a lot of water. At my desk, I used to have two 27oz. Klean Kanteens to handle my demanding thirst and reduce the need for trips to the water cooler. The 40oz is a great way to consolidate. The thing is big and heavy-duty, with the same opening as the 27oz. bottles. Maybe not the best for hiking/backpacking trips, but perfect for around the home or office.
40 oz. to Plastic Freedom!
Gender:

Male

Familiarity:

I've put it through the wringer
Klean Kanteen pretty much makes up all of my water bottle collection now. I love the 40 oz size, it's lightweight, dishwasher safe and durable as all hell. I believe that they're available in all sorts of colors but I'm partial to the chrome. The loop on the lid is tough and functional, perfect for clipping onto a pack or even your belt. Backcountry.com Goat Stickers look great on it too!


It's big, it light, it's made by a good company and they come in some pretty sweet colors!