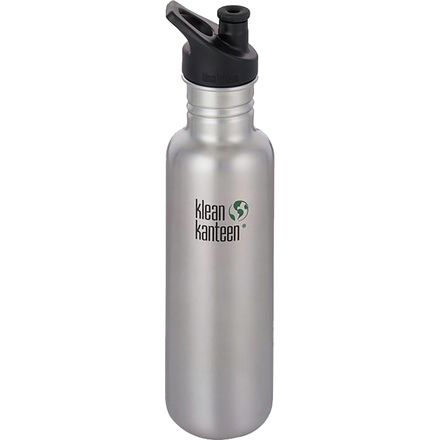 Colors

Community Images
You've moved on from plastic, and now it's time to progress from aluminum with the Klean Kanteen 27oz Classic Water Bottle. If you're committed to sustainability but concerned about the health issues around some reusable containers, this stainless steel bottle offers the ideal solution. Sleek and colorful, the Classic Water Bottle transports anything from a workout's worth of fluids to a bottle's worth of red wine for your weekend camping trip.

Food-grade 18/8 stainless steel is highly durable and easy to clean
Uncoated interior and threads won't peel, leach chemicals, or impart/retain odors and tastes
1.75-inch mouth opening allows ice cubes to pass but won't slop liquids all over you if you're drinking on the go
BPA-free polypropylene Loop Cap is leakproof and enables you to clip the bottle onto your pack or messenger bag
Rounded corners are easy to clean with no hard angles where dirt, germs or bacteria can take hold
Slim design fits most cup holders
goes everywhere with me
Familiarity:

I've put it through the wringer
I love this one and have owned many others. It fits perfectly in my timbuk2 laptop work bag. It can sweat a bit but the ones that don't are real heavy. This one is supper light. I like the one with the loop in the lid better so i can put a carabiner on it and hook it on my pack when i hike. - just incase it slips out of the pouch on the backpack.
I use it everyday
Familiarity:

I've used it several times
This water bottle fits in my car cup holders, backpack. Water just seems to taste better coming out of a metal container and I'm able to put ice in this size. I really only worry about dropping this bottle and denting it. It will also fit in vinyl covered bike holders, if you are thinking of using it for cycling.
save countless plastic bottles
Familiarity:

I've put it through the wringer
I work in agriculture, which means long hours in the summer sun, hydration is the difference between a productive shift and a debilitating headache. This is a convenient bottle size, and the tapered neck makes it easy to drink on the move. I used to keep my recyclable bottles in a bag on the passenger side floor board, and in just a weeks time I'd fill a hefty bag. Now I simply refill my bottle as often as needs be. The 27 oz classic bottle fits nicely in any vehicle cup holder. I've also taken these on the trail but if you're concerned about cutting ounces there are lighter options. The brushed stainless bottles are also great in the event you should need to bring water to a boil. Also check out Klean Kanteen's wide mouth bottles!
Love them
Familiarity:

I've put it through the wringer
No plastic taste and a much better neck design than the Sigg bottles (easier to clean both inside the bottle and the thread).
Awesome water bottle.
Familiarity:

I've put it through the wringer
I have been looking for a water bottle since my Nalgene bit the dust a while back and my Klean Kanteen has been SO great. I use it everyday and am impressed by how cold it keeps my water. It had a bit of a funky odor inside the bottle itself initially when I first received it, but after washing it with soap and water my water has tasted crisp and refreshing. I decided to buy my kanteen in the color "Violet Storm" and I absolutely love it. Super cute and I get compliments on it all the time! Definitely recommend this product to anyone looking to move away from plastic products.
great bottle!!
Familiarity:

I've used it several times
I've had this for a few months and it just lives in my car, great for communiting, not heavy and it doesn't make the water taste yucky.

definitely a favorite!
Great for seasonal use
Familiarity:

I've put it through the wringer
I have two of these in the stainless finish and they perform as expected. The pros: no metallic taste, fit well in my pack side mesh pockets, seal well, and easy to clean. They're the best metal bottle I've tried. Just be aware they're metal, a great heat conductor. I don't use them in winter, and they warm up a bit when exposed to the sun on a hot summer day. In winter I stick with a Nalgene or go to metal insulated bottle if I want something hot.
THE WATER BOTTLE THAT COULD
Familiarity:

I've put it through the wringer
I've had this water bottle for over 7 years! And it's still going strong! What a great investment. I have the black 27 oz. It's a little banged up and scratched on the bottom, but this has not compromised the effectiveness of the bottle. My biggest praises-- water tastes good (doesn't taste like plastic); it does not smell bad like some water bottles do after not washing them for a while; the cap screws on well, making it leakproof; the cap makes it easy to tie/clip to backpack. The 27 oz is suitable for me because it's slim. It's fits in most cup holders, backpack pockets or even a big purse.



The last convenient feature--flip the cap over, and you can use it as a shot glass! ;)
Very convenient
Familiarity:

I've put it through the wringer
Awesome to keep in your pack or carry along with you anywhere.



I own the 27oz and 40 oz stainless.

Great for backpacking or camping.

Being a single wall in stainless, in a pinch, you can throw this over an open flame.... just remember not to do it with the insulated double walled ones.



The rolled lip on the top is great. Does not pinch or catch any skin of the lip. It will sweat (to be expected) if you have ice water on a hot day for example. If you add hot items, take the lid off, you will build pressure and damage the bottle. Remember not to leave liquids in it and have it freeze over on you. You'll deform the bottle.

The paint seems durable enough for everyday use, I figured over some time and abuse it'll start to peal off (happened to my buddy's) that's to be expected. If you're concerned about that, go stainless. I like the attitude.

Ah, most important.. you don't get that metal taste in your mouth since it's 18/8 food grade stainless steel.



How about some weight measurements.



Cap = 28.6 Grams

Bottle (empty) = 181.6 Grams


Great bottle, lots of dents
Familiarity:

I've put it through the wringer
I really like this bottle - the profile is great, it fits well in backpacks, it's easy to drink from. Stainless steel is the best as far as water bottles! Unfortunately the bottom edges don't put up with the beating I dole out, but I guess that just adds character.
Pretty good stainless bottle
Familiarity:

I've put it through the wringer
I really love drinking from stainless vessels, and found this one to be really pleasant to drink from, like the profile of the bottle as well, also very easy to clean odors out of compared to plastic alternatives



Be wary of dropping it though, as the edges on the bottom appear to dent easily, which then causes the bottle to not sit on a surface properly; very doubtful this would completely break, however
Favorite bottle!
Familiarity:

I've used it several times
The 27 oz size is great. I have many nalgenes, but I like the slim size of this bottle both for backpacking AND every day use. It fits in the cup holder in the car and I can even slip it in a large purse. Probably my favorite feature is that it does not take on the smell of things you put in there.
happy bright colors and durable
Familiarity:

I've used it several times
took a few washings to get the weird smell out....but i love the happy bright YELLOW and durability of this water bottle!
Whether I'm at home, at work, on the trail, or driving, I generally always have a water bottle at my side. I've used a lot of different brands - I like Nalgenes in the backcountry, I dig HydroFlask for thermos-purposes, but when I want a general all-purpose water bottle to carry around, I recommend Klean Kanteen. The lightweight 27oz. is just perfect - it fits in pretty much any cup-holder, it can clip to anything without weighing much, it can fit in pockets, and it's made from superior quality stainless steel. The colored finish is always vibrant, shiny and attractive. And it's a great company to support. Don't hesitate to pick one up.
Dents Quite Easily
Familiarity:

I've used it several times
I like my bottle, easy to maintain (just throw it in the dishwasher), but I already dented it sadly. It was full of water and dropped onto hardwood floors from about 5 feet. I was hoping it wouldn't dent that easily. Interestingly, Nalgene bottles are stronger, but you couldn't boil water in it in an emergency! So this steel bottle is better for that. :)
Everyday, all purpose bottle
Familiarity:

I gave it as a gift but have feedback to share
Gave this to a friend. She loves the fun color and durable finish.



One caution: the cap can leak if not tightly secured. She gets around this by clipping a carabiner to the clip for extra leverage to aid in tightening.
I really like these bottles for the gym or office. They are more environmentally friendly and in a surival situation you could boil water if you didn't have a pot. I stumbled on this guy's site that solely reviews water filters/bottles and he did a great review. Scary fact that Aluminum bottles leeched BPA into water. For backpacking I still use nalgenes, mostly because the one I have can't fit my steripen.
A handy addition to the arsenal.
My love for my Klean Kanteen bottle stems from a single experience wherein I left a tea bag and some water in the bottle for a month. Basically something grew in it, and I washed it thoroughly (soap, some scrubbing).. lo and behold, no residual smell or taste.

That aside, I use my bottle mainly for hiking trips when my pack is so full it makes it hard to fit a Nalgene in the water bottle pockets. I like the ease it adds in pulling the bottle in and out. I have a lovely green bottle, but do be warned that the color does chip eventually if you have anything but the brushed metal finish.