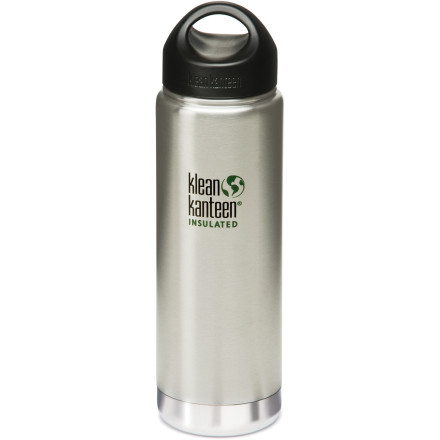 Community Images
Because it's made from hygienic, easy-to-clean stainless steel, the Klean Kanteen 20oz Insulated Cup lets you enjoy coffee that doesn't taste like chili or a smoothie that isn't tinged with hints of pesto pasta. The cup's high-performance vacuum design insulates hot beverages for up to six hours and cold beverages up to 24 hours, so you can enjoy hot chocolate on the ski lift or a cold beer at the trailhead after a hike.

Food-grade 18/8 stainless steel is highly durable and easy to wash
Uncoated interior and threads won't peel, leach chemicals, or impart/retain odors and tastes
2.125-inch mouth opening makes filling and emptying easy, and works with most backcountry water filters
Loop Cap is leakproof and features all-stainless interior, so the contents never touch plastic
Rounded corners are easy to clean with no hard angles where dirt, germs or bacteria can take hold
AMAZING!!
Familiarity:

I've put it through the wringer
I LOVE Klean Kanteen. I use is all the time and has yet to fail me. There are a few dents and dings but my drinks stay nice and warm or ice cold for hours.
MY SIDEKICK!
Familiarity:

I've put it through the wringer
I love this product. I use it everyday to stay hydrated on the road, keep from getting thirsty during yoga, or tote some H2O on our hikes and camping trips. I've taken it to high elevation (7,000 ft) and used it in the desert. It has proven to keep my water and herbal teas cold or hot (depending on the beverage) for HOURS! The cold definitely lasts longer than the heat, but come on, if you don't get that hot beverage down in 4-6 hours (mine typically begins to turn tepid at about hr 5) then you likely weren't going to finish it. Amiright!? I rinse it and allow it to air dry on a dish rack upside down every night. With proper care I believe this product will stand the test of time and help me keep my beverages at an optimal temperature on many more adventures for years to come.
goes everywhere with us
Familiarity:

I've put it through the wringer
We have used the insulated bottle for both hot and cold liquids and are perfectly satisfied with the light insulating qualities. The colors are really fun. We have also enjoyed sticking our favorite stickers on the outside! (Including backcountry goats of course!) The water tastes a little like metal, but I like that much better than plastic and find that glass is just too much of a risk to bring hiking. As you can see, the dog also enthusiastically approves! I have not noticed leaking (though you do have to be careful to get the cap on straight) and while I hear the complaints about smelling the plastic, I have not experienced this personally. I have another Klean Kanteen with a metal only cap though, maybe that would be better for the previous reviewer ? (though it is not insluated. Anyway, this family are Klean Kanteen Konverts!
Takes A Beating (so far)
Familiarity:

I've put it through the wringer
I've had this for a few weeks now, and it gets used nearly everyday. Its insulating ability is great and it will certainly hold ice for the advertised 24hrs. To make it even better, it's held up to my clumsy usage which has had it dropped on curbs and rocks while full on multiple occasions. While it shows the scars on the paint and one (fairly big) dent, it hasn't leaked or impacted its insulating ability.
Plastic toxicity
Familiarity:

I've used it once or twice and have initial impressions
The bottle is such great quality...except for the plastic cap. As others have mentioned, it is made of pretty cheap plastic. While others have trouble with leaks, I was alarmed at the fumes it gave off. You ever sense that plastic stink that affects the taste of your water? That happened. The company says that the water doesn't touch the plastic, but whether that's actually true or not, the plastic definitely will affect the water. I have an extremely sensitive nose, so just take my word for it if you don't sense it.

I was hoping to switch from my truly plastic-free option, a mason jar, to an insulated water bottle, but Klean Kanteen let me down. I guess I can continue looking like an alcoholic as I take huge swigs of water from my mason jar.
Great water bottle for all occasions!
Familiarity:

I've put it through the wringer
I bought this to replace a similar bottle that I had been using for 3 1/2 years. It was a great water bottle but got lost. When it got found before this new one arrived, I decided to keep both, simply because the insulated bottle is so great. Never a down side to it.
Defective?!
Familiarity:

I've put it through the wringer
I have 3 Kanteens and they occasionally leak. I'm not sure if it's one of the lids or if I could have possibly bent a rim?



I have to say that they keeps liquids hot longer than any other themas I have used--so much so that sometimes I find myself leaving the lid off. I just don't trust it inside of a bag or on it's side.
Perfect!
Familiarity:

I've used it several times
This bottle is amazing! I got one for myself and as a gift for my sister (she absolutely love it too). It does a great job at keeping things cold even when I leave it in the car or have it sitting outside next to me. However, I have yet to test it out with hot liquids. It's really easy to clean and the perfect size.
Quality product
Familiarity:

I've put it through the wringer
The Kanteen works really well. Primary use is to keep liquids hot while snowshoeing and performs better than expected. I did a little test where I put near boiling water in it and did not open it again until much later in the day and I must say it was impressive that water was still really really hot 6 hours later. It is a little heavy but the tradeoff is that it works really well and is extremely durable so I will have this for many years to come.
I love this, more than you know... you know those days when you get caught up in your work and you think to yourself... oh, I wish I had some coffee... Then you realize you have your handy dandy Klean Kanteen sitting there next to you and your day is made.
Great bottle and coffee cup!
Familiarity:

I've put it through the wringer
It keep my coffee warm for hour even sitting outside in the cold winters of Colorado.

Really like the sealed cap and then be able to put on the Klean Kanteen Cafe Cap to drink my coffee. A thermos and cup in one!
Klean Kanteen
Familiarity:

I've used it several times
I LOVE my Kanteen! It keeps hot things (very) hot, and cold things (very) cold!

How do it know??

My coffee sometimes sits on my desk for a while before I can get to it. Using the Kanteen, it stays hot well into the afternoon. After that it is just warm.
Insulated bottle
Familiarity:

I've put it through the wringer
Love this bottle so much I got one as a gift, and she loves it too!
Love this bottle! I've used it a couple times and it keeps warm things warm and cold things cold for a long time!
Awesome day trip thermos
Familiarity:

I've put it through the wringer
For long days, or just cold or warm weather workouts, the 20oz bottle is perfect. Cools down a few degrees an hour so by the end you'll have drinkable coffee/tea/whatever. I can't recommend putting in a milkshake as that left an aftertaste for a while, but most everything else works great. Cap does leak if not on tight and it would be nice to have a cap keeper but they're easy to make with 2mm accessory cord. Fallen off my bike/car many times and shows some dents but they haven't done anything to the function yet.
Awesome bottle - not the warmest though
Familiarity:

I've put it through the wringer
This is a great bottle and does keep beverages hot for a couple hours. I like that the threads are on the outside of the bottle because I can fill it nearly to the brim and not worry about putting the cap on and causing overflow as on some other insulated bottles/mugs. Mine does have a rattle in it (no, I haven't washed it in the dishwasher) but it doesn't seem to affect the insulation. Would buy it again
Best coffee mug ever
Familiarity:

I've put it through the wringer
I use this mug everyday. It fits in my car cupholder, keeps liquid hot or cold much longer than I ever expect it to, and it looks sharp. It's easy to clean, the cafe cap makes it versatile and the perfect mug in my opinion. It came with the loopcap which is great for bike commutes to work and keeping it 100% sealed.
This is my first Klean Kanteen purchase. I've been getting a lot of use out of this bottle and it's very durable, functional, and easy to clean. Not sure if I prefer this to HydroFlask but it's definitely a worthy replacement. It keeps colds cold and hots hot just as adequately, and I think I like the Kanteen lid a little better (the stainless interior is a plus). Also, I dig the sleek finish. This is a quality product.