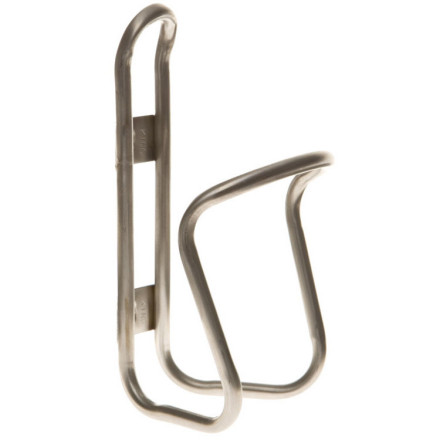 Are titanium cages old skool? We ask because titanium is still pretty high tech, even though lots of people have moved from metal bottle cages to plastic. For those who prefer the aesthetics and security of metal, the King Cage Titanium Water Bottle Cage could well be the most advanced form of metal cages ever created. It's made from 3-2.5 titanium tubing, just like most titanium framesets. The tubing diameter is a hair over 6mm. If the cage doesn't grab the bottle as firmly as you'd like, you can cold-set it by taking it off the bike and bending it gently on a firm surface. This cage is lighter and more durable than many plastic cages on the market. Made in Durango, CO USA. 28g.
Unanswered Question
What size (diameter) water bottle will fit in this cage? Thanks!
What's the timeline on the king cages...
What's the timeline on the king cages coming back into stock ?
Looks like we expect a delivery to be received sometime before the end of May or beginning of June.
Perfection
Familiarity:

I've put it through the wringer
Like the Chris King Headset, this is one component you will forget about. And that is the best compliment I could give to a component. It gets out of the way and lets you ride. Hugs bottle just right, does not stain bottles, light.
Never lost a bottle
Familiarity:

I've put it through the wringer
These cages rock. They look classy as hell (on any bike), last forever, and grip bottles perfectly. A cage is kind of like a stem - they don't need to be fancy, they just need to work.
Why I use Chris King Ti Cages
Familiarity:

I've put it through the wringer
I have two set of Chris King Ti cages. These are simply the best I have ever used. I have used steel, plastic, and carbon. I have never lost a bottle - with the exception of "operator error" from my Ti cages. The write-up is correct - you can cold form these to your heart's content. Being unfinished metal, they clean up easy and do not accumulate scum from your drink mix. I affix them to the frame with the supplied screws and use a bit of grease on the threads. Doing this, the treads will always back off easily. Lastly, there is little or no weight penalty when you use these (if you care a but a few grams, here and there). Lastly, they look cool on the bike.