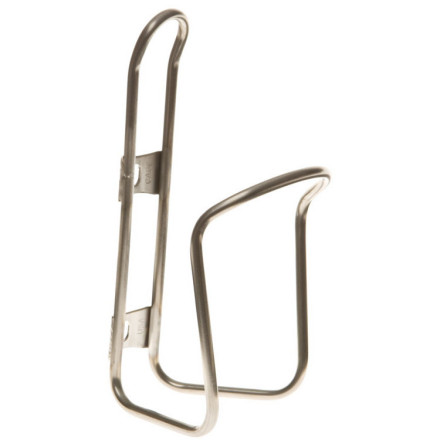 King Cage doesn't only traffic in precious metals. They also make a sturdy stainless steel water bottle cage. This cage is simple, durable, and won't give anyone sticker-shock. Unlike carbon or plastic cages, this one can be bent (aka cold-set) to be firm or loose. The King Cage Stainless Steel Water Bottle Cage is welded from 304 Stainless Steel Tubing. Made in Durango, CO USA. 48g.
Share your thoughts
What do you think of the
King Cage
Stainless Steel Water Bottle Cage
? Share a...
Classic
Familiarity:

I've put it through the wringer
This might be the last bottle cage you will ever buy. Works well with all my bottles including my Klean Kanteen. Doesn't rattle bottles compared to my previous carbon/alu cages I eventually gave away.
Customer Support is Very Poor
Familiarity:

I've put it through the wringer
Here is my experience with King Cage and its owner Ron Andrews. I bought one of their Stainless Steel cages that came with a lifetime warranty several years ago. It was used to hold the reserve water bottle, so it did not get nearly the number of uses as the front water bottle cage that had the water bottle go in and out of it many times every ride. That front stainless cage, of similar vintage but a different brand, has held up well. The King Cage, at most, would have the water bottle go in and out once or twice each ride.

The King Cage developed two problems. The weld came loose on one of the cross pieces. Also, the stainless tubing broke. I took a photo of the water bottle cage and emailed it to King Cage.

I left phone and email messages (including the photo of the broken cage) with King Cage. There was no response. Three days later I sent a second email massage. Again there was no response. Receiving no response after 7 days, I sent another email indicating that if I had not received a reply in 2 more days, I would file a complaint with the Better Business Bureau and also post my experience with this company wherever I could on the internet. Then, that same day, I did get an email from King Cage stating I would receive a full refund. That was on April 16, 2014. Not having received a full refund by April 26, I emailed Ron Andrews of King Cage to ask if he had mailed the check yet. There has been no response to this last email of mine nor full refund as of May 1, 2014.

You can be the judge whether this is the kind of company you want to own products from.
Simple, elegant, functional.
Familiarity:

I've put it through the wringer
There may be bottle cages that work as well, but none that work better. I have four road bikes - one carbon, two aluminum and one steel - and each carries two King stainless cages. They've been on sunny Sunday rides, training rides and races including Rouge-Roubaix (twice so far, a third one in a month). I've never come close to losing a bottle, yet they extract easily from the cages. And being stainless steel, they match your bike no matter what color it is.
This is a quality cage. It's light, it's stainless steel, it's sturdy, and it holds the bottle well. I like it and I will never use an aluminum cage again; in fact, I just ordered another King Cage.


King Headsets and King cages
Familiarity:

I've put it through the wringer
Different companies, same quality. The two most important things you can add to your bike are the Kings.


Great and easy to use. Got it for the hubby but I ended up using it as my extra bottle holder during a triathlon He loved it for his mountain bike as an extra holder since his bike didn't come with one. Easy to use and grab and can't beat the price. Got to love Backcountry!