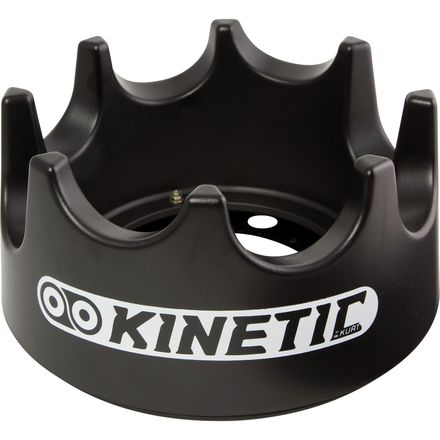 Description
Do the Twist.
When you ride on the road, you'll use your torso and arms to balance and steer. While most trainers take these efforts away from you, Kinetic by Kurt's Rock And Roll Trainer mimics these natural movements. When you add this Kinetic Turntable Riser Ring, you're forced to work those same upper body muscles to keep the front wheel in alignment with the frame. This is part of the "road feel" equation and you'll appreciate it when you're sprinting and standing.
The Turntable Riser Ring is a PVC circle that has slots of four different heights. The four heights range from 1/2in to 2in from the floor. All can accommodate a tire up to 2.25in in width. The ring sits atop a "Lazy Susan" style turntable that swivels freely.
The Kinetic by Kurt Turntable Riser Ring is Black and is 9in in diameter. It can be used with other trainers, though the swiveling benefit of using the turntable ring with fixed-style trainers is negligible.
make your indoor training easier
Familiarity:

I've put it through the wringer
After years of using things such as (but not limited to) shoes, encyclopedias, old video game console, and a water bottle I broke down and bought a riser. I should have done it years ago, just get one.
Kinetic Turntable Riser Ring
Familiarity:

I've used it several times
As described, pretty useful for kinetic rock and roll
Great to have.
Familiarity:

I've put it through the wringer
Having the ability to turn the handlebars when riding is really nice. It keeps me from getting stiff or getting numb hands. I use it on a stationary Kinetic and I am glad to have it.
Must Get Trainer Accessory
This has been a much appreciated accessory piece in my winter Rock-N-Roll trainer training regiment. At first I wondered if the rock-n-roll would make a differance, it does. It really allows me to feel like I am on my bike and not just fixed to my trainer. This matching turntable riser ring to help this feel, and is absolutley essential for allowing your upper body to ride the bike like you do outside. I feel it really takes the stresses off the bike frame as well, and this is pretty important for your frame.

Really, this is a game changer for doing intervals when the temps outside just are not cooperating. I have also started using the Kinetic trainer tires and it has made the unit even quieter and my good outside tires don't get worn out on my trainer - check their tires out. The training mat is nice as well for keeping the sweat cleanup easy and off your wood floors.

I use this for base training starting in December and spend alot of time sitting near 225 Watts for a month and then start upping the Watts in February through March. This really works well.

I am using the Road Machine right now as I am on the road for work traveling with my bike and trainer. This is a great option as well, but does not even compare to the Rock-N-Roll. I will add a review soon on the Road Machine after I use it for awhile.
RIDE ON!